Nokia Lumia 625: Quality budget 4G phone ... but where's UK's budget 4G?
Blast this cut-price box, more worthless than a scurvy-blighted galley rat
---
The camera: Basic but, well, see for yourself...
The camera is adequate, with Nokia making the most of what's evidently a low-cost unit: no Carl Zeiss optics here, just a basic 5MP shooter. It shoots clear pictures in decent light, but struggles with contrast and in low light conditions. The video mode will capture 1080p video, though.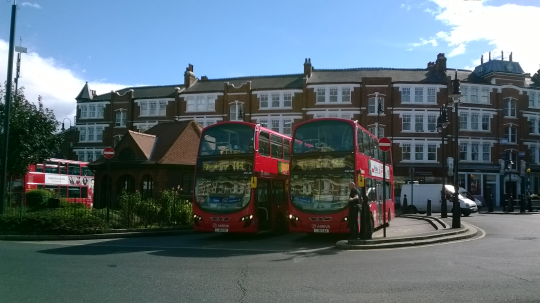 Buses (click to enlarge)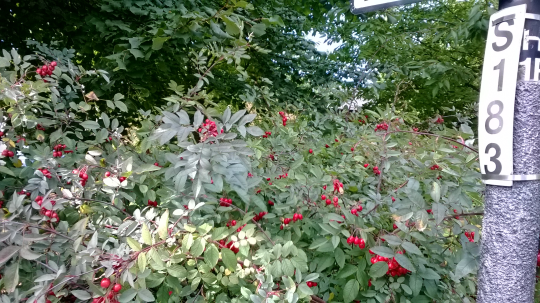 Leaves... (click to enlarge)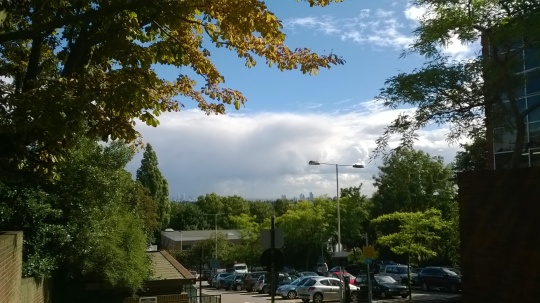 Skyline (click to enlarge)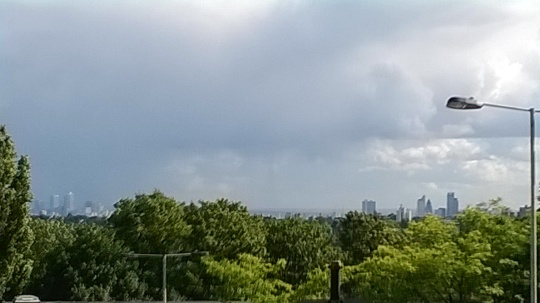 Skyline cropped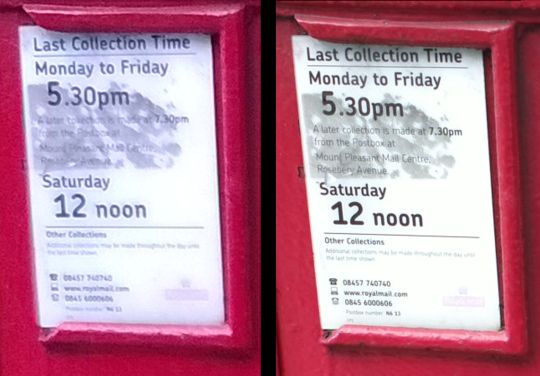 Postbox comparison with Lumia 1020
How hard does it work?
Performance is excellent, however, and it's now a cliché that Windows Phone offers a "buttery smooth" experience in comparison to budget (and even expensive) Java-based Android phones. Thanks to the 1.2Ghz processor, performance is even a little nippier than the Lumias 520, 620 and 720 – all of which share the same 1Ghz lower-end platform and 512MB of RAM. It remains to be seen how well the next major update, dubbed Windows Phone 8.1 (and expected next spring) will run on this spec.
Battery life was outstanding, lasting into a third day on light use, even on 4G. It should see you through the best part of two days of normal use, although of course, it all depends on how much time is devoted to browsing and using navigational software. Almost all other usage cases pale into insignificance. In short, once you use it for surfing and driving, like every modern smartphone, the clock is on countdown.
My experience with EE's LTE network was not a happy one. I'm actually a subscriber to EE's SIM-only data plan and have regularly achieved close to 20Mbits/s download speeds. As more users have been added to the network, however, this is becoming a distant memory, and around London I typically recorded between 4Mbit/s and 12Mbit/s down testing the 625, which is 3G speed.
When in the right spot – and I finally found one outside Gray's Inn in London – the speed can be hair-raising: over 48Mbit/s down. On O2's LTE the fastest I recorded was 24Mbit/s. On both networks the Lumia threw me back to 3G in spots where Apple's iPad Mini happily maintained EE's 4G signal. Did EE spunk the budget on hiring Kevin Bacon (to prance around in a conga line with Noel Edmonds)?
Conclusion
There's plenty to like about the Lumia 625; another budget Nokia without the budget compromises that make Landfill Android™ cheapies such a rotten experience. But until the networks step up and offer 4G on a budget, it's going to be in that curious spot.
When low-cost LTE SIM-only deals are eventually introduced, Nokia's older Lumias offer more features and better value. For example, the 820 has relatively poor battery life but does include wireless charging, a zippier platform, and better camera, and can be picked up for close to £200. Even the Xmas 2012 Lumia flagship, the 920 with a fantastic camera and 32MB of built-in memory, is below £300 and falling fast. Perhaps there's a niche for the 625 for regular 3G punters, given its comfort factor and amazing battery life?
But right now, the consumer proposition is this: if you want 4G, you have to pay a premium, and if you're paying a premium, you want a bit of diamond on your ring. ®

Nokia Lumia 625: Quality budget 4G phone ... but where's UK's budget 4G?
If you're coughing up a lot for 4G, you'll want a bit more diamond on your ring.
Price:
Under £200 SIM-free RRP