Mach 8 Scramjet flies but sends no data
$14 million burned as rocket flies but doesn't ignite
---
The University of Queensland's ScramSpace hypersonic flight experiment in Norway's Andøya Rocket Range has failed to fire in its one-chance-only test flight.
In a terse statement, the university said the launch lifted off successfully, with the first two stages of the launcher landing safely in the water. "However it appears at this stage that the payload did not reach the correct conditions to begin collecting data as planned", the statement says.
Had it fired, ScramSpace was expected to return three seconds' worth of data and pass speeds of 8,600 km/h.
ScramSpace is the heir to many years of scramjet development at the university led by Professor Russell Boyce. The university's early work included the HyShot scramjet platform, which back in 2002 was acclaimed as the first successful scramjet flight.
The team is investigating why ScramSpace failed to kick in as expected.
While $14 million is a lot of money to lose in a failed shot, it's nothing like the hundreds of millions America has devoted to its X-51A project, which needed three failed test flights before it reportedly hit Mach 5 in a successful test in May. ®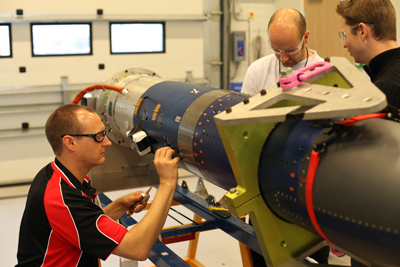 University of Queensland to investigate why ScramSpace didn't fire.
This pre-launch image by Donald Cook shows payload installation.
Update: The university has posted a more detailed statement.
"The rocket carrying the scramjet launched at 3pm (Norwegian time, 11pm Brisbane time), however the payload failed to achieve the correct altitude to begin the scientific experiment as planned," professor Boyce said.
"The SCRAMSPACE payload, according to our data, was operating perfectly and performed extremely well before and during the launch, and we received telemetry data all the way into the water.
"Unfortunately the failed launch meant we could not carry out the experiment as planned." ®