OK, we're flogging a disk array, but cut us open and we bleed TAPE – SpectraLogic
Spinnin' rust? Yarr... we'll be walkin' that plank
Tape library supplier SpectraLogic has quietly added a spinning rust product to its archive portfolio: the nTier Verde array.
Hmm. Tape-based data protection vendors like Overland Storage and Quantum have gone into the disk array business to offset declining tape revenues. And results have varied: financial impact has been dismal at best and near company-killing at worst. Why should Spectra fare any different?
One reason is that it makes money from its tape libraries and revenues have been growing steadily for many quarters, enabling it to invest growing amounts each year – 10 to 12 per cent of revenues – into research and development. This is no hasty, quick fix to a tape product revenue fall.
Spectra has developed its own disk array specifically for archiving data, not for nearline storage and certainly not for primary data storage. Neither is it for backup data, having no virtual tape library (VTL) functionality or any support for specific backup data transport protocols or deduplication. Object storage is not its purpose either, the interfaces being just NFS and CIFS (SMB), meaning only files are transferred to and from the box. It is simply an archive filer.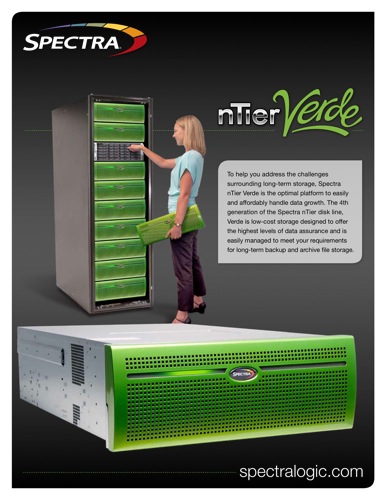 nTier Verde brochure cover
Box details
The bulk capacity of the array comes in 4U rackmount enclosures. The disks are enterprise grade 3.5-in drives with a SAS interface, not consumer grade ones, and support an enterprise archive duty cycle. There are hot spares and what Spectra calls an intelligent rebuild process if a disk fails. There are so-called cold pair and warm pair units for higher availability.
Servers access the array nodes using 4 x 1GigE and 2 x 10gigE links.
There is a 2U or 4U master node to which 4U expansion nodes are connected. Maximum capacity is 1.7PB currently. Assuming 6TB drives arrive in 2014 maximum capacity will rise to 2.6PB, and go on to 3.4PB in 2015 with 8TB drives. New disks can be added to expand capacity in place. A full rack contains 431 drives, (the 1.7PB) in nine expansion nodes, holding 44 drives, with a single master node, which holds from 4 to 35 4TB drives in 4U form and up to 11 in 2U form.
The system features compression, thin provisioning, snapshots and support for future higher capacity drives.
The array software carries out data integrity checks, using proprietary checksums, in the background, analogous to tape library data integrity checks.
StrataView (note "Strata", as if there are several strata or tiers) is a software interface enabling users to choose protection against one, two or three drive failures. In effect you can choose between protection and performance.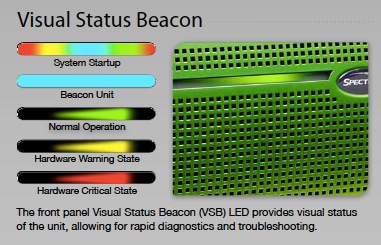 nTier Verde visual status
Spectra says an nTier Verde array can be in production use 30 minutes or so after unpacking starts.
A pair of puzzles
Firstly, it has not been publicly announced. Sure, information is available on Spectra's website but there has been no press release and the marketing, in a publicity sense, has been deliberately low-key, or almost no-key.
Why? Is there more to come? Did Spectra not want to upset mainstream storage array partners, such as EMC with its Atmos object storage arrays which could be used for online archives? It is an unresolved puzzle, and Spectra spokespeople are saying nothing about it.
Secondly, it's called the nTier Verde, as in "Verde", meaning green. But it isn't green: it's a disk drive array like other disk drive arrays, and keeps its disks spinning and cooled – nothing green in that. Is something coming that will make it green? ®