Dredd fans! Tharg the Mighty has added almost every single 2000AD story the future lawman has passed judgement in - well, apart from the ones that were once banned by m'learned colleagues - to the official iDevice app.
Yes, the Judge Dredd Complete Case Files compendia - which extend to a colossal 20 volumes - are now available in digital form though the app used to provide weekly and monthly 2000AD and Megazine thrills to Squaxx Dek Thargo.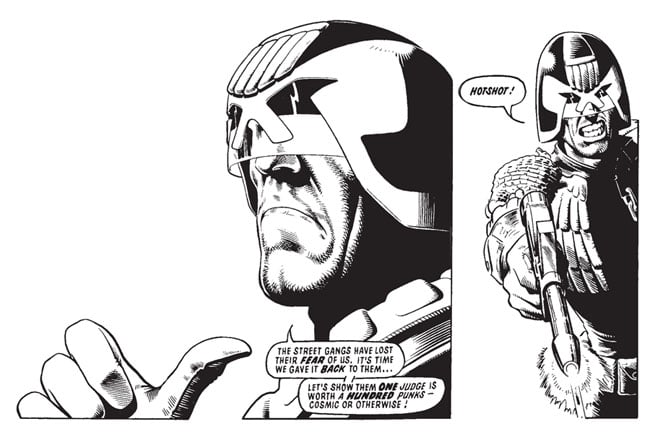 Source: Brian Bolland / Rebellion
The 20 beefy downloads are priced at a tenner a pop and run from Old Stony Face's first appearance in Prog 2 right through to present times. They're minus, of course, the Cursed Earth episodes "Burger Wars" and "Giants aren't Gentlemen" with their references to real-life - and litigious - entities McDonalds, Burger King and Jolly Green Giant.
But the e-books do contain the rest of The Cursed Earth, along with other classic Dredd storylines such as The Day the Law Died, Judge Death, Block Mania, The Apocalypse War, Necropolis, Total War and Origins.
With Megazine stories included, you'll find the complete career of serial killer PJ Maybe, the rise and fall of Otto Sump, every Sov Bloc attempt to get one over on Mega-City One and more skysurfing than you can shake a Mark VI hoverboard at.
Not tempted? Here's a free 20-page PDF sampler featuring the work of Brian Bolland, Cam Kennedy, Glenn Fabry, Colin O'Neil and, of course, writer John Wagner. Download it now before the Thrill Suckers really take hold. The iOS app is available from iTunes. ®