This article is more than 1 year old
Mini-Me, stop humping the 'L-A-S-E-R': New 3D tech can make a Mini-You
Your inner Dr Evil knows you want one
100% Design The way 3D printing enables ideas to move from the drawing board and become actual objects in a matter of hours has certainly inspired designers. To highlight this point, London-based 3D printer supplier iMakr appealed to visitors' egos at the 100% Design trade show in London's Earls Court this week.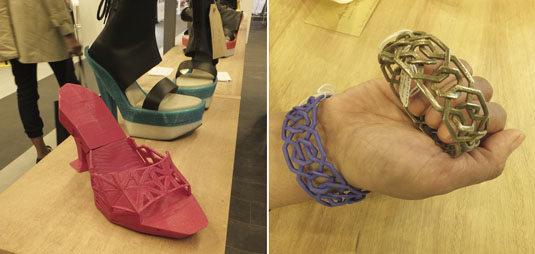 The craft of shoe-making takes a turn with 3D printing and designs can be used for moulds too
Browsing shoes, bracelets, cutlery, cogs and curios was beguiling, with items being formed before your very eyes. Yet the main attraction was the booth where people could have 3D models made of themselves.

iMakr 3D printers on show – click for a larger image
Specially set up for iMakr by Pankaj Raut (who's still waiting for his Mechatronics degree results from London South Bank University), an individual is photographed using 44 Canon 1100D DSLR cameras.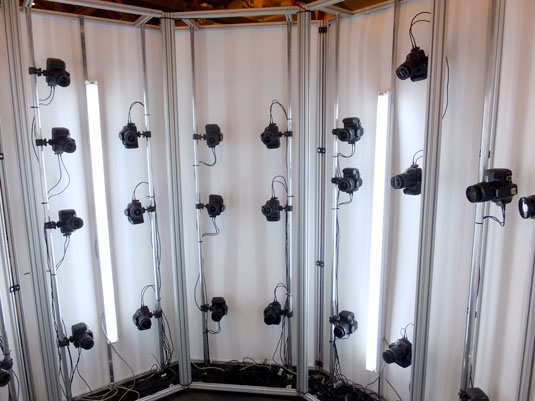 The Mini-Me 3D printing camera booth
Raut explained that the cameras had been arranged so that the 12Mp stills – all captured at the same time – have a 60~80 per cent image overlap. The photos are stitched together using AGI Soft and the process takes about an hour, maybe more depending on how much "cleaning" is involved. Apparently shiny and dark objects often need to be manually handled as the automated process tends to consider black areas to be part of the camera equipment or frame, and ignores them.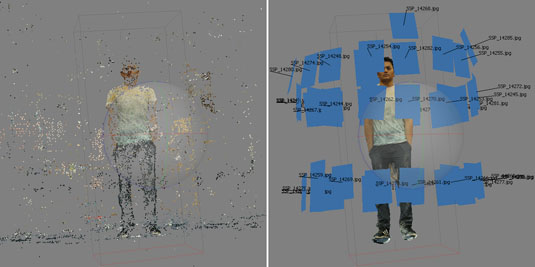 A point cloud (left) consisting of the images taken. The software automatically constructs a 3D model from this data. Camera positioning can be checked for reference (right) – click for a larger image.
Firing off 44 cameras each producing a 30MB still image that needs to make it to the host computer is all done via USB and a fair few hubs. Raut has adapted Francis Hart's Smart Shooter software – which takes images sequentially – to fire all 44 DSLRs simultaneously.
On the floor, it's all rigged up to an Ivy Bridge Core i7 CPU with a custom watercooling running Windows 7 with 32GB of RAM and a 1TB drive.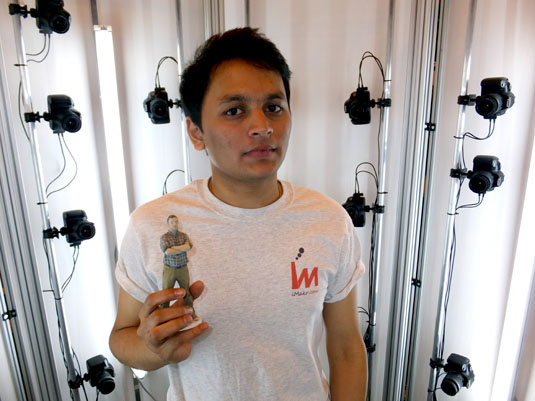 Pankaj Raut shows a Mini-Me prepared earlier from the iMakr 3D printing booth
The actual printer that iMakr runs to create these scaled human replicas is produced by Z Corporation (now owned by 3D Systems) and has integral inkjet printing to colour these "Mini-Me" models, as Raut calls them.
The machine itself was too big to be used on the stand, but those attending have been promised their Mini-Me effigies within a week. iMakr will also be setting up a similar booth at Selfridges where you can get your self-styled Mini-Me 3D model. Prices have yet to be set but depending on the scenario will sell for around £99 to £200. More from iMakr here. ®
100 Per Cent Design is ongoing this week for trade visitors and students and is open to the public on Saturday 21 September 2013.