This article is more than 1 year old
First look: Apple iPhone 5S and 5C
iOS 7 is the star attraction, incremental hardware mostly 'meh'
Apple has a weird problem. Way back in 2008 when it launched the iPhone 3G it just about nailed the spec of a great smartphone.
The iPhone may have grown, acquired an extra camera and sped up in the years since, but its hardware and software user interfaces remain essentially unchanged. Each new model therefore feels incremental rather than a significant step forward. So when I first held an iPhone 5 on launch day last year, I was pleased by its light weight and thin form, but after a few minutes it was clear this was "just" an iPhone.
Whether it is reasonable to expect Apple can turn out innovations that provoke a bigger reaction each year is a debate for another time.
But the time for that debate is surely nearing, because the iPhone 5C and 5S launched today are also "just" iPhones.
The C is strikingly colourful. That's strikingly as in "this might be too bright to match that kids furniture I bought at IKEA". So bright are the phones that they invoke toys for the under-five crowd, a slightly unsettling association for something that is expensive and fragile.
Happily, the C is rather better built than toys. It hefts well, conveying pleasing weight and density. That's a welcome contrast to the iPhone 5 which felt almost unsettlingly light,.
The camera impressed. We've left the shot of an ad in the light box in Sydney's Apple Store below in its original 3264x2248 form here if you want to see how well it reproduced colours. The subtleties in the smudged reflection of the picture would please many owners of dedicated cameras.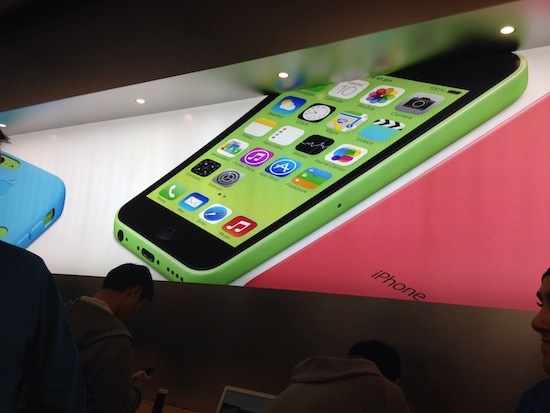 An image taken with the iPhone 5C
The 5C does not feel plasticy or cheap, but remains just an iPhone. I imagine the few fanbois who bought one would have quickly found it utterly familiar.
The 5S is a slightly different beast. One of the 5's flaws was its sharp edges that just weren't much fun to hold and sometimes wore down to bare metal. The 5S' "chamfered" edge fixes that problem and makes the phone more pleasant to hold.
Sadly the much-anticipated fingerprint readers weren't activated in-store, so it was not possible to test their accuracy or efficiency. A demo app offered the chance to walk through the enrolment process, marking success with a pleasing and decisive throb. The new home button does, however, seem somehow less usable now that it lacks the square within the circle. The blank where the square used to be looks like a void, not a welcoming space into which one's finger naturally nestles.
The 5S is fast. Every swipe and poke generated lag-less responses. IOS 7's animations zipped along, sparkling on the phone's vivid screen
Here's a shot taken with the 5S' camera. Again, we're preserved the full-size image here and again we feel the results show a very decent ability to capture colour and cope with light and dark regions.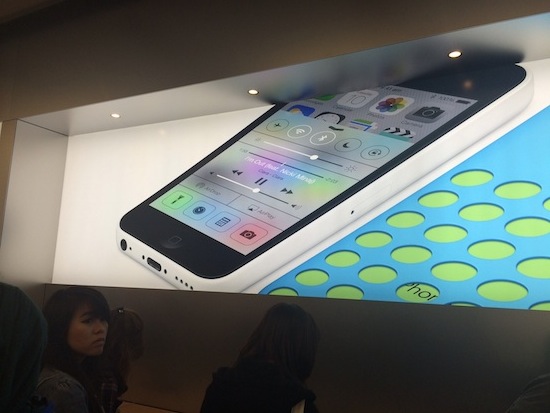 An image captured with the iPhone 5S
Our review of iOS 7 yesterday concluded that the OS "incorporates a number of usability improvements and features that make for a better, more efficient smartphone experience."
Experienced on the latest Apple hardware, that's certainly the case.
But the new iPhones aren't exciting. They're just iPhones.
If that appraisal appears churlish, it is self-consciously so because all smartphones are miraculous. And that's the problem. Apple's template has now been applied so widely that premium smartphones like its new offerings remain remarkable yet appear mundane.
Premium models retain an edge over cheaper rivals, thanks to higher-performance innards, and even the iPhone 5C is clearly still a premium model even if it is suggested as market-expander for Apple.
Just what would it would take to elevate a smartphone to make it a trend-setter is now unclear.
Perhaps peering through the looking Google glass will show the way. ®