Deep inside the iPhone 5s lurk a few surprises
Second-rate? Superior? Speedy? Soporific? Sexy? Same-old, same-old?
Teardown The gleeful geeks at iFixit and ChipWorks have torn apart Apple's latest flagship iPhone, the 5s, and inside they found a lot of glue and a few surprises – including the manufacturer of the A7 processor and the source of the sensor-wrangling M7 chip that was much touted at the rollout of Apple's latest smartphones last week.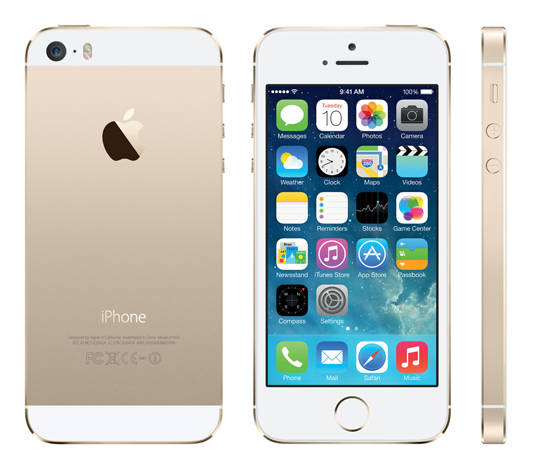 Meet the new iPhone, (substantially) the same as the old phone (click to enlarge)
"This is an 's' version, which means it's speedier, more secure, superior – or similar – to its predecessor," said iFixit's Gwendolyn Gay in a video accompanying the teardown.
As Gay notes, the iPhone 5s is quite similar to the iPhone 5 – same size and weight, same display dimensions and resolution, and same pixel density. One difference – in addition to the new A7 processor, the fingerprint sensor, the improved camera, and the sensor-wrangling M7 chip – is a higher-capacity 3.8V battery than its predecessor: 5.92Wh and 1560mAh, compared to the iPhone 5's 5.45Wh, 1440mAh power source.
Removing that battery, however, uncovered another possibility for the "s" designation: the amount of glue used to secure it to the handset's case. "Perhaps the 's' in 5s stands for 'stuck'," the iFixers write, "as in 'this battery is stuck in with a lot of glue', or 'I hope you didn't want to replace your battery – you're going to be stuck with this one'."
iFixit also notes that although the battery in the iPhone 5s may be a step up from the iPhone 5, it's still less capacious than the 3.8V batteries in the Samsung Galaxy S 4 – 9.88Wh, 2600mAh – and the Motorola Moto X – 8.4Wh, 2200mAh. That said, there's a lot more to battery life than mere battery capacity – Apple claims a 10-hour talk time with the iPhone 5s, while Samsung claims seven hours for the Galaxy S 4. Power management is a black art.
iFixit also points to an article in ExtremeTech that shows iOS 7 sharply reducing battery life in the iPhone 5, saying "there are rumbles that iOS 7 isn't doing you any favors."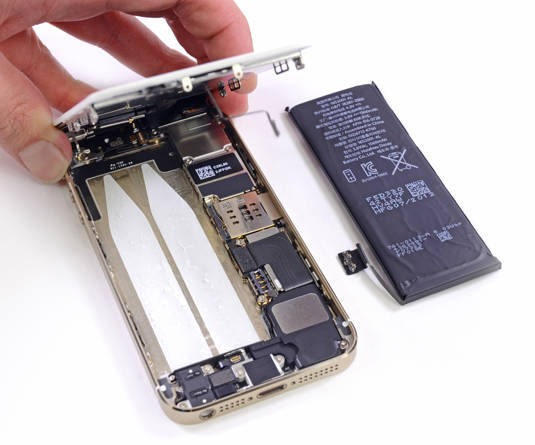 Its easy to open the case – replacing the battery, however, is another matter (click to enlarge)
The M7 chip was AWOL from the iFixit teardown – an oversight that was quickly made moot by a second teardown by Chipworks, which found to their surprise that the li'l fellow – hidden from iFixit's prying eyes by a "neoprene-looking" cover – is not an Apple-branded part, but instead from NXP Semiconductors, labled LPC18A1.
As Chipworks notes, "The LPC1800 series are high-performing Cortex-M3 based microcontrollers." Exactly how involved Apple's sensor team was in the development of the NXP LPC18A1 is, of course, unknowable. Apple is less than forthcoming about details of its partnerships.
The other chippy bit of news that ChipWorks turned up is that the A7 is manufactured by Apple's arch-rival, Samsung. "We have confirmed through early analysis that the device is fabricated at Samsung's Foundry," they write, and their electron-microscope peek at a cross-section of it shows that it's fabbed using Samsung's 28-nanometer hi-K metal gate process, as they discovered to be the case with Sammy's Exynos processor powering the Galaxy S 4.
There had been some speculation that Apple would move the production of the A7 chip from Samsung – its fabbing partner for previous A-series processors – to the Taiwan Semiconductor Manufacturing Company, better known as TSMC. A recent report from the market-watchers at DigiTimes, however, said that the Apple-Samsung divorce would happen when the A8 is released. It's too soon, of course, to chalk up a correct prognostication for DigiTimes about the A8, but we can now say they were correct in predicting that the move wouldn't happen with the A7.
Other logic board details are more prosaic: a Murata 339S0205 communications module based on the Broadcom BCM4334 (802.11 a/b/g/n, Bluetooth 4.0+HS, and more), SK Hynix NAND flash memory, a Qualcomm MDM9615M LTE modem, and a handful of other chippery. If you can't get enough flat, black rectangles, check out iFixit's color-coded goodness or ChipWorks' deep-geek dive.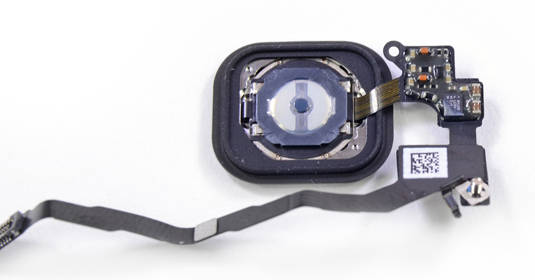 This array of capacitors exists to be given the finger (click to enlarge)
One of the most-touted features of the iPhone 5s is its fingerprint sensor – and luckily for iFixit's reputation, it was easier than the M7 to find. The sensor – which, as iFixit explains, "is essentially a bunch of very small capacitors that creates an 'image' of the ridges on your finger" – is based on technology from AuthenTec, acquired by Apple in July 2012.
Apple has said that your fingerprint data will be stored locally and not shipped off to the NSA Cupertino, but iFixit does have one concern about the sensor itself. "We worry about how well the sapphire crystal covering the sensor can protect it from degrading over time like most CMOS fingerprint sensors," they write. "If not, it could become a ticking time bomb, just like that super-glued battery."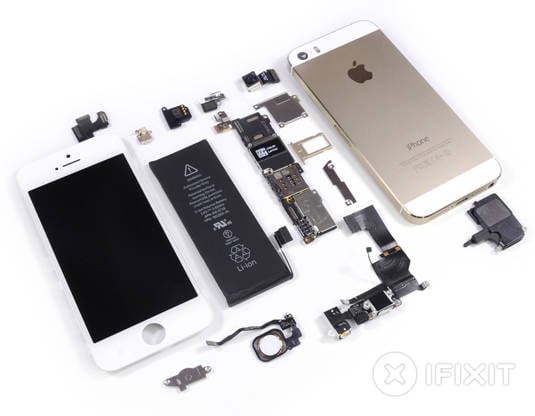 Yes, all those parts fit into a 7.6mm case (click to enlarge)
Being avid advocates of the "Right to Repair", iFixit rates each product it tears down with a 1-to-10 reparability score. Their rating for the iPhone 5s gives that "s" a few more possible interpretations: "six" is the score, which makes it "sorta" repairable.
To those who many argue that the "s" stands for "soporific", this Reg hack disagrees – the "s" might best mean "someday". The benefits of the power-saving sensor-management capabilities of the M7 chip won't be fully realized until developers take advantage of its CoreMotion API, and the advantages of the A7's 64-bit ARMv8 architecture offers developers – including Apple's – a goodly amount of potential for the future.
Our final interpretation: "stay tuned". ®
Bootnote
We had originally planned to do an additional story based on iFixit's teardown of the iPhone 5c, but after delving into the innards of that plastic iPhone 5 clone, we couldn't find enough fun facts to comprise a worthwhile article. The mere detail that the iFixers found the 5c's plastic case to be quite sturdy indeed didn't seem like enough to make a slog through the iPhone 5c's guts worth your attention. There is, after all, a limit to even The Reg's click-whoredom – although we congratulate iFixit for their dedication to thoroughness and tolerance of boredom.