Aliens rained down on Earth from space, possibly sprinkling microbes on our once lifeless planet, according to boffins from the University of Sheffield.
And the scientists claim they managed to photograph one of the extraterrestrial blighters from a balloon.
The balloon was launched to a height of 27km, which the eggheads argue puts it above the usual height of any terrestrial microbes floating around the atmosphere. To collect the samples, the balloon was fitted with a drawer which could be opened and closed remotely. Once the balloon reached altitude, the boffins on the ground opened the drawer and let space gunk samples fall into it.
Careful cleaning of the sample drawer, along with a shield to prevent contamination from the balloon itself, means – so the scientists say – the microbes collected at that altitude must have come from space itself.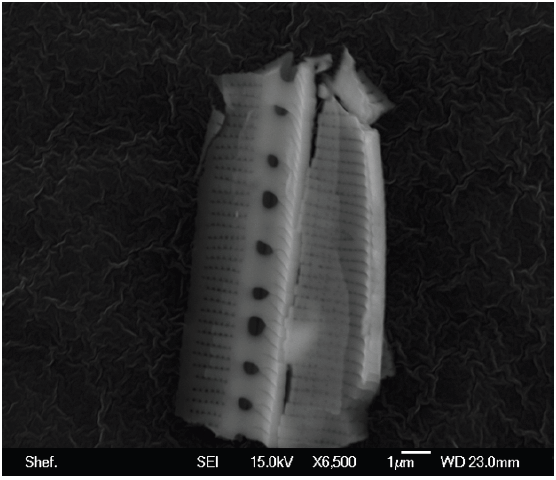 An electron microscope spots the blighters in the act of invasion
The study, published in the (get your pinch of salt ready) Journal of Cosmology [PDF, suspiciously easy to read], points out that organisms at 27km must have either floated up or fallen down to get to that height.
Crucially, for the "aliens from space" theory, the study's authors point out that the samples the balloon collected were too large to have floated up to such an altitude, where air pressure drops to a fraction of its level on the ground.
Volcanoes can, apparently, generate the required updraft but none were erupting in the three years prior to the July launch, which took place in Chester, north west England. This leaves us with the irrefutable conclusion that aliens are falling to Earth in huge numbers.
Panspermia, the theory that life on Earth originated from space, has various adherents, and it's true that life on our planet sprung up suspiciously quickly from randomly-mixed amino acids. But with a sample size of one it's impossible to tell if the Earth is typical, or a freak, the anthropic principle demands that Earth supports life (so we can be here to observe it, in brief) – but makes no such requirement anywhere else.
Monumental discoveries require monumental proofs, and one sample trip isn't enough. The team will repeat the process next month, and other teams will hopefully replicate their work. The report cites Occam's Razor while arguing that it's quite likely aliens fell on our heads; we reckon sample contamination remains the most obvious explanation for now.
Only repeated experimentation will establish if the Sheffield team really has found the ultimate source of life on Earth. We'll leave you with this quote from Douglas Adams' The Hitchhiker's Guide to the Galaxy. ®
For thousands more years the mighty ships tore across the empty wastes of space and finally dived screaming on to the first planet they came across - which happened to be the Earth - where due to a terrible miscalculation of scale the entire battle fleet was accidentally swallowed by a small dog.
Similar topics