Microsoft hooks up with AT&T, gazes into YOUR data center
Bit barn threesome ties Microsoft, AT&T + your gear together with MPLS
Microsoft and AT&T have announced a strategic alliance that should let punters shift workloads from their data center into AT&T's cloud and then into Windows Azure.
The unnamed service is due to launch in 2014, and was announced by Microsoft in a fluffy blog post on Wednesday.
The technology lets people "access Windows Azure as a logical extension of their existing data centers" via a Multiprotocol Label Switching (MPLS) VPN, Redmond wrote in a blog post on Thursday.
Microsoft says this can lower latency by as much as 50 percent compared with typical connectivity options.
If you squint, the service shares many traits with Amazon Web Services's DirectConnect product, which lets companies connect directly into AWS via a VPN in a data center where AWS has a physical edge presence, such as facilities operated by Equinix, transit provider Level 3, and others.
When we asked Microsoft for more info on where, exactly, its Azure cloud touches the AT&T network, the company said, "We will have a private connection between AT&T MPLS network and Windows Azure. As a matter of policy, we can't share additional details on how the connection is architected."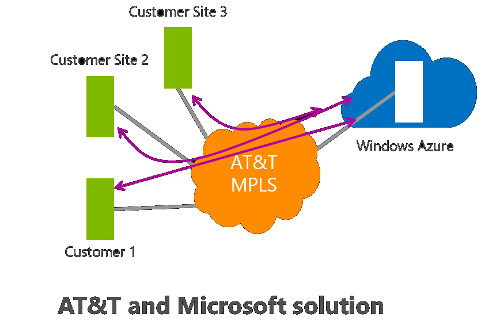 MPLS lashes you, AT&T, and Microsoft together
A diagram published by the company illustrates how this works, with the grey lines representing MPLS VPN connections and the purple lines representing what a Microsoft spokeswoman termed "data flow". The structure of the system indicates that Microsoft is sticking some Azure edge servers into AT&T facilities, which then connect back to the main Microsoft data centers – but the company refuses to divulge this information.
"There's no question that the time for cloud computing is now, and it's critical we help enterprises embrace the cloud on their terms," Microsoft's executive vice president of Cloud and Enterprise, Satya Nadella, said in a canned statement.
"Through this strategic alliance with AT&T," he continued, "we can reduce the barriers to entry for cloud computing by providing a more secure and reliable connectivity option for enterprise customers, accelerating the growth of cloud computing and the rapid adoption of Windows Azure."
The offering is very similar to a deal AT&T inked with IBM in late 2012 to offer users a way of hooking their VPNs into AT&T, which in turn linked with IBM's SmartCloud. It also operates a VMware vCloud-based "Synaptic Compute as a Service" offerings as well. All these products, including the forthcoming Azure tech, use AT&T's "NetBond" technology to let customers shuttle compute and network resources into and out of the cloud services.
By partnering with AT&T, Microsoft is able to get its cloud in front of the telecommunication company's millions of customers, and hopefully get them onto Azure. How dedicated AT&T may be to Azure is unknown, though, since the company released its "developer-centric" OpenStack-based "AT&T Cloud Architect" public cloud in early 2012.
At the time of writing, neither Microsoft nor AT&T had responded to further questions. ®