The hardware specs
The 1020 comes in a well designed one piece polycarb shell, in white black or yellow. It's extremely solid. Weighing in at 159g, it's heavier than the larger Galaxy S4, but it's a well-balanced 159g, and feels natural - it's considerably more comfortable than the 185g Lumia 920, the Volvo of smartphones – and less slippy. However, Nokia decided not to build in Qi wireless charging - this requires a clip-on shell. Once you add the shell, the 1020 becomes even thicker than a nude Lumia 920.
But caveat lector: I found the Nokia shell for the 1020 irritatingly creaky – whereas the Qi shells for the 720 and 925 were rock solid, and a tight fit. Audio capture is extraordinarily good, using a custom Nokia system. It has a wide dynamic range, meaning that in practice sudden noises don't ruin a video, and you can capture very live loud music incredibly well, even when pressed up against the PA stack. The speaker is loud and clear, albeit mono, and the 1280 x 768 OLED display is excellent - and can be used wearing gloves.
Nokia is selling a "camera grip" sled for the 1020, to remind punters that it's a camera replacement, and early adopters should be able to pick up a deal where the grip is thrown in for free. The grip has a built-in battery, a proper two-step shutter button and a tripod slot. It's a peculiar accessory, making the phone too cumbersome for most pockets and every day use, although it's intended to be used with a lanyard.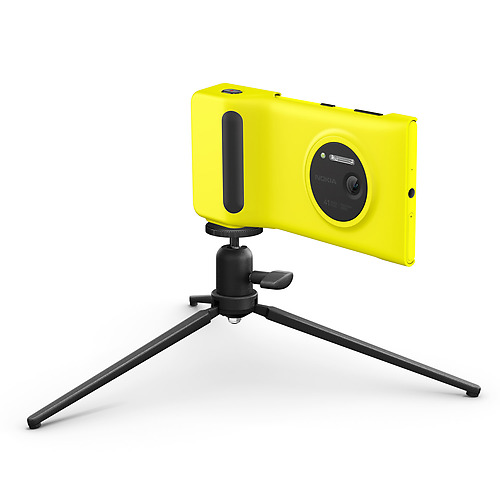 Nokia Camera Grip is a sled that wraps around the Lumia 1020. Tripod not included.
Your lanyard will need have a couple of inches of thread (not cord) free to slot through the grip, and naturally you won't want to use a standard point-and-shoot metal lanyard. This precludes using most of the lanyards available for phones or cameras. The additional battery in the grip is a little on the puny side at 1,020mAh, and once the sled is fitted, the phone can't be charged wirelessly.
Also, call quality was fine, although like most modern phones (and very unlike old Nokias) it took its time regaining a lost signal. One or two calls using HD voice quality sounded metallic, otherwise HD worked well. I did suffer from dropped calls in a dead spot.
The phone comes with 32GB of storage that unfortunately is not expandable via a SD card. Only O2 customers get the 64GB version this year. The large photos aren't a deal-breaker here, in terms of storage capacity consumed, but HD video is: if you shoot a lot of footage you'll want to purge the phone regularly to make space.
Music playback through headphones sounded fine, if not spectacular (Nokia's 808 handset offers outstanding music playback). The drawbacks here aren't caused by the hardware, but they are a result of the rather obtuse Windows Phone music software (which places an unnecessary wrapper around the local music library) and the quite appalling Mac OS X sync software.
It took only a week for the thing to stop syncing music altogether - a "feature" of Windows Phone Connector. If Microsoft is at all serious about WinPho 8 succeeding, it has to realise the importance of reliable media sync for Mac users: it can synchronise collections of photos and images on the device and iPhoto - that at least works well, but users will find that iPhoto doesn't allow one to purge pictures imported from the handset. This matters for housekeeping, as you'll want to use it for shooting video, and video gobbles space rapidly. Windows music sync worked fine.
Battery life is general usage is on a par with the Lumia 925, which is to say, it's not as efficient as iOS but more efficient than a comparably priced Android. This is not surprising since the hardware (built around a dual-core 1.4GHz Qualcomm Snapdragon S4 system-on-chip) is largely identical to the 925, but has been given an extra 1GB of RAM to 2GB. Where the Lumia 1020 will start to chew through the battery is with heavy photo usage: Nokia's processing algorithms do use more resources than conventional technologies.
System Software
Perhaps the biggest gotcha about the Lumia 1020 is if it means making a leap from an established platform like iPhone or Android. Windows Phone has quite a few advantages ... and some obvious disadvantages too.
Windows Phone is an unusual text-centric design which shows the benefit of hindsight – it was put together after the iPhone had been launched – and as a result scores highly for usability, with superior integration, navigation and basic social features. It also has a flexibility lacking in the iPhone, with the home screen forming a kind of pinboard for people, places, and playlists, for example.
In fact, Apple paid Microsoft the ultimate compliment this year by incorporating some of the aesthetics of Windows Phone into its iOS makeover. Both systems now use text as buttons, dispensing with surrounding UI chrome.
Since Windows Phone has changed little in a year, and frankly, not much more since its launch, we'll spare you a recap.
Windows Phone also makes a nonsense of the hardware arms race, as in contrast to Android it's highly efficient and reliable, and performs fast and without glitches even on meagre hardware. Microsoft has a rather stately (read: slow) pace of development which also brings pluses and minuses. The upside is that Windows Phone retains the clarity and simplicity it was born with. The downside is that some basics are inexplicably missing: you can't search the device, or save a PDF attachment anywhere, or lock the device orientation into landscape or portrait mode.
The radical UI design doesn't work well for all apps; for example, the Microsoft-designed Facebook app discarded the UI guidelines and is all the better for it, and Twitter's native app shows just three Tweets at a time. But the number one reason for returning a WP is the third party application market. This is improving, and key applications like Evernote, Netflix or Skype are present, and perform well. But the "long tail" of apps is where Windows Phone lags, and what many people will consider to be fundamentals like banking apps, or Dropbox, or Sky, remain absent.
Aware of this, Nokia bundles some decent apps: the HERE Maps app is outstanding and includes navigation and offline viewing - although for some reason, you have to download country maps individually. The public transport is similarly excellent, but again, should have been bundled.
Similar topics