This article is more than 1 year old
Sofas with a roof and Star Trek seating: The future of office furniture?
Meet the new Boss - and vanish into the firm's funky fittings
100% Design I've been going to the 100% Design trade show for quite a few years now and there's always some finely crafted cubicle contraption lurking in the Office section of the event.
Unless I've developed some curious office consciousness since my last visit, I'd say there are more of these cubicle designs than ever this year.
OK, so to suggest all of these office furniture ideas are simply cubicles wouldn't be fair on the designers here, as they are all trying to address workplace problems; the most prominent being a lack of space in many office environments and the need to have an area where meetings can take place or casual conversations away from the desk.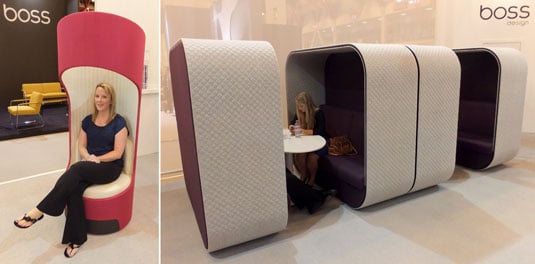 Boss Design Group: Cega (left) Cocoon (right) compact office furniture
The solo seater Cega is acoustically treated and designed to make the most of ambient light
Notching up its third decade this year is UK office furniture company Boss, which launched the latest addition to its Pod Meeting System at the show. The VIS 100 is a cylindrical affair with clear glass panels that lets everyone know you're having a meeting, but not what you're talking about – lip reading (and laser beams picking up vibrations from the windows) notwithstanding.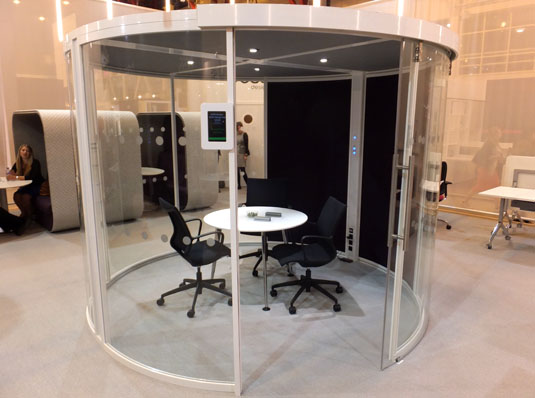 Boss Design Group VIS 100 Pod Meeting System - for when you need to make things clear
No doubt the transparency helps to avoid any feeling of claustrophobia in what is roughly a 3m diameter walk-in wardrobe featuring LED lights, acoustic panelling, integrated power and data panels and an optional airflow unit. The meeting room scheduler on the the door – which looks suspiciously like an Android tablet – hooks up to Exchange, Office and Google calendars, but will cost you another £1700 on top of the £15,000 for the VIS 100.
For a moment I thought renting another place would be cheaper but after a year or so, you'd be looking to pay it all over again anyway … so maybe this Pod Meeting System is a bargain after all? More from Boss Design Group here.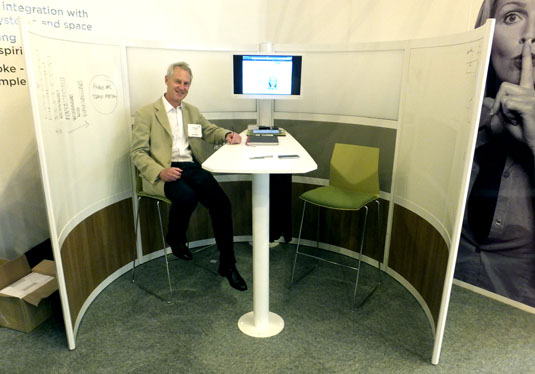 Icon Privas screened breakout area with integrated whiteboarding... or is that graffiti?
If you'd like to divide that figure by about 10, then Icon, another British outfit has just the space for you. Its new Privas arrangement of robust modular screens can be kitted out with a table plus data and power points for about £1500. Mobile, stylish and functional with acoustic panelling options it's one way of creating a meeting space or breakout area without having to sack somebody in the office. More from Icon here.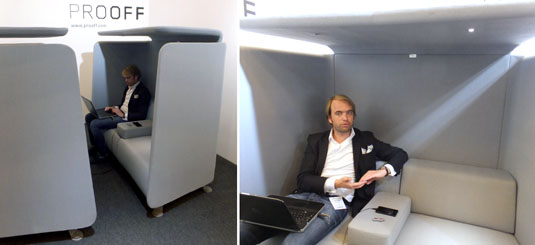 Inner sanctum: the Prooff Nice sofa
I very nearly didn't see the chap sat in the Niche shielded sofa by Prooff. With the two pushed together and those high sides there's definitely an air of privacy to this arrangement. Joining him for a chat was a bit like being inside a limo – spacious, comfy, with a roof of sorts above you, and fairly quiet too.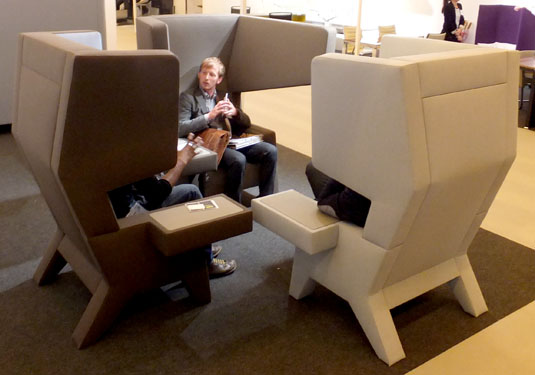 Lend me your ear... chair
The name Prooff stands for Progressive Office. This Dutch furniture brand commissions designers to develop this concept for production. Other designs include the curiously named Ear Chair – looking at it what else would it be called? – that uses shielding and close proximity to create a sense of intimacy and privacy. More from Prooff here. ®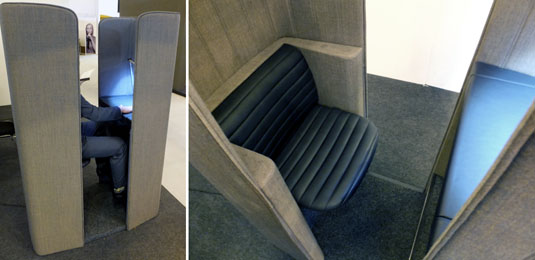 OOF's Box is designed with a small footprint in mind for hotel lobbies and small offices too
For the Johnny No Mates out there, the Out of Office (OOF) box may well find favour. It's really meant for hotels and other hospitality areas and the box will set you back about £3,800. However UK-based designer George Liarikos explained that, in these hard times, folk were keen to maximise office space in any way they can. Featuring lighting, and a sliding table that has power and data points the back, it's comfy and cosy and would work nicely as a telepresence booth. More from OOF here.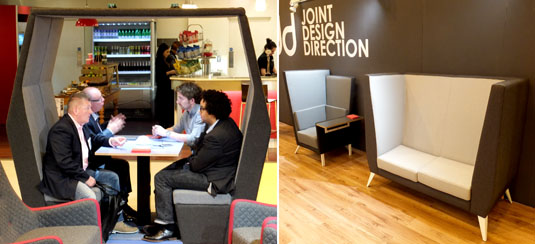 JDD - Joint Design Direction Bill and Polly collection
Joint Design Direction (JDD) certainly seems sold on the idea of partitioning with high-sided furniture. This British outfit curiously names all its products as if they were people. We've Bill and Polly on show in the pics with solo seater Georgia in the background. More for JDD here.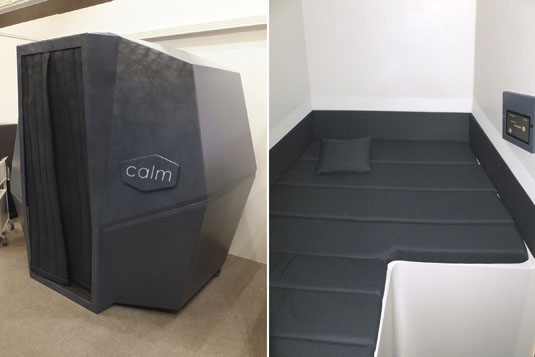 Haworth CalmSpace nap pod makes sleeping on the job official
US design company Haworth has an impressive global presence having expanded into Europe and Asia in the late 1980s. The unmissable CalmSpace looks more like some menacing sci-fi chamber of unspeakable horrors but turns out to be a place for office workers to flake out for a wee while to save them from going postal.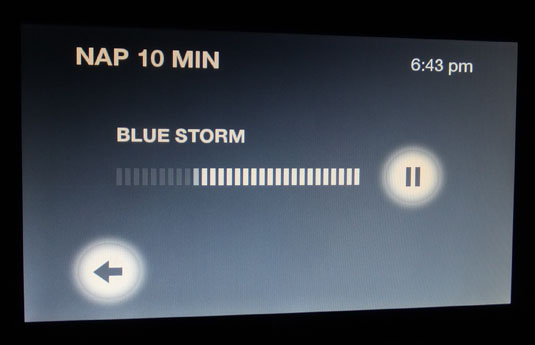 The nap timer keeps the rest to more of a snooze than a deep REM sleep
There's audio, mood lighting and a display panel that lets you know how much quiet time you have left. The CalmSpace nap pod limits this down time to up to 30 minutes, and on the stand it was mentioned that Orange/France Telecom will become a customer. I wonder why that would be? More from Haworth here. ®
100 Per Cent Design is ongoing this week for trade visitors and students and is open to the public on Saturday 21 September 2013 at the Earl's Court exhibition centre.