One of last few iPhone 5Ss STOLEN from within MASSIVE POLICE CORDON at Apple Store
Gutsy master thief disdained piles of unwanted 5Cs
Exclusive A man's new iPhone 5S was stolen in Apple's flagship London store just seconds after he bought it this morning.
Despite more than a dozen cops turning up at the packed Regent Street shop - where the latest mobe went on sale today at 0800 BST - an enterprising pickpocket managed to swipe the gear.
The Register understands the victim unpacked the phone in the store and put it in his pocket - allowing the thief to deftly nab it and escape. The fanboi only noticed the phone had gone once he left the shop.
"It's not clear what happened, because the store is so busy," a Met police source told us. "This is why we draft in extra officers. There's always going to be people having their new phones nicked."
Officers will now watch CCTV footage to work out exactly what happened.
Despite warnings of Apple's inevitable decline, the iPhone 5S is in great demand and has now totally sold out in the Regent Street Apple store. Large signs outside told fanbois not to bother asking for one. According to Twitter, stores in Liverpool, Cardiff, Cambridge, Glasgow and other parts of London have also sold out.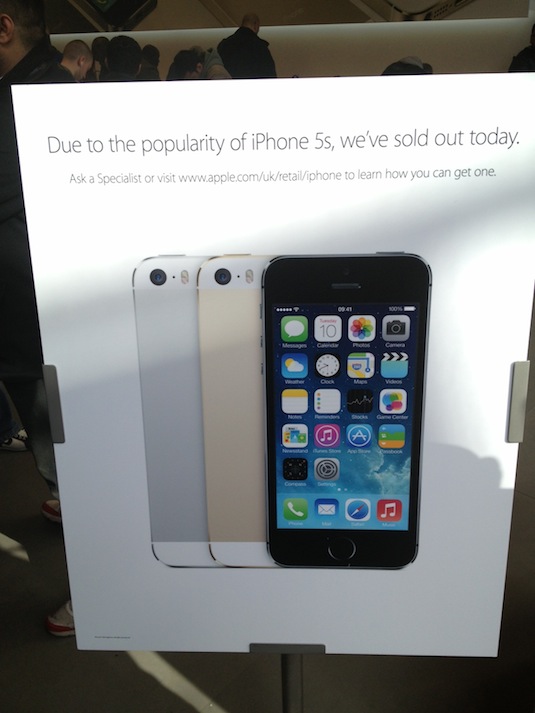 Hard luck ... Apple's flagship store has run out of iPhone 5Ss
The online Apple store has also flogged all its iPhone 5Ss and will not be shipping new ones until October.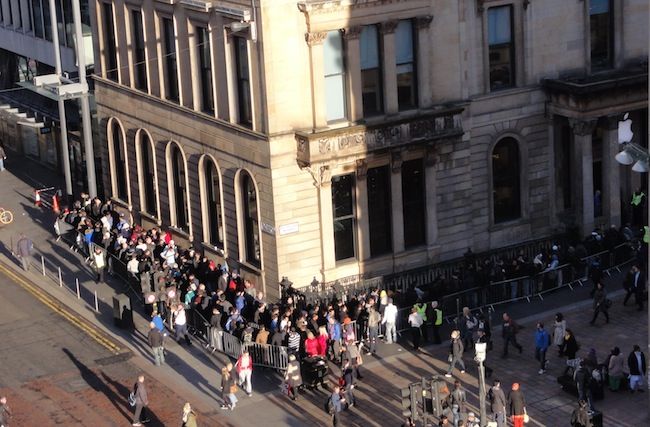 iQueue ... Punters line up outside Glasgow's Apple Store this morning
An app-developer Reg reader told us the Glasgow store sold out of iPhone 5Ss by about 0856 BST, adding: "I didn't get one because I really didn't expect them to sell out that early, so I thought I'd wait 'till the queue died down.
"Plenty of iPhone 5Cs were in stock. It seems like a bit of a PR f**k-up that, really. They could've at least pretended that model was sought after."
(We're also told the Glasgow queuers were entertained by a megaphone-wielding bloke who was yelling at the Clydesdale Bank office opposite. He does this until the polis turn up to send him on his way, on a fairly regular basis, we're told.)
In the Regent Street shop, large numbers of the pastel-coloured iPhone 5C models (pictured below) were left unsold. Staff told El Reg it was likely that less-avid fanbois and fangurlz would probably visit in the coming weeks to buy up the slightly cheaper phone.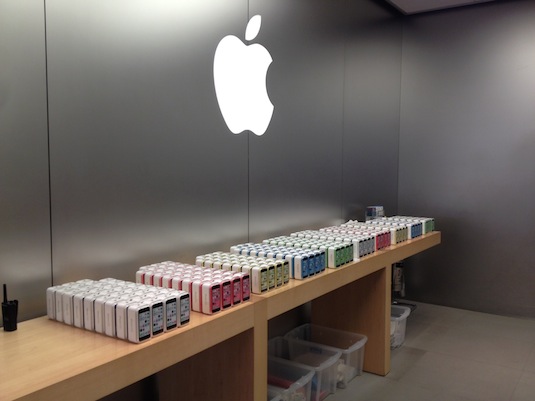 iPhone 5C: Far less popular than its glitzy cousin
One Apple store worker said: "The demand for the iPhone 5S has been crazy. Yes, there are loads of the 5C model, but we're expecting to see demand for it stay steady in the coming weeks."
The flagship store operated a ticket system and as we arrived, staff were handing out the last iPhone 5Ss. A similar ticket scheme will be employed to sell the 5C this afternoon, although it is unlikely that the cheaper phone will fly out of the door.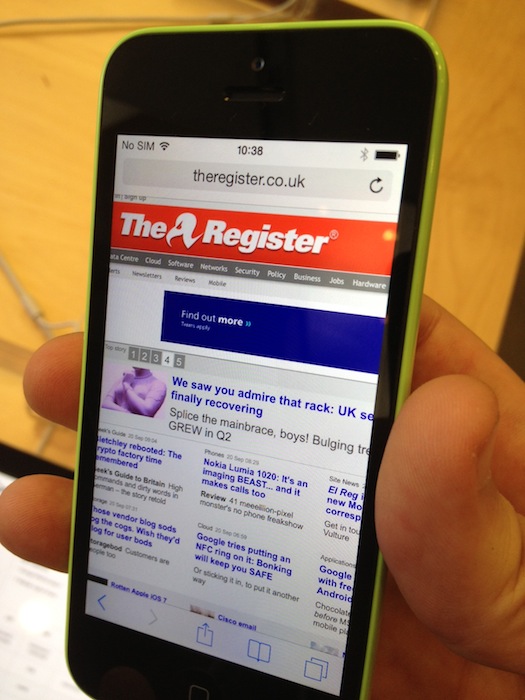 Yo ho ho: Vulture Central on the iPhone 5C
Meanwhile, amid this morning's pickpocket drama, the Met today stepped up its efforts to stamp out phone theft: a team of one sergeant and eight officers had been sent to the Regent Street store, as well another team of one sergeant and six constables drafted in from elsewhere in London.
People were made aware of thieves' tactics and encouraged to enter their phones' details into a database so that if a handset is reported stolen and is switched on by a crook, the cops and network can know about it. Officers expect a slight increase in the number of thefts following a new iPhone release, as thieves are on the lookout for the distinctive new mobes. ®