Riverbed flows faster with refreshed cloudy Whitewater gateways
Giving your data a hefty kick up the cloud storage
---
Network-polishing tech firm Riverbed is still honking away at its great Glacier front end story, with three new Whitewater cloud storage backup appliances and an operating system upgrade to WWOS v3.0.
Cloud Storage gateways are local converged server and storage appliances that provide a dedicated on-ramp to the cloud. This ramp stores and prepares data for delivery to their cloud storage destination. With the new Whitewater boxes software users get more local storage, faster data ingest and additional replication choices.
Whitewater appliances store recent data in local disk cache for fast access and shunt other data off to the cloud, deduplicating it before transmission, with Amazon's Glacier archive featuring as a prominent destination. Many other clouds are supported as well, though: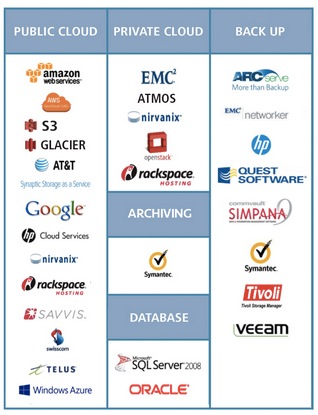 Whitewater's supported clouds and applications
The existing 510 and 710 products stay on Riverbed's list and the three new Whitewater boxes are these:
730 - 8TB of usable cache, targeted at larger small and medium businesses
2030 - 16-48TB of usable cache, aimed at enterprises with medium data sets
3030 - with 32-96TB of usable cache this has three times the data caching capacity of the previous range-topping 3010. For enterprises with large data sets it can support backup and archive datasets of up to 14.4 petabytes in the cloud
Ten gig Ethernet support has been added so you can access the boxes faster, specifically meaning faster ingesting of data. This also means Amazon Direct Connect can be used to move datasets up to Glacier faster.
Users can pin specific backup datasets in their Whitewater appliance to guarantee recovery at local disk speed rather than slower cloud recovery speed, which, in Glacier's case, can take hours.

Avoid squinting by clicking image to get bigger version.
A previous product range table can be found here.
The new software provides "pairwise replication that enable enterprises to replicate to an additional Whitewater appliance at a secondary location." This means recovery from a failed Whitewater is much faster than recovering all of its data from the cloud.
WWOS 3.0 is available now, as a free upgrade to supported users. The three appliances are also available now. ®