This article is more than 1 year old
Lighting bods blind designophiles with LED-powered lounge lamps
Bright lights and butterfly wings - obviously makes sense to someone
100% Design At the 100% Design show in London's Earls Court this week, the great and the good from architecture and interior design spent their time gazing into lights. Not just any lights, either: LED lights covered in a thin film based on butterfly wings.
LEDs can produce very intense point source illumination, which is great for cyclists and the plentiful supply of fancy anglepoise lamps on show at 100% Design. Yet for more natural and subtle uses, diffusing the light evenly is the way to go.
Besides its various tape and film technologies, 3M has been toying with LED tech for a while and although various projectors have come and gone, it's been busy developing lighting solutions that are more about the glow than the dazzle.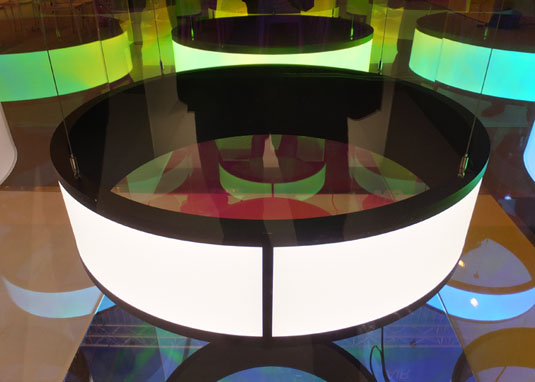 3M Air LED lighting showing coloured reflections from the dichroic film container – click for a larger image
On show were several recent products that have just become available in the UK. The Air is a circle of uniform light which uses easily replaceable LEDs along the rim. These illuminate the diffusing band that's made of materials 3M has specially crafted to deliver a lightweight fixture with even, glare-free light distribution. Available in 3ft, 5ft and 7ft diameters, the Air might not sound like much, but it is really rather impressive when you see it in front of you.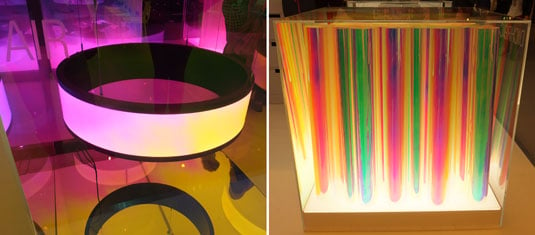 Air LED lighting from outside the Dichroic box (left) and rolls of Dichroic film (right) – click for a larger image
The Air makes an even bigger impression when viewed through the dichroic film that the display unit was covered with. This amazing transparent film changes colour depending on your angle of view. This colour shifting across the spectrum adds a sense of fascination to an ordinary light source. Inspired by butterfly wings, which apparently have no pigment, they just reflect light in interesting ways to produce the colours we see. Dichroic film works on similar principles and seems destined to become a regular feature on shop windows and hotel lobbies.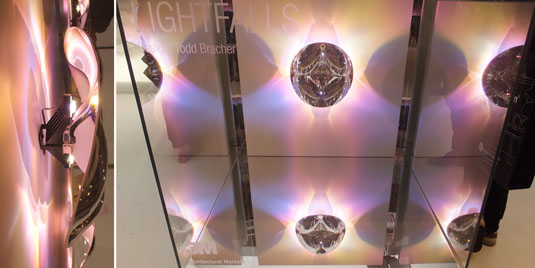 3M Lightfalls LED lighting, the base of the box also shows the highly reflective mirror film
Click for a larger image
Lightfalls is a feature lamp system devised with designer Todd Bracher. It combines mirror-like film with LED lighting and a cleverly shaped lighting reflector. The mirror film is claimed to be over 98 per cent reflective and is fashioned in the Lightfalls enclosures to enable light from one module to "pour" into adjacent modules. When arranged in clusters it creates an impressive feature. More from 3M architectural here.
100% Design has dedicated international pavilions where countries can promote their own design flare. A truly eye-catching feature was the wall of lanterns from the Taiwanese contingent. This sychronised lighting smoothly changed colour and were described in the accompanying blurb as "Social Design".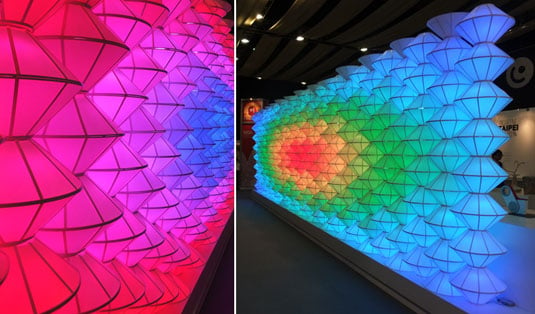 Taiwan's Social Design initiative seems like an illuminating prospect – click for a larger image
It describes Taipei thus: "The human aspect of the city is like a piece of software with [a] wonderfully designed interface that allows the non-human hardware of the city to function smoothly."
It goes on in a similar vein – apparently this sort of design idea is to connect those two aspects. And if that means it's supposed to use design and tech to make things look nice so people feel better, then I'd say it succeeds.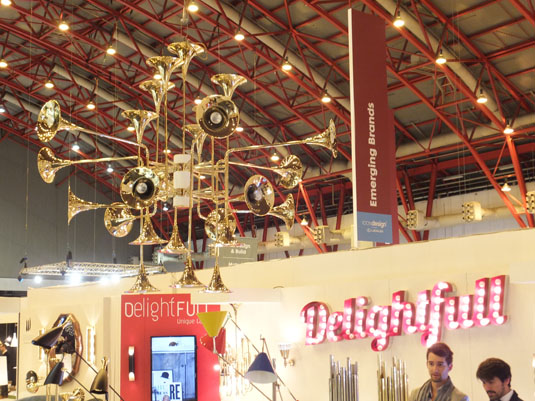 DelightFull stand with horn lighting display
Portuguese lighting specialists DelightFull are no strangers to adding a human - and humorous - touch to its illuminating designs. The company was out to blow its own trumpet with its stand at the show, which succeeded in living up to its name. For something DelightFull, click here. ®
100 Per Cent Design is ongoing this week for trade visitors and students and is open to the public on Saturday 21 September 2013 at London's Earls Court exhibition centre.