Grand Theft Auto V: Violent, sweary and amazingly ambitious
The 170-MEELLION-dollar monster has landed
Game Theory It's rare that I walk out in the mean streets of London and experience carpet-bombing marketing for a videogame, but that's exactly what happened this week. Something called Grand Theft Auto V is now available to purchase apparently, so I thought I might start with that.
Elsewhere the rather great Zelda adventure, The Wind Waker, gets a makeover, while my PC finally decided it might want to run Rome II...
Grand Theft Auto V
It's here and, from what I've seen, a choir of angels has thus far failed to descend from heaven trumpeting the news. I guess GTA5 really isn't the messiah then, though it is a VERY NAUGHTY BOY.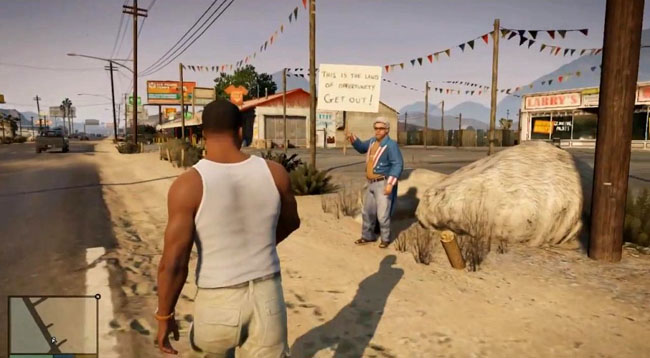 Set in the States. Made in Britain
It's also prime contender for the most ambitious videogame ever conceived. Developer Rockstar has blown a reported $170m to make GTA5 and it shows in the thrum of Los Santos and the ridiculously vast expanse of suburbs and countryside that can be explored.
Missions are on the extreme side too, leaning much more towards San Andreas than GTA4. Early forays which involve catching up with a boat before leaping aboard it from the bonnet of a moving car are just the tip of an action-packed iceberg.
Rockstar has also added a slew of new features that should keep committed players busy for weeks. Chief among them is the addition of multiple main characters who can be flipped between at will.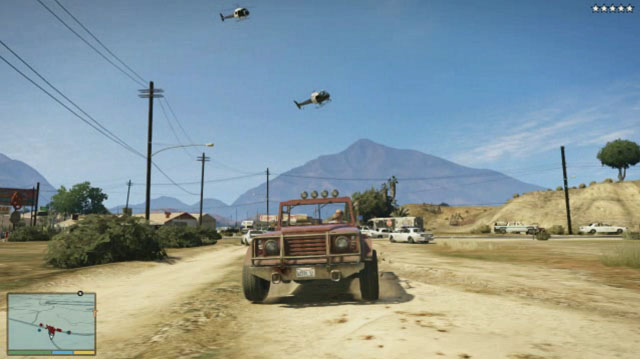 Extra vehicular activity
The presence of Michael, Franklin and Lester, and this ability to switch from one to another, complements the way the story plays out. Planning and staging of the series of heists which are the game's staple, makes quickly snapping from character to character essential.
Additions to the formula don't end there. Take the selection of radio stations which are greater in number, and better, than ever. You can also explore sunken cities, fly military jets, train pets and pimp cars. Plus all kinds of mini-games and optional missions become available too – even if most feel somewhat superfluous.
In that way GTA5 feels exactly like any other GTA, and still won't win over those who quickly tire of the franchise's tried-and-tested machinations. Rockstar has shied away from shaking up the old formula of "drive to point A, carry out job B and proceed to point C" – usually while shaking off the cops – which has become the series' mainstay.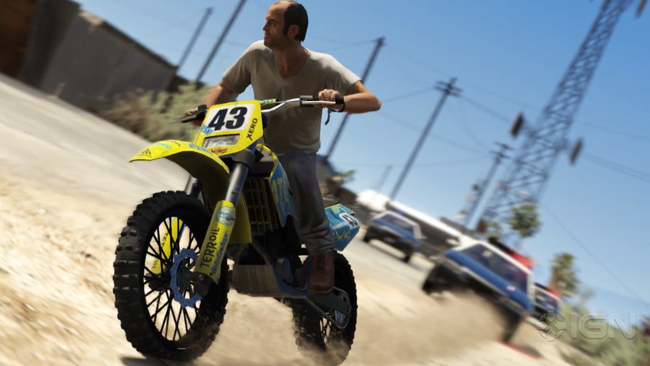 Cop this
Shooting isn't entirely convincing either, being too easy with auto-lock on, or too slapdash without. It pulls absolutely no punches when it comes to violence or, even to my 30-something liberal mind, the use of swearing.
Yes it's an 18, and yes it's GTA, but does that have to limit the script to the "N" and "F" words? And I'm not even going to get into the depths of its misogyny. GTA is the high watermark of the industry, the game by which we gamers are judged, and even I, a seasoned gamer and reviewer, can't help think it's too much at times. I can see Keith Vaz tabling a question for the PM, and Daily Mail hacks drooling even as we speak.
That said, the technical achievement and the sheer bombast of GTA5 does rather shove aside such niggles. In short, this is the best Grand Theft Auto yet, offering action, laughs and manic mayhem.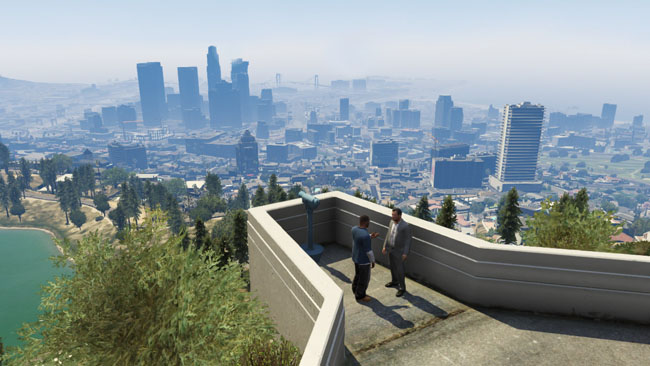 One day, my son, all this will be yours
In the past that would have made it the best game of the year too. But for me, the likes of The Last of Us and BioShock Infinite have lifted the bar that measures what games can accomplish.
So, while GTA5 is admittedly great fun – and a technical marvel – it doesn't quite hit the loftiest of heights. Half a point knocked off the score then, in the hope that Rockstar raises its game even more in the inevitable sequel. Oh and I've not even looked at the multiplayer yet as it's too early to see how the community is shaping up, so more on that next time.