There's been a tsunami of speculation about the relative sales figures for Apple's iPhone 5s and iPhone 5c, but now that the first firm numbers are in, it's abundantly clear that among the fervent fanbois who couldn't wait to get their hands on Apple's latest shiny-shiny, the flagship 5s is the clear winner.
The analytics folks at Localytics have published global iPhone 5s and 5c carrier-activation figures through 8pm Eastern Standard Time on Sunday – both iPhones went on sale last Friday – and those numbers show that the breakdown is not even close. The numbers are especially interesting for China, a market that most observers assume is a primary target for the iPhone 5c.
Anecdotal evidence pointed to the lower-priced, "unapologetically plastic" iPhone 5c not being an immediate hit in the massive potential market affectionately known as the Middle Kingdom – and according the Localytics' carrier-activation figures, that is indeed the case.
Click on the chart below to expand it to Localytics' full resolution, and if you can find any indication at all of carrier activations in China, your eyes are better than those of this aging Reg hack: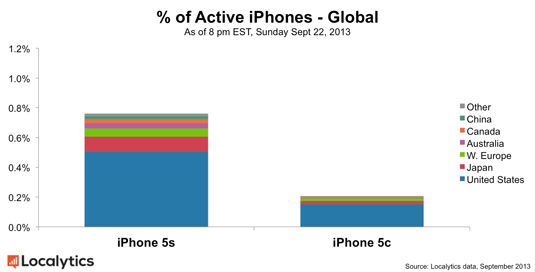 It will be interesting to see this same comparison in months to come (source: Localytics)
Data from US carriers AT&T, Verizon Wireless, Sprint, and T-Mobile show a clear lead for the iPhone 5s, as well, although the difference is not as stark. In the US, Localytics reports, the two new Cupertinian handsets totaled 1.36 per cent of of all iPhones activated in the US by Sunday evening, but of that number, 1.05 per cent are the iPhone 5s and 0.31 per cent are the iPhone 5c – that's a differential of nearly 3.4X.
"This makes sense," Localytics concludes, "since those who feel the need to buy a new device the very weekend it launches are most likely the power users who want the highest-end phone experience."
Internationally, the difference is even greater, with the 5s ahead of the 5c by a factor of 3.7X. "In some countries," the analytics firm reports, "the ratio is even more extreme, e.g. in Japan the 5s is outselling the 5c by a factor of 5X."
Both handsets were activated in far greater numbers in the US than elsewhere, with activations being over twice those of all other geographies combined. And, as might be expected, AT&T leads Verizon Wireless in activations, and both those two top US carriers far outpace their two smaller competitors.
More information – and more nifty charts, for you devoted data devourers – can be found here. ®