Microsoft: Surface is DEAD. Long live the Surface 2!
Hey, things with kickstands are COOL, right?
Undeterred by its critics, Microsoft has torn the wraps off Surface 2: its upgraded Windows 8-powered tablets, now with faster processors, better graphics, a load of new accessories, and not one but two kickstand positions.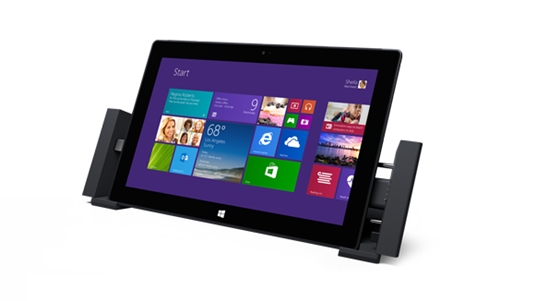 The Surface Pro 2 with its new docking station
Redmond has already written off nearly a billion dollars of the Surface systems, but at an event in New York on Monday the company showed off its latest attempt to reboot the line. The new tablets, the Surface 2 (the tablet formerly known as RT) and Surface Pro 2, have new processors, slightly slimmer designs, and Microsoft is promising that power management has now been improved to stop them running out of juice quite so quickly.
The new Surface 2 is slightly slimmer and lighter than its predecessor, uses a faster Nvidia Tegra 4 processor, and the screen resolution has been bumped up to handle 1080p video – bringing it on a par with the Pro version. The fondleslab's USB port has been upgraded to version 3.0 for faster data transfer, and the tablet now has new front and back cameras (3.5 and 5 megapixels, respectively).
Microsoft has also got hold of Intel's Core i5 "Haswell" processors for the Surface Pro 2, and the result is a system with a claimed 60 per cent improvement in battery life and faster processing across the board. The Pro 2 has also had its color handling improved, Microsoft said, and will come in a new 512GB version for those that need the storage space.
Both tablets run Windows 8.1, although buyers of the ARM-based not-RT Surface will still have some limitations as to what software can be used. Both also have a redesigned kickstand with not one but two positions – the kickstand classic position of 24 degrees and a new position that angles the tablet at around 40 degrees – making it easier to operate from your lap.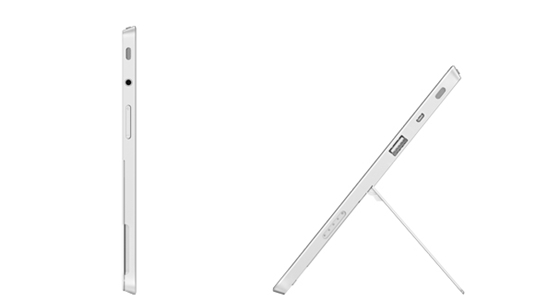 The new Surface kickstand is more laid-back
In addition to the new fondleslabs, Microsoft has also updated and expanded its accessories line. The $120 Touch Cover keyboard cover has been slimmed down slightly and had its accuracy improved, while the $130 Type Cover now has a backlit keyboard and a stronger backbone to stiffen up the system.
Microsoft also showed off a new keyboard with a built-in power pack that will give Pro users an extra two hours of battery life. The Power Cover, which uses the Type Cover's keyboard, will set you back $200 and will be available in "early 2014," along with an optional $50 car charger for the tablets.
Pro users will also have a $200 docking station option for their fondleslabs. The unit houses Mini DisplayPort video output, three USB 2.0 ports and one USB 3.0 port, an Ethernet port, and 3.5mm audio in and out, and is backwards-compatible with the first generation of Surface Pro tablets.
For those who just can't bear to have a keyboard that actually attaches to the tablet (a feature Microsoft based its first Surface advertising campaign around), there's a $60 Bluetooth adapter that allows you to separate the two and still type. Microsoft is also adding a Surface Edition Arc mouse for $70 to replace the hand-cripplingly small wedge mouse sold with the first Surface fondleslab.
Prices for the Surface 2 start at $450 for a base-spec unit and $900 for the Surface Pro. Preorders can be placed beginning on Tuesday and the units will go on sale officially on October 23, but don't expect people to be lining up around the block for them, if past experience is anything to go by. ®