The New York Police Department's motto, Fidelis Ad Mortem – or "faithful unto death" – could easily pass as the utterance of a fanboi pleading lifelong allegiance to the late Steve Jobs.
And it would seem that New Yorkers also keep faith with the Jesus phone – judging by the police force's latest crime-prevention campaign which directly targeted them. Officers hit the streets over the weekend to hand out leaflets calling on iPhone owners to download iOS7, which comes with beefed-up security measures.
The pamphlets say "Attention Apple users" and point out that iOS 7 "brings added security to your devices". Cops said the iOS update was "avaialble" [sic] right now. Let's hope the cops are better at chasing down perps than they are at spelling.
Twitter user Michael Hoffman posted a picture of the leaflet along with with the tweet:
Four uniformed NYPD officers were at my subway stop tonight asking me to upgrade to iOS 7. Not a joke! pic.twitter.com/CGdR2RqtKJ

— Michael Hoffman (@Hoffm) September 21, 2013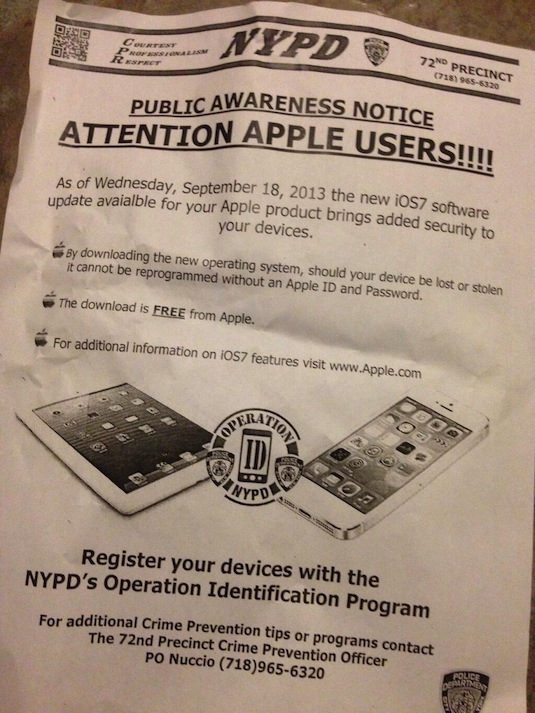 Apple's updated mobile OS features an improved version of Find My iPhone, which makes it impossible for anyone to switch it off without an Apple ID and password, as well as Activation Lock, which requires an Apple ID and password to be entered before a user can perform a remote wipe or reactivate the phone.
The iPhone 5S also features a fingerprint sensor, although this has already been hacked. ®