Oracle's Ellison talks up 'ungodly speeds' of in-memory database. SAP: *Cough* Hana
Plus new, RAM-heavy hardware promises 100x performance improvement
Oracle's new big iron
Naturally, given Oracle's penchant for "engineered systems" since it acquired Sun Microsystems in 2010, the database giant wouldn't go out of its way to trumpet a technology like its in-memory option without producing new hardware to take advantage of it. As part of his Sunday afternoon keynote, Ellison introduced Big Red's latest mega-box, the M6-32, euphemistically known as the Big Memory Machine.
By "big," he meant big. Calling the new server "refrigerator-sized" does it an injustice. About the only customer who might need a fridge this big might be a butcher with a family of eight.
He wasn't exaggerating about "big memory", either. The box comes fitted with 32TB of RAM, making it "ideally suited for in-memory databases", if Ellison does say so himself.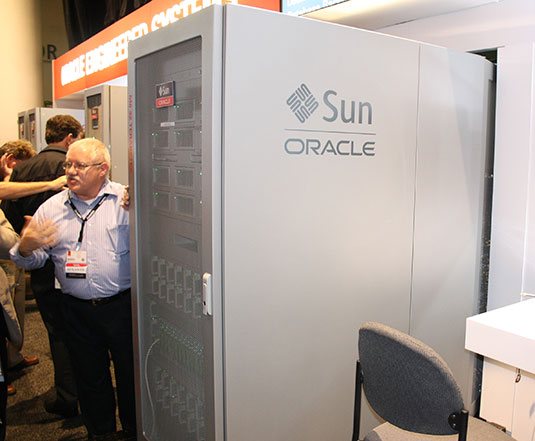 Hope you've got a lot of room in your data center. Oracle's M6-32 isn't exactly small
Even more significantly, however, the M6-32 is the first machine to ship with Oracle's latest processor, the Sparc M6, which is generally available for the first time as of Sunday. Silicon-minded readers might remember this part from when the database giant first touted it at the Hot Chips conference in August.
To recap, the new chip features 12 processor cores – twice as many as the earlier M5. It also supports up to 96 threads per processor, while still being socket-compatible with the M5. "Just plug it into the M5 chassis," Ellison said.
Describing the new chip as "terabyte-scale computing," Ellison said it delivers inter-processor bandwidth of up to 3TB per second, it can access memory at up to 1.4TB per second, and it even manages I/O at up to 1TB per second.
Better still, he said, all of that processor power is cheap – CHEAP! – or at least relatively so. Ellison said the M6-32 offers better performance than "the biggest IBM system on the planet" – his slides named the Power 795 – for "less than a third of the cost."
The M6-32 is further available either as a general-purpose, standalone box or in Supercluster form, where it can be attached directly via Infiniband to Oracle Exadata storage cells.
Naturally, not everyone who viewed Ellison's keynote was equally impressed. Shortly after the session ended, SAP executive board member Dr Vishal Sikka posted a video rebuttal to Ellison's presentation, arguing that Oracle is really only playing catch-up.
"These days there's a lot of news and all kinds of companies are making all kinds of noise about getting on the bandwagon of in-memory databases," Sikka said. "Of course, we are thankful that everybody is on and we welcome everyone. We find it a little bit amusing because several years after questioning and bashing the work that we have done with HANA, they are now all joining the party. So welcome to the party, it is nice and warm, the water is great, just jump in."
Those water references might have been intentional jabs at Ellison, whose Team Oracle has not been performing as well as his company's database hardware in the America's Cup sailing races, taking place in the San Francisco Bay at the same time as the OpenWorld conference.
During a demonstration of the company's new in-memory database technology, Oracle's Loaiza quipped, "It works when there's no wind, Larry. And no capsizing."
Ellison's response? "Don't even talk about it." ®