This article is more than 1 year old
Can't fit slab AND mobe in your tight pockets? 10 tablets with built-in 3G/4G
Fondle the web wherever you are without Wi-Fi or a clingy phone
Product Round-up If you want a tablet that is always connected to the internet, there are several options to consider.
One that involves no extra hardware expense is simply to use your smartphone as a wireless hotspot, routing connections over 3 or 4G - if your chosen mobile network lets you. Another option, which has the advantage of not hammering your phone's data tariff and battery into the ground up their ears, is to buy a 3G or 4G pocket Wi-Fi router.
The third path, which involves no extra gadgetry, is to buy a tablet with built-in hardware for 3G or 4G connections. That way you aren't dipping into your smartphone's data transfer allowance and you don't have to buy, charge or carry an extra bit of kit.
Or, of course, you could just buy a Very Large Phone (VLP™) and move on from this oh-so-2012 idea of having two touchscreen devices when most of the time something like a Samsung Galaxy Mega 6.3, Sony Xperia Ultra or Asus FonePad will do the job of both smartphone and tablet quite well enough, all in one rather large device.
But assuming you don't want a VLP or a pocket Wi-Fi router and would rather not drain your smartphone of juice and data, here's a quick shufti at the 3G and LTE (4G) tablets currently available, soon to be available and sort-of available on the grey market, here in Blighty.
Acer Iconia W700

With an 11.6-inch screen, a 1.7GHz Intel Core i5 chip and 4GB of RAM, the W700 with 128GB of flash storage and an LTE modem is the pick of the current crop of Acer tablets, though I suspect you will need deep pockets. At the time of writing Acer couldn't confirm a price nor an expected UK shipping date. Still, with those components the W700 is undoubtedly an impressively powerful machine for a tablet and can function as a genuine laptop/desktop replacement. Combine those features with a 1920 x 1080 resolution screen and 64-bit Windows 8, a high sticker price can be partly excused.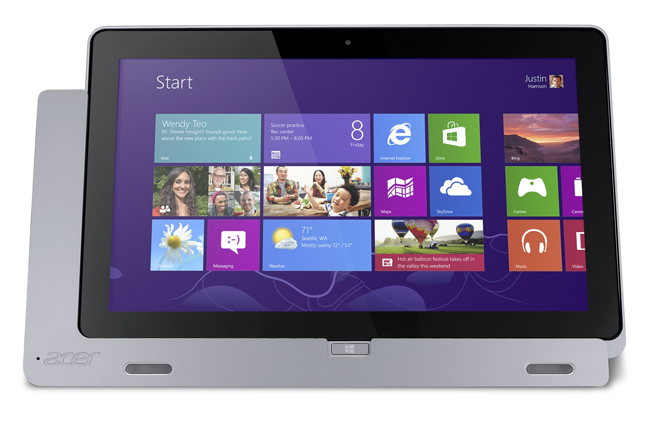 As well as a traditional keyboard-cum-cover-cum-stand, the W700 can be ordered with a rather odd but also rather clever standy-uppy plastic cradle: this has an additional three USB ports (the W700 itself only has one), HDMI connector and stereo speakers, and turns the W700 into a mini all-in-one desktop PC.
With such a large screen to illuminate, battery life is reasonable rather than spectacular - a full charge will get you to around the five hour mark. At 950g it's not quite as heavy a lump as you might expect. Putting the unknown price to one side, the LTE W700 may well be worth a look if you are after one device to serve all your desktop, laptop, tablet and mobile data needs.
Apple iPad 4

Buying an iPad with a cellular radio brings a significant benefit above and beyond the standard wireless connectivity: you get a GPS radio, too. That alone makes the 3G/LTE iPad the one to buy in my book. But it's getting harder and harder to argue that Apple is leading the tablet revolution these days what with the competition getting better and cheaper - though admittedly not always at the same time.
To my eyes, the iPad is starting a look just a little old hat. The UI certainly is, though iOS 7 will remedy this to some extent. The absence of storage expansion still irks. Perhaps Apple will fix this in the iPad 5, expected imminently, but I suspect not.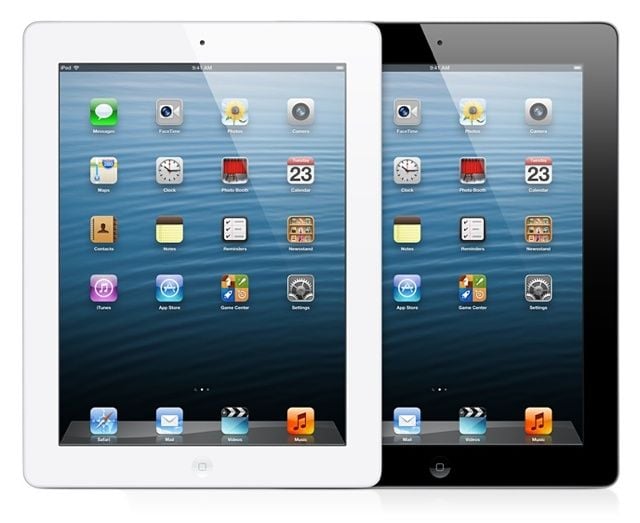 Of course, all of Apple's traditional strengths are still in evidence: the excellent build quality, the impressive selection of tablet-optimised apps, the class-leading battery life and the tip-top levels of support from the shamans at your nearest Apple Store. All these continue to attract the punters and understandably so. If you have taken leave of your senses, or are simply £130 short of the iPad's asking price, you can go for the wholly inferior if also slightly smaller and lighter cellular iPad Mini though I can't think good reason why you would decide to do that. At £370, the iPad Mini isn't actually a bad device just a woefully overpriced one.
Price
From £499
More Info
Apple