Oracle talks performance, NoSQL, 'internet of things' at MySQL Connect
MariaDB who?
---
OpenWorld The MySQL Connect sessions may have been just a small part of the massive Oracle OpenWorld conference that they helped kick off this year, but the message from Oracle's MySQL team is that the open source database is thriving and its community is as strong as ever, despite mounting competition.
"A lot of people thought that Oracle was going to try to kill MySQL – that we didn't like it," Oracle chief corporate architect Edward Screven said in his Saturday morning keynote. "In fact, exactly the opposite is true."
Oracle is committed to improving MySQL, Screven said, because it fills an important niche within Oracle's overall strategy, which is to provide customers with a full stack of hardware and software to meet their needs.
"We want to have the best solution at every level of the stack," he explained. "And that means that we solve most customer requirements. We can't do that with only the Oracle database. MySQL helps us solve other problems that Oracle database is not good at. So MySQL adds to our overall strategy. That's why we're very interested in MySQL. That's why we've invested so much."
Screven said that the team developing MySQL at Oracle is now the largest it has ever been, and is roughly twice as large as it was when Oracle acquired Sun Microsystems in 2010.
"Our plan, generally, for MySQL is constant, steady, drumbeat releases – always making it better," he said. "We don't want to have the kind of development cycle where we have two years between releases only. We want to get the new and interesting capability and functionality and quality in the hands of our customers on a regular, frequent basis."
The current release, MySQL 5.6, has been available for around six months, and many of the customers who participated in conference sessions said they had yet to upgrade from earlier versions. Yet Oracle is already pressing on with version 5.7, releasing between two and four Development Milestone Releases (DMRs) per year.
According to VP of MySQL engineering Tomas Ulin, these builds should be considered "release candidate quality" and the new features they include should be fully functional. "They should be attractive to you guys in that when you take it and test it and work with it, the things that you see will be there in the end," he said.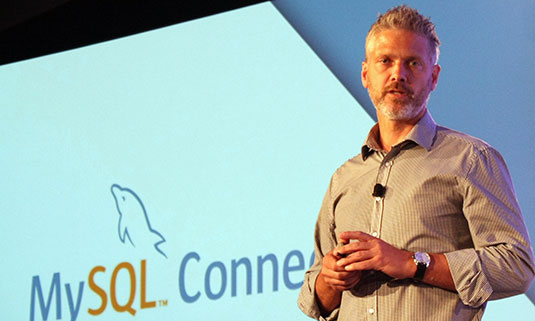 Tomas Ulin, Oracle's VP of MySQL engineering, talked MySQL 5.7 at this year's MySQL Connect
The latest such release, MySQL 5.7.2, was made available on Saturday to coincide with the start of the conference. (That version numbering doesn't mean MySQL 5.7 has been vetted for production use yet – for reference, MySQL 5.6 wasn't considered production-ready until the 5.6.10 build.)
The most obvious improvement in the new release is speed. Ulin says MySQL 5.7 is 95 per cent faster than MySQL 5.6 and 172 per cent faster than version 5.5. The new version can achieve a peak throughput of over 500,000 queries per second on the Sysbench point select benchmark, and thanks to code contributions by Facebook engineers, it can now process new connections to the database as much as 64 per cent faster.