Robocars, backseat fun, satnav 2.0: Meet the bit of Nokia Microsoft didn't buy
Exec veep on the 'slow' pace of Windows 8, Ballmer, patents and more
Interview Nokia has sold its phone-making wing to Microsoft, heaving off the division that made it one of the most recognised brands on the planet.
But that doesn't mean it's out of the hardware game. Executive vice-president Michael Halbherr told El Reg what to expect, as well as commenting on the progress of Windows 8, Steve Ballmer's demand for more "gas" and exactly what's left of Nokia.
"We have sold our device business for a reason, but that doesn't keep us out of the device business," Halbherr said. Just don't expect to see Nokia making phones again - or at least any time soon.
"We are not prohibited from making any communication device. We will concept and think about new forms of devices," he said.
"It would be wrong now to think about this from a phone perspective. With the cloud and the internet-of-things, we're seeing a convergence of form factors where you do a few things well in a totally seamless way.
"We will still surprise people with leading-edge hardware."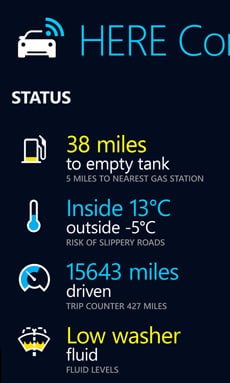 It's no KITT ... Nokia's Knight Rider-esque car software
Halbherr joined Nokia when the Finnish giant bought his mapping company - just one of several related acquisitions, the biggest of which was satnav biz Navteq for €7.7bn. Now he runs Nokia's HERE project, which gathers up users' whereabouts to map out traffic hot spots and places where folks like to meet or visit - and uses that data to efficiently direct people and recommend things to do.
That's the theory at least. HERE is licensed to companies ranging from Amazon and Microsoft to camera manufacturers that want to tag photos with the latest information about their surroundings: snap a pic of a high-street and labels for the individual shops, their customer ratings and related data can be pulled in, for example.
"[Microsoft CEO] Steve Ballmer said our apps need gas - and maps are the gas. What he didn't say is that there are very few suppliers of that gas," Halbherr told us, arguing that Nokia tries to be a one-stop pure source of mapping data. "Very few rival offerings are open and don't force you to take something else along with what you actually want. We're the Switzerland of maps, it's a very clear licensing model."
As for the future, HERE team's latest partnerships point to the sort of tech Nokia could end up producing next: the corp's engineers are working with Mercedes-Benz to produce semi-automated and fully-automated software-controlled car driving. Halbherr says this system feeds on HERE's real-time mapping data, which (we're told) is updated 2,700,000 times a day.
A video of the tech in action is below:
HERE can also do entertainment: the driver gets maps and traffic info while the kids on the backseat get distractions. In a way, the car today resembles the PC business before standards for connecting stuff together arrived. I argued there's a huge payday for anyone who can unify the disparate technologies available for our motors, but Halbherr was wary of stretching the analogy.
"The car companies are ultimately like orchestras, with a massive amount of intellectual property to coordinate. We should not draw analogies with phones or PCs too quickly," he said. "We don't have the deconstruction of automative that took place with personal computers and the barriers to entry are much higher. Yes, there are new entrants like Tesla, but not so much, still. It's not that easy to build a car."
When Swedish neighbour Ericsson, the comms hardware giant, shed its mobile phone division in 2001, it focussed entirely on network equipment. But what's left of Nokia after the sell-off of its phone business, is rather more than just another telecoms switch maker, Halbherr reminded us.
"Nokia is three things. The first is NSN [Nokia Solutions and Networks]. We all know the numbers, it's profitable and it's 100 per cent owned by Nokia. The second is our Advanced Technologies Group: it does the research and development, and it has some product capability, to some extent, to experiment. It's an amazing generator of intellectual property - and that's a technology-licensing business and it's growing. Then there's HERE. All intellectual property in all aspects of HERE is being retained."
Although shareholders have to formally approve the sale of the phone-making wing to Microsoft, where does he think the Windows software giant will take the mobile hardware unit?
"I think of it as Microsoft entering Finland, really", he jokes. "It leaves both sides in a robust position. It was a historical moment for us to divest the handset business but in a 150-year-old company with a history of divestitures and new investments, this is how companies evolve."
Last year Nokia's mobe biz touted new four handsets; this year it's already flung seven at the market, and more are expected before the end of the year - including phablets (smartphones the size of tablets) and possibly even pure Windows 8-powered tabs. Was he ever frustrated that Microsoft's operating system engineers weren't matching the pace of Nokia?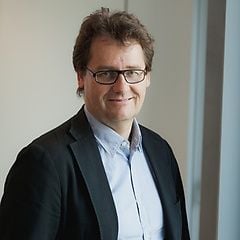 HERE today ... Michael Halbherr
"To say their pace is slow is a fair statement," he said. "But you have to make sure the foundation is good. Otherwise you end up with something like Symbian, where changes at the top level are slowing everything down. Innovation, speed and understanding of the market are competences Nokia can now bring into Microsoft."
He's confident the two will click: "It will all go faster. The transactional friction between two legal entities is out of the system."
So what kind of gadget might The Old Nokia amaze us with? The trouble is that almost everything is converging on the smartphone, which has gradually subsumed discrete devices from watches and Walkmans to satnavs.
And Old Nokia doesn't have a smartphone division any more. The hint is that cheap sensors, the cloud and a convergence of maps and entertainment may leave a gap for a new kind of more specialist gadget that the phone-centric geeks are too slow to grasp. But the only new non-smartphone device category in recent years is the Amazon Kindle - a success because it's not just a simple book reader, it's a bookseller, too. And it's a newspaper seller and magazine shopping terminal.
Your guess, for Nokia, is as good as mine. ®