This article is more than 1 year old
Ellison ditches own cloud keynote for billionaires' America's Cup boat race
Mass exodus after King Database snubs attendees
OpenWorld Oracle OpenWorld turned into Oracle SnubWorld on Tuesday, when Larry Ellison ditched his hotly anticipated speech on Oracle's cloud strategy so that he could watch his boat race in the hugely expensive America's Cup.
The swap-out of Larry Ellison for senior product management veep Thomas Kurian was met first with muffled complaints by the packed keynote crowd, quickly followed by a mass exodus as attendees streamed out of the keynote theatre.
Oracle OpenWorld draws some 60,000 people a year, many of whom have either paid for the ticket and accomodation or have charged their company for it. Ellison's keynotes are always a highlight, and are always packed.
Prices for attending Oracle OpenWorld, not accounting for living quarters, would have set back the attendee $2,650.
The cloud keynote contained a number of important announcements for Oracle relating to platform services, SaaS products, and a general overview of the huge investment that Oracle has shoved into its cloud. But few of Oracle's customers heard about it, given the mass walkout.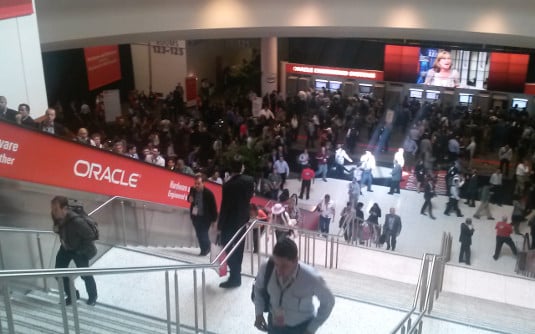 People stream out of the cloud keynote-in-progress after Ellison's no-show
People began leaving shortly after Kurian took the stage, as it became clear that the stilted speech was merely a competent product pitch, minus the hugely entertaining bluster and braggadocio of an Ellison rant.
We suppose when you're as well-off as King Larry, you don't need to care much about other people, even when they represent the core of your customer base. ®