Mutant array maker Tegile has revved its software to get a more than 60 per cent speed increase. It says array IOPS have shot up from 200K to 360K with its latest release and brags it is trampling over its main rival in "customer bake-offs".
Tegile's hybrid Zebi array combines a flash front end with disk drive backend and deduplication to provide flash speed twinned with affordable disk capacity. It introduced its second generation ZebiOS software at the recent Vmworld conference.
The gen 2 software has:
Improved performance via optimising variable block size and metadata handling, and deduping in-line in front of the flash cache;
Improved user interface showing capacity savings from dedupe and compression;
vCenter plug-in that shows Zebi hybrid arrays within their own storage view tab inside the VMware management console;
NFS for VAAI that expands upon Tegile's unified storage capabilities to support file protocols within VMware environments;
Thin Provisioning Stun VAAI feature to allow for better overall utilisation of storage and a reduction of storage costs;
Microsoft Volume Shadow Copy Server (VSS) agent for improved data protection; and
Ability to collect analytics from server data in the cloud.
The user interface extensions mean that, according to Tegile, admin staff can see "CPU activity, memory utilisation, space usage, network activity, disk activity and the status of other key system services at deeper granularity levels" than before.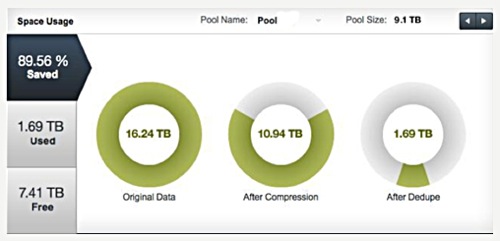 ZebiOS Analytics showing savings from dedupe and compression.
A VMware addition is to have the ZebiOS software use VMware VM constructs instead of traditional storage terms like LUNs and RAID Groups. That means a VMware admin person can manage the Zebi array. Marketing veep Rob Commins referred to this as Tegile's "Tintri neutraliser" in a briefing.
He also said that, although Tintri focuses on the VMware VDI scenario, Tegile supports Hyper-V as well as VMware, and iSCSI, Fibre Channel and CIFS (SMB) as well as NFS, which is supported by Tintri over iSCSI.
His favourite competitor, Commins said, is Nimble Storage, and the veep went on to claim that Tegile had won 31.5 "customer bake-offs" – against Nimble – where Tegile polled customers over which vendor they chose. How do you win 0.5 of a bake-off? Commins claimed the customer initially chose Nimble but changed to Tegile 90 days later.
Commins flashed us a screenshot of a slide comparing a Tegile 75,000 IOPS and a NetApp 75,000 IOPS array config. The NetApp array cost $475,000 list (plus $300,000 for the software) while Tegile's was list-priced at $100,000, including software. It needed 97 per cent fewer rack units and used 90 per cent less power than the NetApp system, according to the slide.
Of course Tegile does not have NetApp's maturity, wide product range, or its set of data management software.
The hybrid array maker has recruited Paul Silver to run its EMEA operation. He said it had "exclusive networks" in place as a pan-European distributor, 10 partners in the UK and two in mainland Europe with more to come.
There are around 330 Tegile customers and 550 installed arrays have been shipped since February 2012 with an average system price (ASP) of $75,000, he said. Revenue is doubling quarter over quarter.
He was happy to talk about some other competitors. Tegile runs into Pure Storage a lot but thinks it's focused on the 3PAR-VMAX array area, whereas, according to Silver, "we're gunning for VNX".
Tegile is running fast and furious, fuelled by $35m of C-round venture cash, and, we think, getting hot to hit the IPO street. At the moment its revenues are the size of quarterly results rounding errors for EMC, NetApp and the others. If Tegile revenues grow past that, then the mainstream guys might start paying attention. ®
Sponsored: Webcast: Simplify data protection on AWS