Barnes & Noble will today knock a tenner off the price of its Nook SimpleTouch Glowlight e-reader, reducing the price to just under £50. It's the latest move in the US bookseller's attempts to battle for second place in the British ebook business.
The Nook e-reader's launch price was £109, but B&N has been selling the device for just £69 of late. That's still well below the £100 most retailers want for Kobo's equivalent e-reader, the Glo, and the £109 Amazon will shortly be charging for its next-gen Kindle Paperwhite when it goes on sale over here shortly.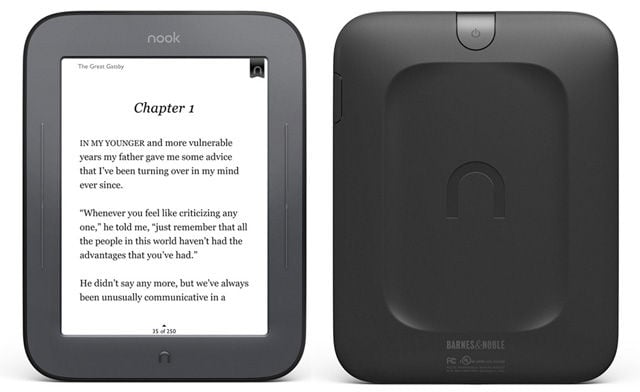 No technological change accompanies the Nook's reduced price. Today's lower-cost Nook is the same one launched by B&N just over a year ago.
The device's central feature is its 800 x 600 E Ink Pearl display, behind which sits single-band, 2.4GHz 802.11n Wi-Fi and 2GB of raw storage, of which 1GB is available for content, though a Micro SD card slot allows you to ramp this up by up to 32GB.
The new Paperwhite at least offers a higher resolution display - 212dpi to the Nook's 167dpi - and is based on the latest E Ink panel, Carta.
Take on Kindle? Not us...
Of course, such is the Kindle's lead in the e-reader market that, as Nook UK MD Jim Hilt admits, his firm is primarily fighting Amazon's other rivals for the bigger company's leavings. Hilt said B&N was happy with the progress it has made in the year since it entered the UK digital book market, particularly with its experience last Christmas and the result of slashing the basic, glow-less SimpleTouch to £29 the following spring.
That "while stocks last" sale led to the device quickly selling out. Many a disappointed punter later alleged B&N had known it had too few devices to meet demand, a charge the company denies. Hilt cautiously said he believed the company and its retail partners had in place sufficient stock of SimpleTouch Glowlights to cope with today's price cut.
Retail partners include John Lewis, Argos and PC World/Currys. That gives the Nook as strong retail presence, though all of these shops sell other e-reader brands too. That makes B&N's job harder, which is why it needs to keep its prices lower than those of the rival readers sat alongside the Nooks.
Another factor that makes life harder for the Nook is the decline in demand for old-style e-readers, which are being shoved aside by glossy, colour tablets and smartphones for reading. However, Hilt said e-readers still account for the bulk of e-book purchases, so there's a core of dedicated readers who like to read on E Ink screens, even though many if not all of them own smartphones too. So it's too early, he says, to call time on the e-reader just yet.
The Nook supports ePub and PDF format e-books, including those encrypted with Adobe's DRM tech, but does not support other formats such as Apple's FairPlay, the DRM used by Cupertino to prevent ebooks that have been downloaded from iTunes from being copied. ®
Similar topics