This article is more than 1 year old
Oracle sued over $33,000 bill for SaaS: STRIPPERS as a SERVICE
Company credit card allegedly racked up thousands on the other kind of rack
NSFW A San Francisco strip club is suing Oracle after the tech goliath refused to pay a $33,540 bill allegedly racked up on the company credit card.
Larkin Street's New Century Theater has filed a lawsuit claiming a man - named in the legal paperwork as Jose Manuel Gomez Sanchez - slid into the sexy flesh-pit last year and partied through the night.
It's alleged he used an Oracle-issued American Express card between 1am and 5am to pay for $16,490 of undisclosed services on 2 October - right in the middle of Oracle's OpenWorld 2012 conference in the city - and then returned two days later to splurge $17,050.
According to the San Fran Chronicle, Oracle was not willing to settle the subsequent bill. The database giant, easing itself into the software-as-a-service market, declined to comment on the lawsuit, which was submitted earlier this month to the Superior Court of California in San Francisco. The next hearing will take place in February. Sanchez is named as a defendant along with Oracle.
The legal action coincides with this year's OpenWorld get-together, held this week once again in San Fran. As you can see from the poster below, the aforementioned classy joint has previously put itself in pole position among OpenWorlders by offering a $10 discount if they flash their, er, badge: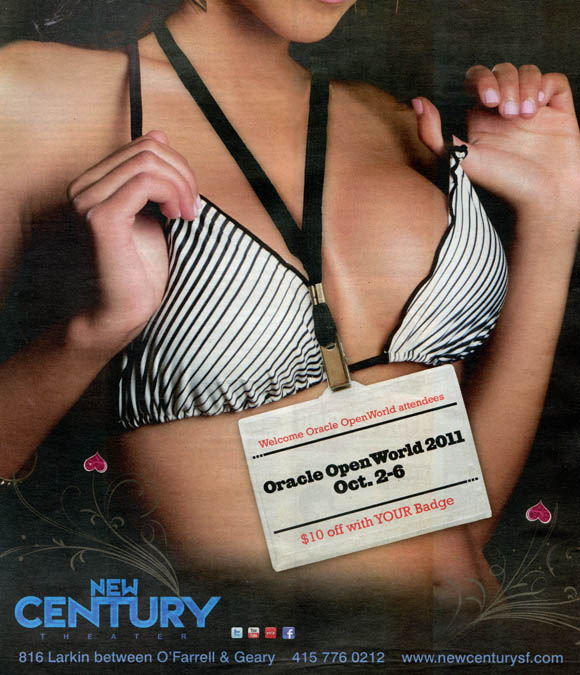 Open saucy ... How New Century touted its biz to Oraclers in 2011
Located on the superbly named Nob Hill and just a 15-minute walk from El Reg's bureau in the city, the New Century Theater is known for seducing sexually frustrated conference-goers. The cheeky club is among a number of adult establishments that flaunt themselves to geeks and suits during OpenWorld and no doubt other tech events.
Some 60,000 people are expected to attend the 2013 conference, some of whom may be interested in a different kind of rack than those punted by Oracle. ®