This article is more than 1 year old
Apple Maps directs drivers INTO path of ONCOMING PLANES
Maps snafu ushered punters onto Alaskan airport taxiway
It's easy to blame Apple Maps: but why on earth did an airport have a highway-adjoining access road without a manned gate?
That's the question The Register is asking after this story popped up in the Alaska Dispatch:
"At least twice in the past three weeks, drivers from out of town who followed the directions on their iPhones not only reached [Fairbanks] airport property, but also crossed the runway and drove to the airport ramp side of the passenger terminal."
The bug reportedly doesn't appear when the street address of the airport is used for directions, only when users search merely for "Fairbanks Airport". As has happened in Australia, the airport is designated by an anchor-point in its centre, and Apple Maps tries to direct drivers there, instead of to the terminal's normal street access.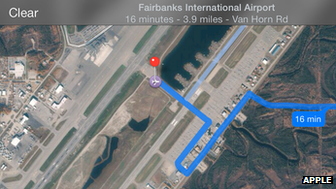 Misdirection: How to get to Taxiway Bravo, Fairbanks Airport. Image: Alaska Dispatch
The Apple Maps slip apparently:
Took people to the airport;
Directed them to an access road used by general aviation pilots; and
From there, took them to Taxiway Bravo.
Since they were abandoned on the taxiway, apparently unable to read signs telling them they shouldn't be there, and with a "direct shot across the main runway to the terminal", you can guess what happened next. Twice in two weeks, the Alaska Dispatch says, drivers have crossed the runway ("used by 737s and other aircraft"), fetched up at the terminal, and only realised something was wrong when accosted by airport personnel, the police, and the TSA.
After complaints to Apple, the route now lists as being unavailable; and Fairbanks Airport has decided it might be a good idea to close "the access route to Taxiway Bravo from Float Pond Road".
And the airport has issued a notice to pilots suggesting they "remain vigilant when on the east ramp, watch for drivers who appear unfamiliar and report them to the airport." ®