Asus NV550JV 15.6in full HD notebook - the one we didn't have to send back
Core i7 entertainer with a whiff of B&O about it
Does it blend?
There is a flaw with this though and it's not exactly unique to this product. Trying to make small speakers sound better by adding a bass driver doesn't eliminate the inherent harshness of typical laptop speakers. So there's a touch of rough-with-the-smooth to the listening experience, as the internal speakers just don't have the fidelity to seamlessly blend with the bass output, and this becomes increasingly evident at louder volumes.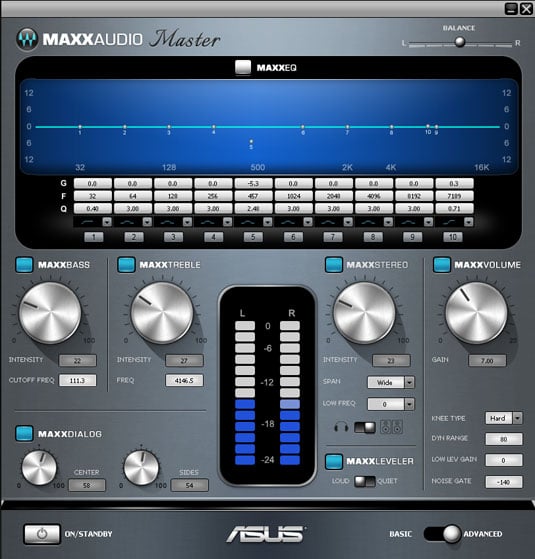 Waves Maxx advanced settings offer a range of enhancements if your speakers are up to it
Click for a larger image
I fiddled with Waves Maxx for some time to see how good it could get, but never quite achieved the evenness I was aiming for. There are some helpful functions in there, though, to enhance dialogue, contain dynamics and boost output. It's not just for movies, as these functions can be applied for gaming and music, too. Indeed, the 10-band EQ could come in handy if you do want to create a custom EQ curve to get the best out of this audio setup - good luck with that.
Incidentally, there doesn't appear to be support for BD-Live (the tech that lets you download stuff to supplement your disc). I wondered if the AsusDVD/Cyberlink software unlocked features if I registered it online, but it doesn't make any difference. It still fires up asking you to register or upgrade. I wondered if there may be some other reason for the BD-Live issue, such as the Matshita BD-CMB UJ162 BD-ROM/DVD writer combo drive itself.
I made a call to Cyberlink's UK PR team who were able to shed light on this. Apparently, BD-Live technology involves third-party royalty costs to manufacturers when shipping and vendors often choose to disable BD-Live functionality to save a few quid. And this is what Asus has opted to do with its AsusDVD branded offering.
Some final words on the movie experience: the screen can be dazzlingly bright, which is ideal for daytime viewing, but its surface is very reflective, so you'll find that you're watching yourself during darker scenes (and your fingers when typing). Also, the surround sound aspect of having a quad-speaker array certainly wasn't noticeable as particularly special. There are no doubt some party-piece movies that will show this off but lest we forget, we're dealing with laptop speakers here that are also very close together.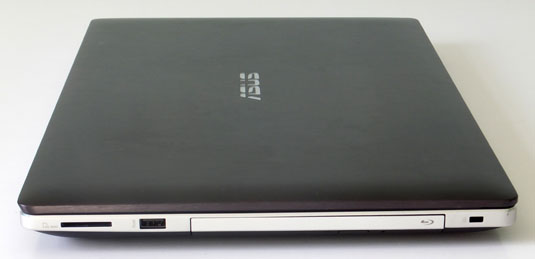 The metal trim on the optical drive drawer is a bit rough on the bottom edge
And then there's that SonicMaster bass driver than neatly sits behind the screen out of sight. So you completely forget it's there when you grab this laptop to, er, put it on your lap. It survived several unintended dangles, but 2.5mm jack plugs are not the most robust, so you many only get nine lives from this accident waiting to happen.
As you're bound to move this Windows 8 notebook around from time to time, one of the first things you'll notice when you pick it up is the rough edge to the side of the optical drive drawer. It's just a thin panel of metal tacked on for aesthetic purposes, but its fit doesn't serve Asus well, as it does undermine the build quality which is pretty good overall.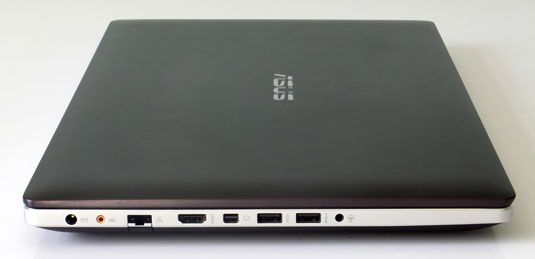 Alas, the mini DisplayPort doesn't double as a ThunderBolt interface
On this right side there's also a USB 3.0 port and an SD card slot. The main lineup of interfacing is on the left side which features power supply, sub-woofer minijack and Ethernet. There's also HDMI, a Mini DisplayPort, two USB 3.0 ports and a headphone/mic combo jack socket. What, no VGA? Will you miss it, really? If so, DisplayPort adapters are available.
It's quite refreshing to reel off a list of the connectivity that's available rather than mull over what you'd hope to be there as standard, which is so often the case when checking out Ultrabook alternatives. At first glance, there does appear to be one thing missing on the Asus N550JV which is the caps-lock light. A nose around reveals it's at the front with an array of indicators. OK, so at least it's there, but it's just not visible when you're typing.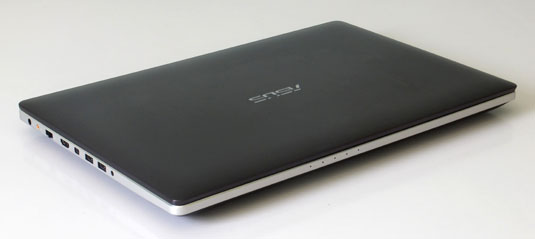 Status lights along the front edge include the caps-lock indicator that's rather too out of sight to be useful
The screen offers fairly wide viewing angles although hampered slightly by that mirror-like finish. However, one of the better features is that the screen tilts back quite some way, so you don't feel that you're having to adapt to this notebook, it adapts to you. That's true to a point, but its off-centre trackpad was a constant irritation, as I'm left-handed.