Asus NV550JV 15.6in full HD notebook - the one we didn't have to send back
Core i7 entertainer with a whiff of B&O about it
Sinister goings on
What tends to happen is that my left hand is used to a more central trackpad position and, with an off-centre trackpad, ends up drifting to the right side and right clicking. Thus, double-clicking and window dragging doesn't work. Also, contextual menus start appearing when you don't want them.
Considering the lengths that society goes to in order to avoid offending all and sundry (I'll refrain from giving examples that may cause offence), I reckon simply centring the trackpad for the sake of equality shouldn't be too much of a challenge. Thankfully, not all PCs are blighted this way and Macs never have been. Lefties are resourceful, though; we can always use a mouse if an off-centre alignment is too much of problem.
The keyboard is fine to type on but its legend style is a bit odd and the backlighting lacks refinement
Click for a larger image
Incidentally, the trackpad is a multitouch affair offering pinch to zoom and easy scrolling. Above it is the chiclet backlit full-size keyboard including a slightly shrunken numeric keypad. The backlighting could be more subtle as adjusting it using the top row of dual function keys seems to have just three modes: bright, not so bright, and off. Personally, I prefer just a hint of backlighting so I'm not dazzled by the keys.
However, with the N550JV on your lap, at certain angles the light from the top row of function keys spills out. So here's when you need to adapt to this notebook and reposition it. The keys are bit strange, too: the uppercase legends appear slightly italicised and disproportionate, so the brackets end up looking like quotation marks. The centred positioning of the lowercase comma and apostrophe keys is confusing too. No doubt you'll get used to it, but as a design statement, it's not too intuitive.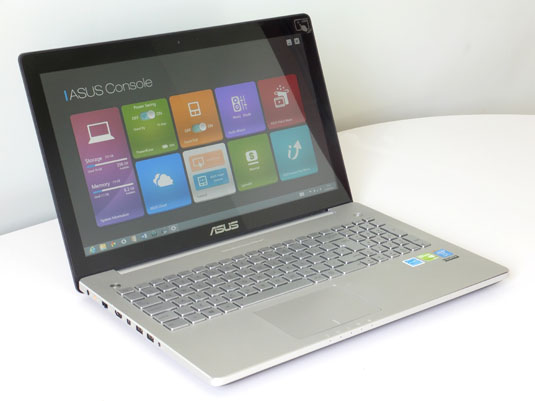 Asus Console fires up from a dedicated key to switch on shortcuts to common functions
There are two built-in mics around the HD webcam that, like most laptops these days, have noise cancelling functions that rely on beam-forming techniques. This cleverness is explained under the Sonic Sophistication heading in our recent 13in MacBook Air review.
For the record, I tried to boot up Ubuntu Linux, even checking if the Saucy Salamander 13.10 beta would get things running as other versions failed. Although it was easy enough to get to the boot options screen using the PenDrive Linux USB installer, actually getting beyond that failed to take off. I'm guessing it's a Haswell chipset thing that will be resolved in due course.
As far as performance goes, there's not much to complain about here, although the Futuremark benchmark tests don't show it off as especially impressive. The reason is simply because the N550JV has a spinning hard disk. An SSD's performance always skews the results significantly when models using a less powerful CPU are benchmarked. Hence, on PCMark 8 the N550JV scored 3,205 with the Nvidia GPU enabled and a very close second score of 3,201 for the Intel HD 4600 integrated GPU. From cold, the boot time to the login screen was typically about 25 seconds.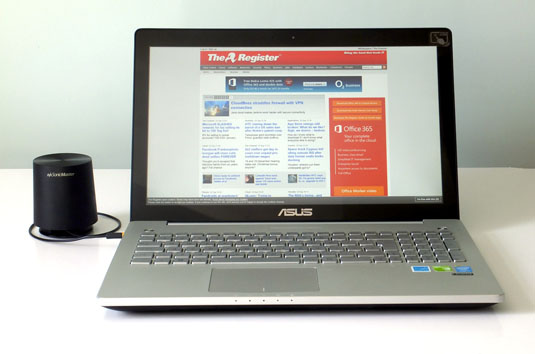 Sound choice? Is carting around a sub-woofer worth the bother to get laptop audio to sound better?
The brutal PowerMark battery test lasted for 2hrs 7mins. For general use, with some Blu-ray noodling for testing, it ran for about 3.5 hours with a slightly reduced screen brightness. No doubt a few more tweaks could get it close to 4.5 hours, but Asus doesn't make any boasts about battery life here. What it does make a noise about are the two fans inside the unit and although the noise is subdued they do constantly whisper away. Still, the N550JV tends to get warm rather than hot, so this is obviously working.
What doesn't work for me is the price of £1,000, especially as the HP Envy TouchSmart 15-j013ea is due any day with a similar spec for £200 less with a 750GB HDD. Admittedly, we've not tested that yet, so the jury is out for now.
The Reg Verdict
Yet for Asus, the cost of having a touch of B&O looks like it could be off-putting, especially as the benefit only really comes into its own with the SonicMaster sub-woofer attached. I'm sure other manufacturers could source USB sub-woofers for a mere £35 extra if it was that important, and USB is much more elegant than the mini-minijack on the Asus.
If Asus really wants to impress, it should be working with B&O to deliver a decent bass response from internal speakers. And if that's too hard, then it might as well give up on this partnership premium and use the money saved to compete on price. ®

Asus NV550JV 15.6in full HD notebook - the one we didn't have to send back
Full HD 15.6in notebook kitted out with Intel's 4th generation quad-core CPU, 8GB of RAM, 1TB HDD, Bluetooth 4 and 802.11nWi-Fi. It also features B&O ICEpower amplification and a quad speaker array with external sub-woofer.