This article is more than 1 year old
British Gas robo home remote gets itself into hot water
Never mind the bills, look at our touchy feely boiler-control tech
Energy has been in the news again lately, but not in the way that suppliers would favour. On Tuesday, opposition leader Ed Miliband promised to freeze energy prices for 20 months if Labour made it into power. It's a message British Gas was keen to forget as it announced its renewed commitment to the connected home in London yesterday.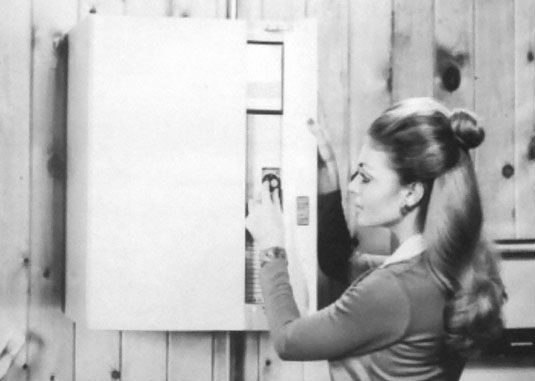 Hot or not? British Gas foresees another heating revolution since the the growth of central heating in UK homes during the 1970s. No doubt many still have the original thermostat
About a year ago, the company launched the myHome Remote Heating Control, a neat combination of a thermostat that can be worked using an iOS or Android app over Wi-Fi and mobile networks. It can be kitted out for use with any supplier and it works rather well too. I know this: I've got one and I'm not with British Gas, either.
Yet the big drawback of this set-up was always that it was a heating-only configuration. That's going to change from late October, as British Gas has launched a completely rebranded product range under the Hive moniker. While there's no doubt more to come, for the moment the Hive Active Heating product is a revamped app and thermostat controller with both heating and hot water functions.
This might not sound like much, but you'd be surprised how useful a remote control for using an app – on a device that's never usually far from reach – turns out to be. I recall lazing in bed at the weekend one nippy morning and reaching for my phone to turn the heating on before I got up. It was a very smug snug moment.
As all this functionality relies on a connected app. British Gas has access to stats collected through the app. It claims that 40 per cent of its 27,000 myHome users remotely tweak these controls at least once a day. As Nina Bhatia, managing director of British Gas connected homes, strategy and M&A remarked, "I never engaged with my thermostat before, I didn't even know where it was..."
And now she can't stop fiddling with it, such are the delights of a touch and tap.
Andrew Brem, managing director British Gas product and commercial, came up with a rather fanciful statistic that people only spend six minutes a year thinking about their energy bills. Naturally, Brem thought this was a bad sign and people should be more energy conscious. Perhaps this short attention span comes about because customers would sooner not think about their eye-wateringly high energy bills?
But then again, this six minutes statistic does seem to ring true when it comes to the amount of time the Labour leader must have spent on his energy policy announcement this week.
British Gas does see the connected home as a money-spinner, even if it does mean that people might actually spend less money on gas. After all, it's not giving this stuff away, as the whole kit and caboodle costs £199 – money British Gas reckons will be recouped in savings on household bills after 16 months.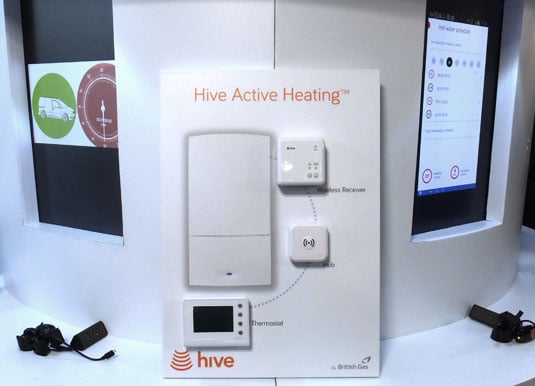 Kitting out the Hive
That aside, part of the Hive launch event was dedicated to thinking ahead to what the connected home would have to offer beyond the basics of living room entertainment, such as net TV offerings and gaming consoles. To discuss this was a panel comprising Silicon Roundabout execs, members of the press and British Gas' director of technology for connected homes, Kassir Hussain. This gang of four rather disappointingly didn't get much further than talking about how we're becoming increasingly more comfortable with mobile interactivity and how granny would cope with the new technology.
The question of access for developers did arise later, though. As smart metering proliferates – monitoring realtime energy usage – would there be openings to this data and the existing remote heating controls? British Gas has a huge reach into UK homes (1m smart meters to date) and given the right incentives it could turn a lot of customers on to this tech along with the potential to do a whole lot more in our not-so-smart homes. The Hive is a brand with more to come, we're told.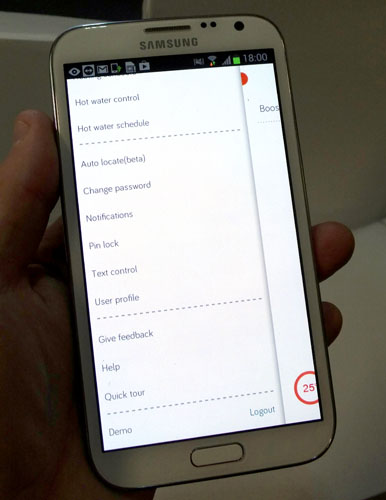 The Hive Active Heating app preferences reveals all
I wonder what the Auto Locate Beta does - is this a new "find my boiler" function?
Hussain outlined the issues for broadening future development. First of all, there are no standards apart from ZigBee for controls and Z-Wave for wireless, and even those two might not be to everyone's taste. British Gas is working on setting out its stall in this new frontier, so developers will have to wait for now.
"When we are good and ready we will be exposing services and all capabilities through APIs," said Hussain.
Whether that future will allow some clever apps featuring realtime price comparisons to keep our suppliers on their toes or even enable our smart meters to automatically switch to the cheapest supplier by the hour, remains to be seen. One thing I did wonder was whether Hive was an acronym. Apparently not, but Heating Is Very Expensive does seem to sum it up nicely. I wonder if British Gas spent more than six minutes thinking up the Hive name? ®