Pics+Vid Fans of our Low Orbit Helium Assisted Navigator (LOHAN) mission will know that the issue of getting a rocket motor to fire at altitude has given our Vulture 2 spaceplane team plenty of sleepless nights.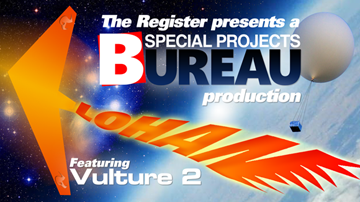 Last year, we constructed the Rocketry Experimental High Altitude Barosimulator (REHAB) hypobaric chamber (details here), in which we tested a couple of motors at 20mbar – roughly the equivalent of an altitude of 23,300m.
Our first foray into REHAB ended in forlorn fizzling, as both Cesaroni and Aerotech igniters went pop but failed to fire their respective reloads.
Enter stage left pyrotechnics chap Rob Eastwood, who brewed up a custom igniter from E-Matches, BlackMatch strands and Plastic Igniter Cord.
This did the trick in the REHAB chamber, when we finally persuaded a Cesaroni 57F59-12A "White Thunder" reload in a P29-1G casing to roar mightily:
All well and good, but a high-altitude test flight in July this year, with the same igniter controlled by the Special Project Electronic Altitude Release System (SPEARS) control board, showed that the Plastic Igniter Cord doesn't much like the cold.
So, it was back to the drawing board for Rob, who formulated a new, mightier igniter ahead of jetting out to Spain for our recent LOHAN team gathering.
Priority number one for this elite squad was to test the new igniter, and although first test flight on 16 September went completely titsup due to premature balloon burst, a second blast last Thursday had the champagne corks popping.
Here's the launch site for the flight...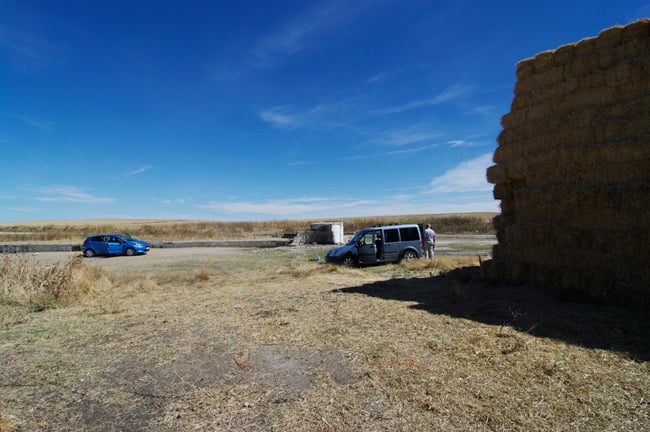 ... right next to the village of Villanueva del Aceral, in the province of Avila (.kmz file of exact spot here):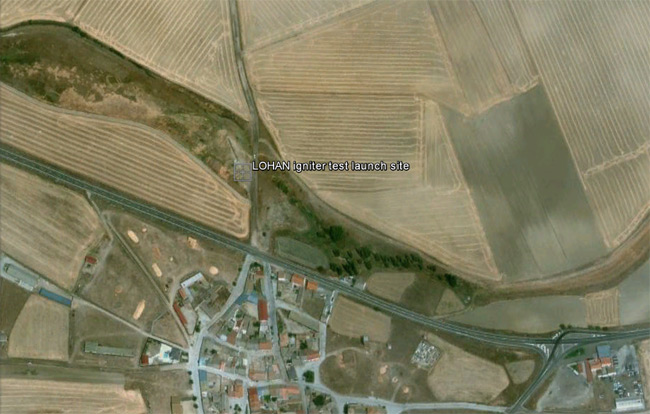 The payload comprised the igniter in an insulated case (bottom right) and a few other pyrotechnic charges we were eyeing for possible use in our emergency balloon cut-down system - all attached to the SPEARS board and set to go off at 20,000m: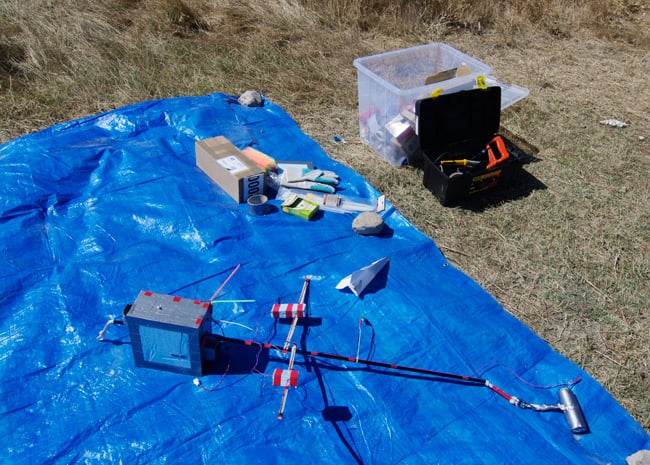 Just to clarify, here's a snap showing why LOHAN is the Low Orbit Helium Assisted Navigator: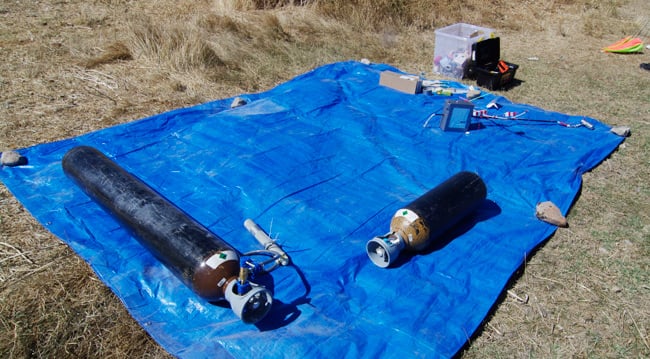 Chief balloon wrangler Dave Akerman worked his usual magic with the mighty orb, and we were quickly in the air without incident: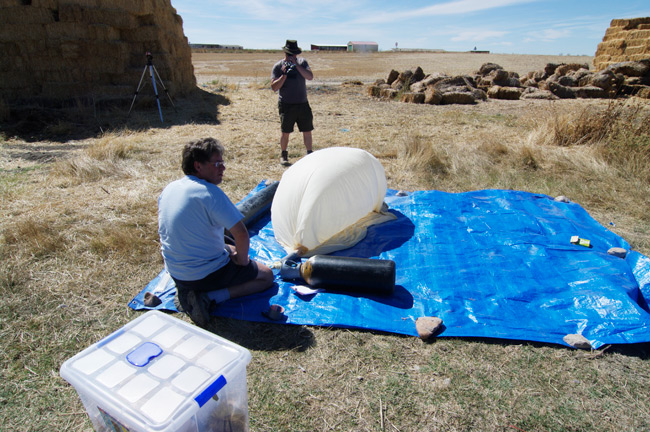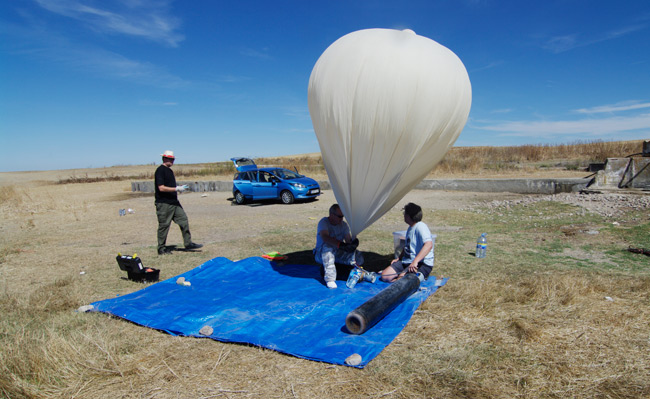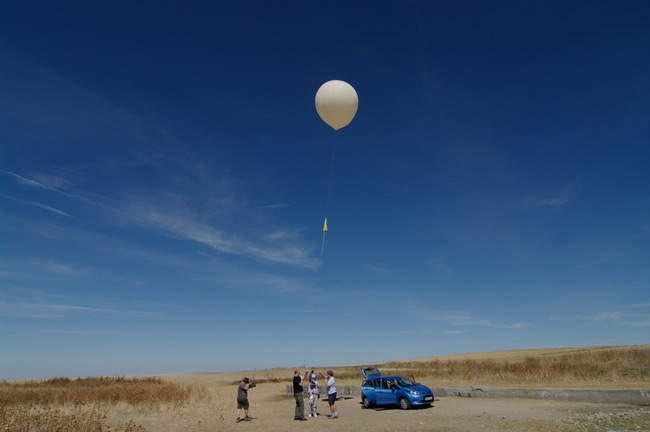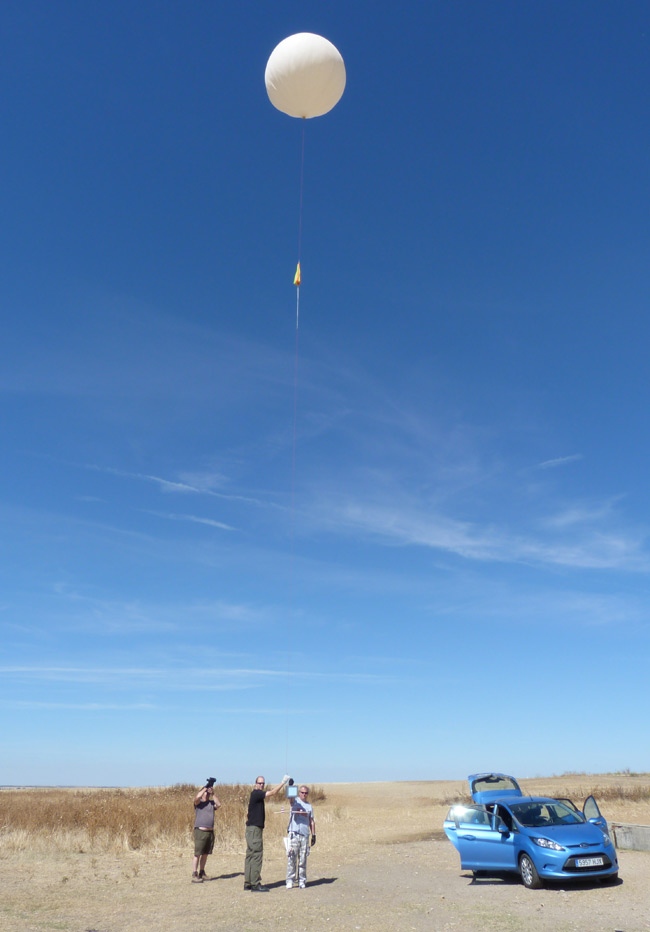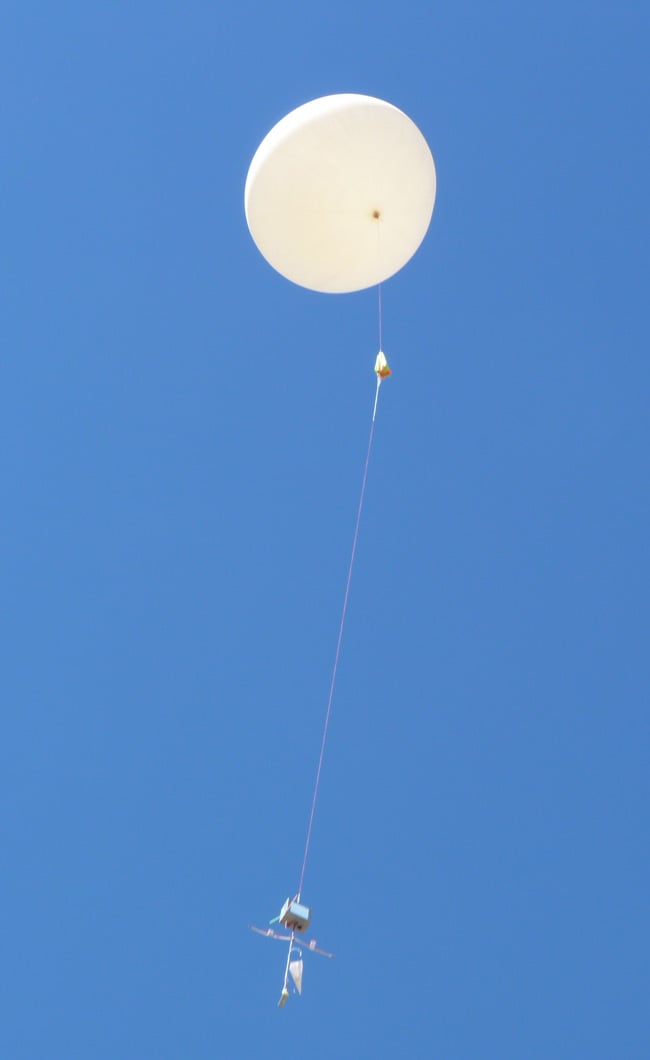 As well as the SPEARS board, the payload carried Dave's Raspberry Picam rig, which has previously returned impressive images from aloft.
On this occasion, Dave fitted a wide-angle converter for the camera, which proved a bit fuzzy at the edges, but did the trick in capturing the downwards view: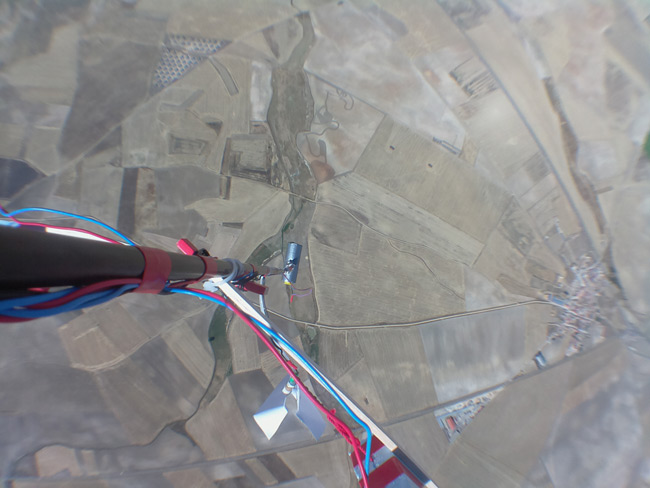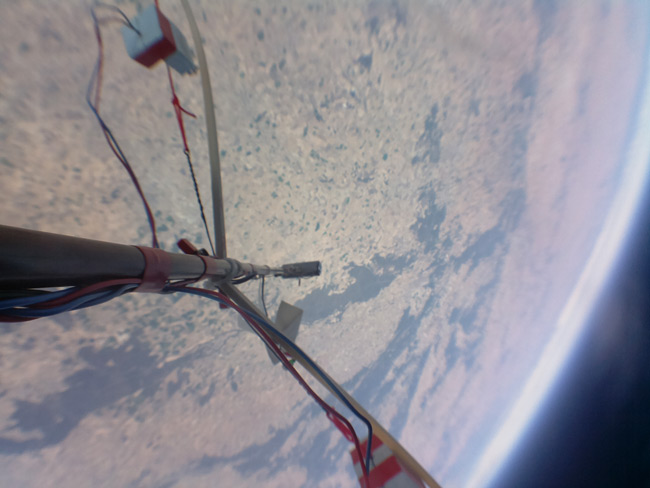 The flight prediction* showed the payload would come down within 20km of the launch, so we nipped off to find some shade...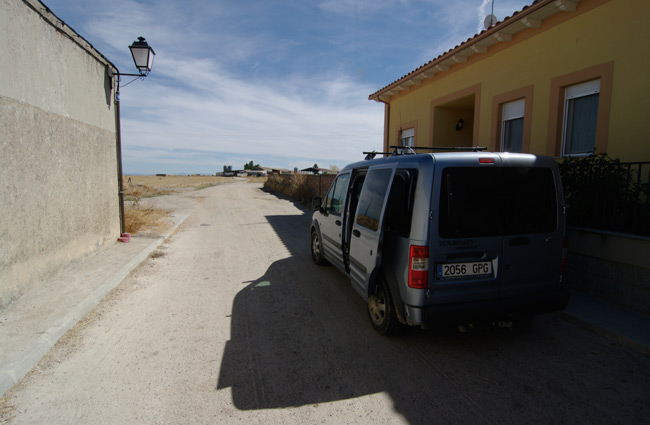 ...while watching the flight's progress courtesy of the onboard radio trackers: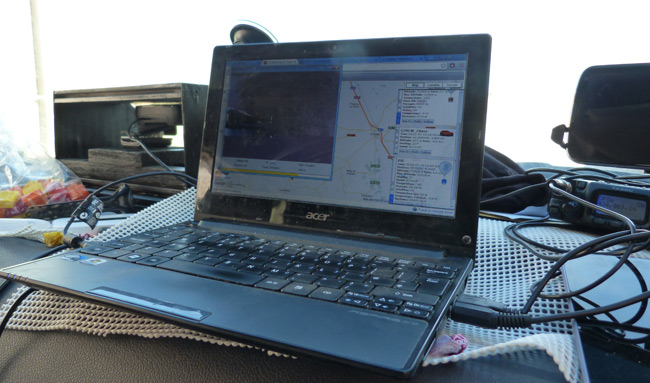 After half an hour, we moved to another location closer to the predicted touch-down, and whipped out the handheld antenna to get a better fix: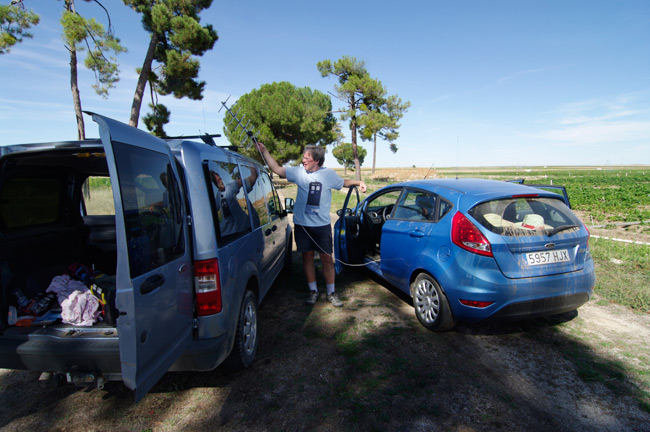 We were so close to the where the payload was expected to hit the ground that we reckoned we'd be able to see it come down...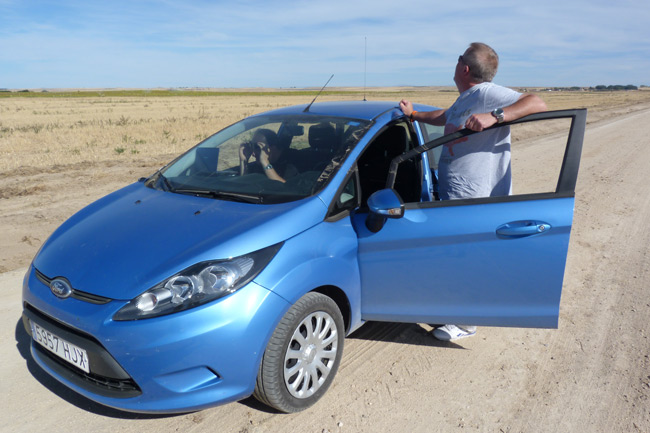 ...in a vast area agreeably free of trees, bodies of water, electricity pylons and other hazards which traditionally attract payloads: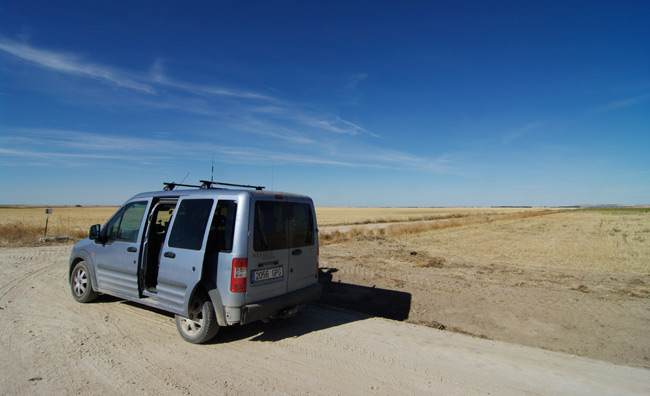 After just a couple of minutes scanning the skies, we saw our mission end in a field of wheat stubble a couple of hundred metres for our pursuit vehicles. Paul Shackleton was first to the spot...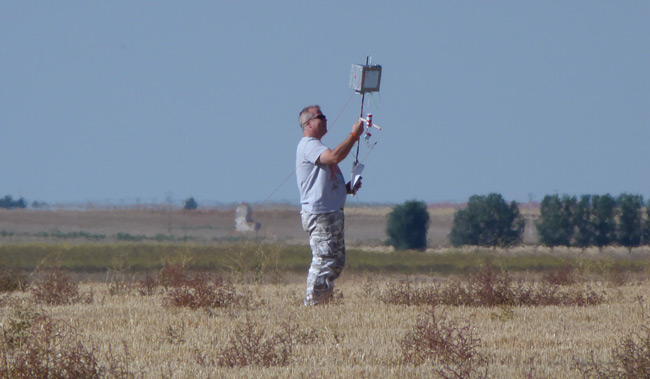 ...which was right here (.kmz):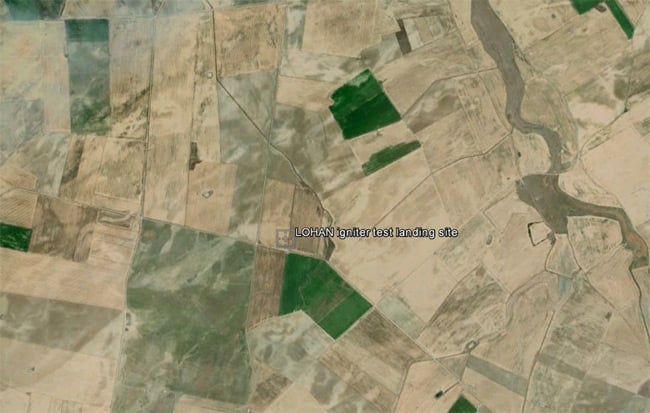 So, did the igniter go pop? Yes it did, as Rob and Paul's happy faces show: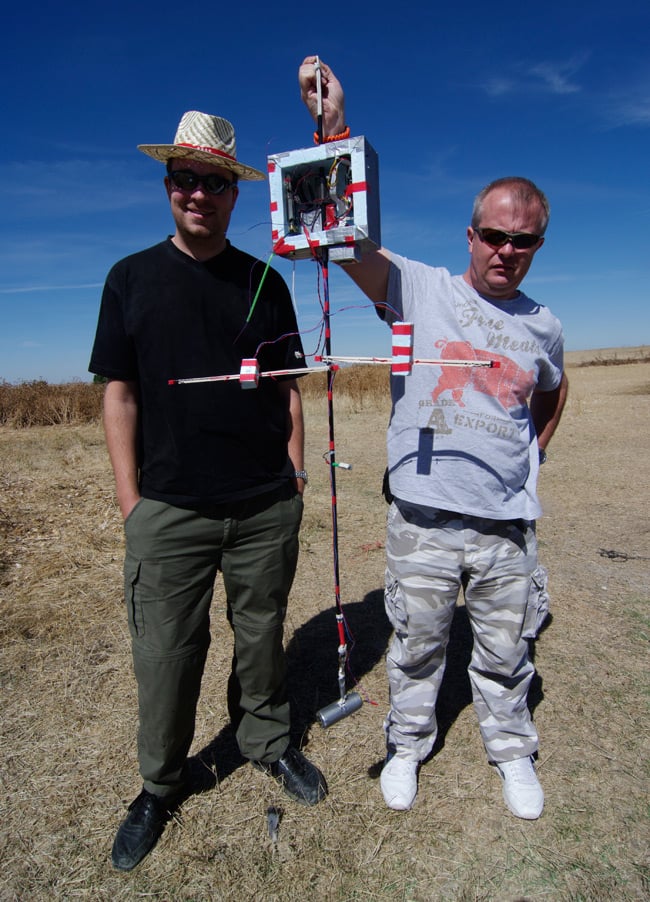 Naturally, we also captured the obligatory post-recovery pic, with (from L-R) Claire Edwards, Paul, Dave Akerman and Rob showing their satisfaction with a text-book mission: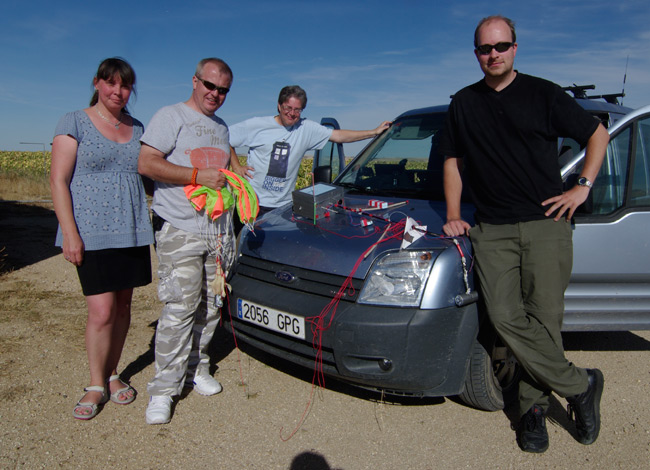 Naturally, you're going to want proof that we've finally cracked the igniter issue, and here it is:
Our final challenge is to have the igniter fire a small rocket motor at altitude - something which wasn't possible on this flight due to the possible fire risk hazard of an unfired motor falling in the vast sun-scorched interior of Spain.
When we do that, we'll also reveal just how our improved igniter works - something which must remain classified for the time being. ®
Bootnote
*We'll bring details on just how the magnificent flight predictor works in due course.
---
Further LOHAN resources:
---