This article is more than 1 year old
WD unveils new MyBook line: External drives now bigger... and CHEAP
Less than £0.04/GB, but it loses the Thunderbolt speed
WD has introduced an even bigger single-drive MyBook, a 4TB one with USB 3.0 connectivity.
The MyBook line is a desktop product about the size of a medium-thickness paperback and WD has steadily built up its capacity and speed:
In January 2012 WD reached 4TB and 6TMB capacities with the MyBook Live Duo which had USB 2.0 connectivity.
In March 2012 My Book got Thunderbolt connectivity with the MyBook ThunderBolt Duo product offering 4TB pr 6TB capacity
In July 2012 the My Book product got Dropbox integration.
Back in August 2012 WD introduced the MyBook Velociraptor Duo, featuring two 1TB 10,000rpm drives and Thunderbolt ports for really fast external storage data access.
The new MyBook and MyBook for Mac products come in 2TB, 3TB and 4TB capacities but don't offer Thunderbolt connectivity, using USB 3.0 instead. The latter offers 5Gbit/s speed, whereas Thunderbolt is faster at 20Gbit/s in its gen 2 form. Gen 1 was 10Gbit/s.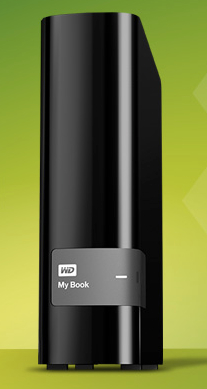 WD 4TB My Book
But Thunderbolt is pricey – cables can cost $30 and almost the same in GBP – whereas USB 3.0 is cheap in comparison, and plenty fast enough for consumer external drive access.
The MyBooks continue with DropBox integration via WD's SmartWare Pro backup facility, so DropBox can be used as a cloud backup resource.
WD includes Acronis True Image (ATI) with the product, saying it "enables users to execute a full system backup and securely delete digital files and programs".
The MyBook Live product is a separate line topping out at 3TB – 8TB with a Duo model – and connecting to a wireless router for data sharing.
The My Book products have a three-year warranty and are available now. WD's manufacturer's suggested retail price for MyBook is £79 for the 2TB, £99 for the 3TB, and £149 for the 4TB. That's less than £0.04/GB.
MyBook for Mac only comes in 2TB and 3TB versions and costs £99.00 and £129 respectively (both MSRP). ®