OpenSUSE uncorks a fine Ruby-red Bottle: Beta 13.1 didn't give me a hangover
New admin bling, yes, but no tacky desktop tricks
---
Review The beta preview of openSUSE 13.1, released this month, shows this distro is waddling in the footsteps of its Linux brethren.
Codenamed, rather curiously, Bottle, openSUSE 13.1 has had work done under the hood that lays the groundwork for forthcoming features. The lower levels have had major updates in this version, such as the move to GStreamer 1.0 and new Ruby-powered YaST admin tools.
Multimedia control system GStreamer 1.0 was released around this time last year, but openSUSE - a more conservative distro - has yet to bundle it. The plan is to get GStreamer 1.0 into openSUSE 13.1, but a quick glance at the project status page reveals that there are quite a few core apps in the openSUSE stack that are still not using the framework. The biggest multimedia apps on the GNOME side, Rhythmbox and Shotwell, have both been ported over to it, but many others have not.
openSUSE 13.1 isn't due to arrive in final form until November, giving its developers some time to finish up work on the move to GStreamer 1.0.
Meanwhile, there's YaST, the system configuration Swiss army-knife. Those who rely on YaST to administer large networks have no reason to panic. OpenSUSE 13.1 isn't changing anything about how YaST works – it will look and behave just as before – it's just written in Ruby.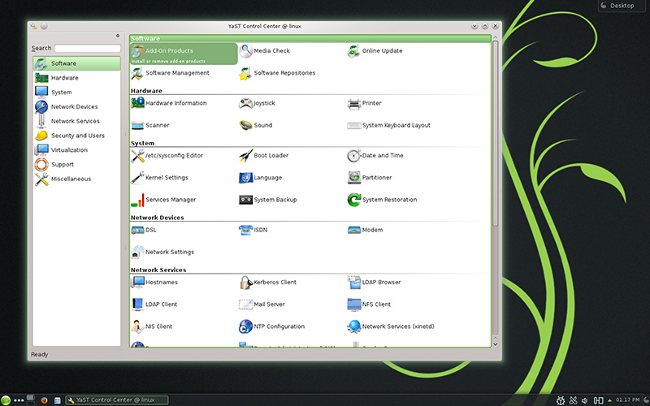 YaST blings up with Ruby
A favourite of sysadmins, YaST a control panel for software management, user administration, disk partitioning and a variety of other admin and maintenance tasks.
YaST has GTK, Qt and command-line interfaces, which means it functions more or less the same whether you use it on KDE, GNOME or through the shell. The latter is particularly handy if you're running openSUSE (or SUSE/SLED) as a server since it allows you to perform the same tasks without the overhead of running a graphical environment.
More recently openSUSE added WebYaST to the mix, which, as the name suggests, brings the power of YaST to a web interface, allowing you to remotely administer your machines using the familiar YaST graphical interface, but running in a web browser.
YaST also powers openSUSE's installation tools, which remain some of the nicest you'll find in a Linux distro.
YaST had an Achilles heel, though: it was written in YCP, a language created solely for YaST development. That limits the number of people who can contribute to the project (and who are working to extend and expand it as well). Not only does development mean learning a new language, it means learning a new language good for one thing. The new Ruby-based YaST changes that.
The new YaST looks the same, and in my testing with the latest Factory builds, it functions the same as the old YaST. Using Ruby behind the scenes opens the door to developers who might like to contribute or extend YaST without learning a new exotic language just to do so. And more contributors may well mean more useful tools and extensions for YaST (it also makes it easier for large organisations to write their own customised YaST tools).
To be clear, this is not a ground-up rewrite of YaST - instead, a team of developers have translated YaST's YCP code into Ruby. Judging by conversations on the openSUSE YaST mailing list, there may well be some rewriting in future releases, but for now the goal is to make sure everything is translated and that the new Ruby version is as stable and reliable as the old YaST.
In the past I've used openSUSE primarily with the KDE desktop, which is where the project has poured the majority of its resources. For the final release the plan is to ship KDE 4.11.x. KDE 4.11 isn't a radical departure from its predecessor, which shipped with openSUSE 12.3, but it does bring some improvements to KDE's NEPOMUK search tool, which should make it a little speedier when indexing your files.
As with the last release, the default KDE desktop theme for openSUSE is one of the nicest you're likely to find and even manages to make non-KDE apps, such as Firefox or GIMP, feel like a natural part of the KDE desktop.
If you're a KDE fan and you don't want to spend a bunch of time tricking out your desktop, openSUSE is worth at least a test run. It's speedy, has pretty much everything the typical user is likely to need, and offers one of the best looking default KDE desktops out there.
While KDE still seems to be the focus of the openSUSE project, some effort has been thrown at giving GNOME the same sort of openSUSE flavouring. For now that means a green desktop theme rather than any significant customisations.
The plan is to ship GNOME 3.10 (due in final form next week) with the final release of openSUSE Bottle, but the version I tested had only GNOME 3.9.4, which is the current beta.
When it arrives, GNOME 3.10 will bring several new features, such as automatically updated extensions, new maps and videos apps, and support for the Wayland display server. Look for all that and more to be a part of openSUSE 13.1 when it's released.
Overall, you shouldn't find any nasty surprises or big leaps in this beta; indeed, you'll find changes rather agreeable and for the best. If you are tempted to jump in now, just remember this is a beta and bugs are likely lurking in the code. Final release is scheduled for 19 November. ®