On Thursday, we reported that UK mobile-tech shop Clove had noted on its order page for the Samsung Galaxy Note 3 that that device would work only with SIM cards issued in the region in which it was purchased. On Friday, it seems that the real situation might be different.
Might.
GigaOm's David Meyer now writes that Samsung's German PR agency sent him a statement – in German – that the Note 3, along with the Galaxy S 4, Galaxy S 4 mini, Galaxy Note II and Galaxy S III that were produced after July, will be able to swap SIMs when in different geographies, but that they will need to be activated in the region in which they were first purchased.
Meyer says that he has yet to see an English language statement concerning the possibility of region locking, and Samsung's US PR agency has yet to respond to The Reg's escalating requests for clarification.
UKMobileReview, however, reports that they received a statement from an unnamed Samsung spokesperson that says, in self-aggrandizing marketing mush:
In order to provide customers with the optimal mobile experience in each region including customer care services, Samsung has incorporated the 'regional SIM lock' feature into Galaxy Note 3 devices. The product is only compatible with a SIM-card issued from a mobile operator within the region identified on the sticker of the product package. When the device is activated with a SIM card issued from the other region, the device may be automatically locked until it is released at the dedicated service centre.

Once a device is activated normally, the regional SIM lock is automatically released. Users can enjoy the roaming service as usual and can use other region's SIM card when travelling. The regional SIM lock has been applied to the Galaxy Note II and Galaxy S4 devices through a software update in selective markets. The regional SIM lock does NOT affect the device's features and performance. Users can continue to enjoy all the advanced features of our products.
If, indeed, the Samsung devices can swap SIMs after first activation, this news contradicts what Clove says on its Galaxy Note 3 order page and also blogged:
If you travel internationally (outside Europe) and usually insert a local SIM card when in those countries, the Note 3 will NOT be able to use the local network. It will lose all mobile connectivity with the exception of emergency calls.

For example, if you travel to the USA and insert a SIM card issued in the USA, you will not be able to use the Note 3 for any voice calls, text messages and mobile data connection. It will work via a WiFi connectivity only.
In that blog post, Clove also included the following photo of a sticker on their stock of the Galaxy Note 3: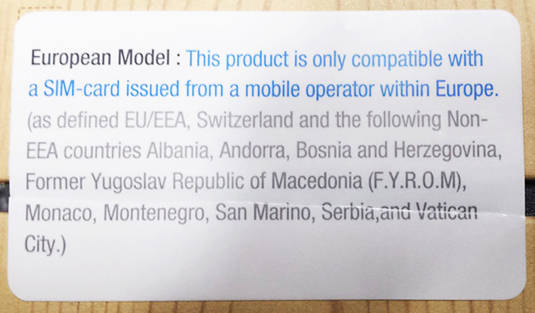 Either that sticker is an exceptionally poorly worded indication that the Note 3 merely needs to be first activated in the regions it lists, and is then free to be SIM-swapped elsewhere, or Clove is correct and the German PR agency who communicated with Meyer and the Samsung spokesperson who issued that statement to UKMobileReview are incorrect.
Or maybe Samsung's activation unlocking simply isn't working — at least for some users. As Meyers points out, a recent post on XDA-Developer says, in part, "Ok, so today i went to the store here in sweden where they had preactivated the phone with a swedish simcard, i put my thai simcard in only to see the f...ing unlock screen again."
Another poster in that same thread reports, "After reading the tests from ukmobilereviews, I went to a local phone4u shop, showing it to the sales. He was kind enough to open a brand new jet black note 3, put his vodaphone sim card in it and make a phone called with it. Afterward put my Hong Kong sim card which have roaming services in the note 3, the phone is still locked, asking for unlock code. Very frustrated."
Finally, another poster sums up what may be the actual situation quite succinctly. "Activating with local SIM not seems working. I have tested, Even after making a call, the phone remain locked to other region SIM cards."
It appears that what Samsung says and what is actually the case are, shall we say, dissimilar. We must concur with GigaOm's Meyer. "Stay tuned, because this may not be over yet." We also advise you to keep your eye on updates to this thread. ®
Similar topics