This article is more than 1 year old
Valve aiming to take the joy(sticks) out of gaming with Steam Controller
Half-Life fans face Friday of disappointment
Gaming house Valve has completed its trio of announcements for the week with news of a planned wireless game controller that replaces the traditional thumb-controlled mini joysticks with two force-feedback touchpads and a programmable screen.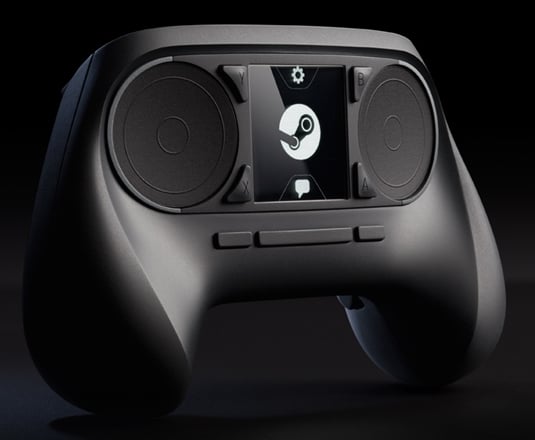 The touchy-feely future of gaming?
The two touchpads will give players much finer control of movement and action than traditional designs, Valve claims. Underneath the pads are dual linear resonant actuators, tiny weighted electro-magnets that can be programmed to give a variety of force-feedback sensations and can even be used to turn the touchpads into primitive speakers as a "parlour trick," the company states.
The Steam Controller also uses a central high-resolution touch-enabled screen that can display maps, allow users to scroll through menus, or just add extra buttons as needed for individual games. The screen can also be displayed on the main monitor so you don't have to stare down at your controller during play.
"The Steam Controller is designed to work with all the games on Steam: past, present, and future," Valve said in a statement. "Even the older titles in the catalog and the ones which were not built with controller support. (We've fooled those older games into thinking they're being played with a keyboard and mouse, but we've designed a gamepad that's nothing like either one of those devices.)"
That's not to say the controller is entirely buttonless. The handset will have 16 physical buttons, eight of which can be used without taking your thumbs off the touchpads. But, just as the iPhone largely eliminated buttons from smartphones, Valve is hoping the same can be done with controllers. Player can still use a mouse and keyboard, should they prefer.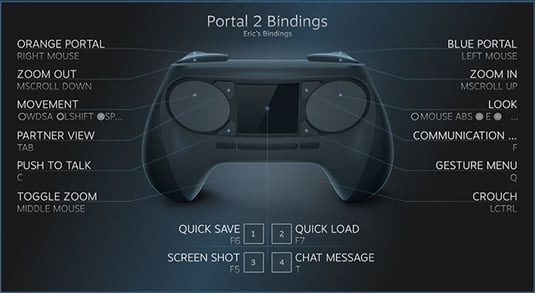 Suggested settings could prove handy
Valve is releasing 300 early builds of the controllers with the beta versions of its Steam Machine gaming consoles, announced on Wednesday, which run the Linux-based SteamOS that was launched on Monday. The beta Steam Controllers won't have the screen included, and will be connected to consoles via USB rather than wireless, but a full API will be released to developers at the same time for the finished kit.
"The Steam Controller was designed from the ground up to be hackable," Valve said. "Just as the Steam Community and Workshop contributors currently deliver tremendous value via additions to software products on Steam, we believe that they will meaningfully contribute to the design of the Steam Controller. We plan to make tools available that will enable users to participate in all aspects of the experience, from industrial design to electrical engineering."
The final hardware is promised for next year, and Valve is also predicting other companies will be releasing consoles based around SteamOS in the same timeframe. No mention was made of cost, but given the design of its hardware, Valve may have difficulty competing on price with other controllers.
The news of the controller has gaming boards chattering, but there had been many (including this hack) who had been hoping Valve would be announcing a new version of Half-Life. It has been nearly nine years since the last release of the popular first-person shooter and Gordon Freeman needs to come out of stasis one more time, at least. ®