This article is more than 1 year old
All roads lead to Darwin ahead of solar challenge flag-fall
Largest field set to run with the sun
World Solar Challenge Australia's second Cruiser-class entry for the World Solar Challenge has joined the teams converging on Darwin for next weekend's start of the World Solar Challenge.
TAFE SA's SolarSpirit 3 is the technical education body's third shot at the challenge, and its compliance with the Cruiser rule that there have to be at least three forward-facing seats comes from an arrangement in which two seats are placed behind the single driver's seat (the team calls it the "McLaren model").
Earlier this month, South Australian power conversion manufacturer Redarc signed on as a SolarSpirit 3 sponsor. SolarSpirit 3 is running motors supplied by CSIRO (1.8 kW units) and NGM (5 kW). Its 392 cells will feed 40 Ah (110V) of Li-ion batteries, and the vehicle is designed to cruise at 80 km/h (which is well under the design speed of Challenger vehicles, which are perfectly able to exceed the Northern Territory's highest speed limit – 130 km/h).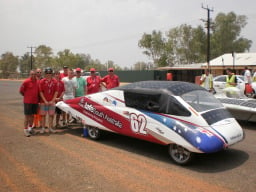 TAFE SA's SolarSpirit 3
According to the ABC (here, with video), compliance with the Cruiser regulations – along with demands for greater integrity in battery compartments – makes for a car that's 100 kg heavier than TAFE SA's last vehicle (which competed in the more technically demanding challenger class).
Meanwhile, the Netherlands' Nuna7 team showed off its car in Darwin over the weekend. Nuna7, run by the Nuon Solar Team (backed by the Delft University of Technology), is definitely among the "top gun" entries for the race, having a long history of being in the winners' circle.
All contestants, even those with long experience in the challenge, face their last-minute trials and tribulations. The Dutch team says it's final prep included rewiring the batteries and dressing up its aerodynamics. ®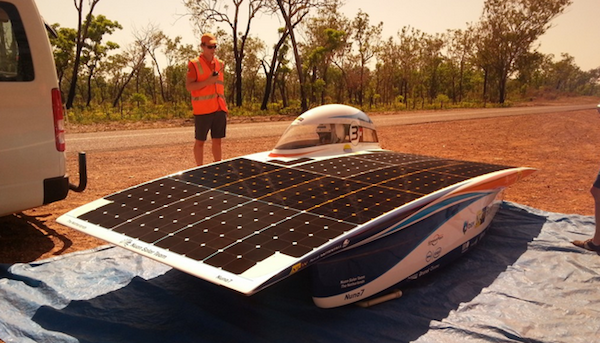 Delft University of Technology's Nuna7