HP has nailed its colours to the mast of the good ship software-defined networking (SDN), today outlining plans to create a multi-vendor ecosystem and an app store.
Morten Illum, HP's AsiaPac and Japan veep and general manager for networking, explained HP's plans to The Reg by offering up an example of a user firing up a video conference in Microsoft's unified comms tool Lync. Illum said under HP's SDN scheme the commencement of the video conference would mean rapid and dynamic re-allocation of network resources to ensure the best possible user experience. One the session ends, network resources would be tossed back into a pool.
Lync is one of four applications HP currently offers as examples of what could end up in its app store. The others are the HP Virtual Cloud Network, the company's Sentinel security software and a dynamic bandwidth provisioning service from Intel and Verizon.
Apps slot in to HP's SDN scheme of things in the second layer of the graphic depicted below (click here for a big and more legible version).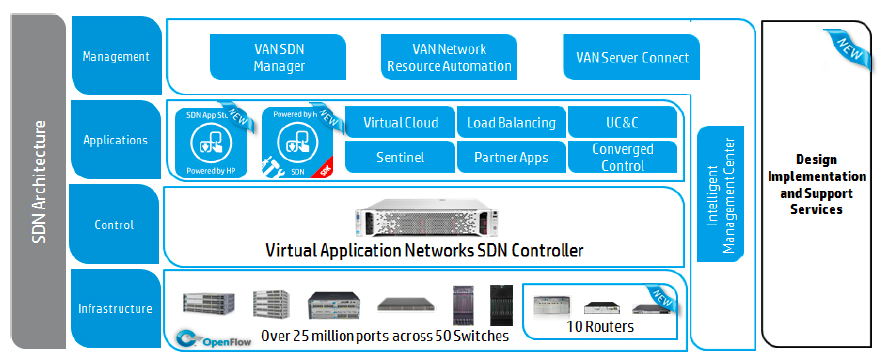 HP's SDN vision
Using the forthcoming SDN software development kit (SDK) any app could be taught to behave the same way as Lync, Illum said. Developers could even chose to then put such software up for sale in a coming-real-soon-now app store for SDN-enabled apps that will offer testing services for apps.
HP's not being entirely altruistic in these efforts: the SDK and app store all-but-assume developers will work with HP's VAN SDN Controller, which in turns plays nice with HP's OpenFlow. The company has just added the latter to ten routers, including the MSR2000, 3000, 4000 and HP Virtual Services Router (VSR) Series routers. HP whitepapers about its SDN push (like this PDF) also suggest deploying OpenFlow-equipped switches "so you can move to SDN when you're ready." HP Services' fingerprints are also on the testing services.
Illum insisted that HP's plan is open: developers could chose to code for OpenStack's Nicira-derived SDN bits instead of HP controllers if they wish to.
Just when the SDK and App Store will emerge hasn't been revealed. But HP does have a laundry list of partners signed up for the ecosystem, among them Microsoft, networking appliance outfits like Riverbed and Bluecat and even VMware. Virtzilla even seems enthusiastic about HP's efforts, offering a canned quote to the effect that it will "federate the VMware NSX network virtualization platform with the HP Virtual Application Networks SDN Controller to create the HP-VMware networking solution." ®
Similar topics