This article is more than 1 year old
500 MEELLION PCs still run Windows XP. How did we get here?
Just six months to go: what to do if you don't have $200 per PC
Six months from now, on 8 April 2014, Microsoft will stop pushing out security updates for Windows XP – and that's going to be a big deal.
At time of writing a whopping one-third of the world's millions of PCs were still running Microsoft's 13-year-old client operating system.
According to Gartner, the global installed base of PCs at the end of 2013 will be 1.63 billion units. By that reckoning, Windows XP is currently installed on at least 500 million computers and almost certainly used by over a billion people.
It's going to cost you
The Reg understands at least 10 major UK and US organisations with more than 5,000 seats that are currently mid-migration will miss next April's deadline.
And that's likely going to cost them. Rather than go naked, large companies have the option to pay Microsoft for dedicated support, but it comes at eye-watering prices: $200 per desktop for year one, $400 for year two and $800 for a third year.
This is only available to the biggest of the big: you have to be a premier level Microsoft customer. The message is clear: Microsoft doesn't want your business - so get off Windows XP.
Big companies risk paying in other ways, too.
Viruses, ransomware, worms, Trojans, keystroke-loggers and anything else written to hack, infect, snoop or steal from users on Windows XP on or after 9 April will soon live without fear of a Patch Tuesday squashing.
Running vulnerable systems that could potentially expose customer data could in regulated markets could land businesses with a big-fat compliance bill, privacy lawsuit or a slap on the wrist from regulators.
And chances are that six months from now the number will not have been reduced to a non-worrying size, based on how slowly Windows XP's market share is falling.
But why aren't they moving on?
The reason such large numbers of users are clinging to XP are varied.
Quite a few, of course, are simply living in denial – a stunning one in seven claimed to have no idea of the approaching end-of-support date earlier this year.
Of those who are planning to migrate to another operating system, some lack budget for a wholesale update, while others appear to view the matter as "a hardware problem". The latter plan to replace XP with something new – such as Windows 7 – only when they buy new computers.
Others are simply flummoxed by the scale and complexity of a move off of their organisation's legacy computing platform and the strategic onion-peeling exercise typically involved when one manages a software migration.
The problem affects everybody, from the biggest corporate giant to the smallest firm, and stretches across governmental bodies and the private sector. Nobody is immune.
Eighty-five per cent of PCs in Britain's National Health Service are still running Windows XP. The NHS in England is one of the world's largest employers, with 1.7 million staffers on its books.
Even large companies in the top league of Microsoft customers – supposedly well-resourced and with plenty of IT staff on tap to manage a move – are struggling.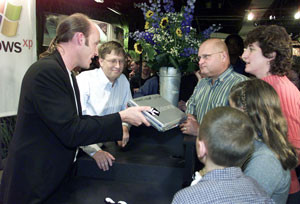 Stuck in the past - Bill Gates presides over Windows XP's launch, October 2001. Photo: Jeff Christensen
Small and mid-sized businesses (SMBs) are a huge problem. These are organisations with just enough PCs to be dangerous – between 25 and 250 according to Microsoft – but lacking the IT budget, infrastructure and people to run a massive platform switch.
Cough it up, beancounter
Often, it's the businesspeople in side organisations holding things up because they don't appreciate the impending problem and they aren't freeing up the necessary budget.
After all, it's not like Y2K – the PCs won't just stop running at midnight. Machines will still work. But slowly – over time – they'll become more vulnerable to attack.
Y2k saw government-led campaigns to patch and upgrade systems combined with a rising tide of national news coverage that helped scare and motivate people based on the fact nobody knew exactly what to expect at midnight on 1 January, 2000.
The result is that nobody – not even the normally happy-clappy Microsoft – expects everybody will have moved their PCs off of Windows XP six months from now.
That's despite the fact Microsoft has worked across the whole organisation and ploughed cash into programmes to drive XP migrations – Microsoft has been offering a 20 per cent discount for customers buying Windows 8 and Office 365 through partners.
"We have been working on this for a long time – in the enterprise sales group, in the government sales group, in the SMB group," Jay Paulson, director of product marketing for SMBs in Windows, told The Reg. "In my role in product marketing, we measure every country and try to drive everybody forward.
"When you've got as many people running Windows there will be some people who don't make it – certainly. We haven't set any firm targets... there will be some who don't do it."