This article is more than 1 year old
Ubuntu 13.10: Meet the Linux distro with a bizarre Britney Spears fixation
Search me, baby, one more time
Review On the surface, based on the second beta just released, Ubuntu 13.10 is shaping up to be a solid, if slightly dull, Linux distro.
There have been no major visual changes to the desktop and only a couple of expanded features for the Unity Dash, which means 13.10 – due 17 October - won't look all that different from the last release of Ubuntu when it arrives.
Ubuntu 13.10 is, however, something of an iceberg - the bulk of what's new is hidden away under the surface. Ubuntu 13.10 marks the arrival of Mir, Canonical's new graphics stack designed to replace the ageing X Server.
Mir is Ubuntu's replacement for the X Window System and is designed to help one escape the confines of the desktop. Mir will allow Canonical to run Ubuntu on mobile and tablet devices, as well as the desktop, sharing a common code base among the various form factors.
Mir is currently at something of a halfway point and is dubbed "xMir" at the moment, a name that hints at the fact that, thus far, Mir is not quite ready for prime time. That's not to say it doesn't work, or is buggy. In fact, it's neither. In my testing on two laptops, both with Intel graphics cards and open-source drivers, Ubuntu 13.10 has been rock solid and feels snappier than its predecessor (this beta also features an updated kernel, which helps as well).
So, provided you're using open-source drivers for your graphics card, Mir isn't going to give you any hassle.
It's those of you using proprietary drivers that won't be seeing Mir just yet. The "x" in xMir refers to the fact that Mir is, for now, shipping with good old X server and will, when faced with unsupported drivers, gracefully fallback to X.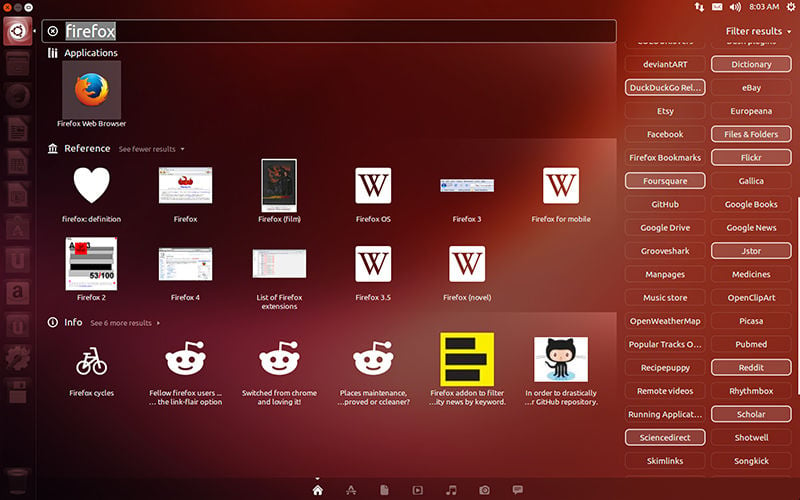 Smart Scopes: while some search returns are comprehensive if not smart as on "firefox"... (click to enlarge)
While it's a little disappointing if you're stuck using proprietary drivers, it does make for a very seamless experience. In fact, if no one mentioned it you'd probably never notice anything had changed, which is an impressive feat for something as major as a change in the graphics stack.
The real arrival of Mir (without the "x") won't happen until next year when Ubuntu 14.04 arrives. After that Canonical plans to debut Unity 8, a revamped Unity interface built with tablets and phones in mind. Fear not desktop fans, Jono Bacon, Canonical's Ubuntu Community Manager, has said that the Unity 8 desktop interface will look "like our current desktop when it is complete."
So while the big stuff is under the hood or yet to come, there are a couple of new things you'll notice if you decided to test this beta. The biggest and most obvious is the new Smart Scopes service, which adds a ton of new search results to the Unity Dash.