This article is more than 1 year old
A £30,000, 295bhp 4G MODEM?!? Must be the Audi S3 Quattro, then
The fastest Wi-Fi hotspot on four wheels ... possibly
Review Network-connected cars are nothing to get overly excited about these days and, to be honest, neither are fast hatchbacks.
But the chance to a drive an unusually hot hatch with 4G connectivity was more than enough to stir El Reg's auto desk out of its customary torpor. That's how I found myself behind the wheel of Audi's new S3 Quattro.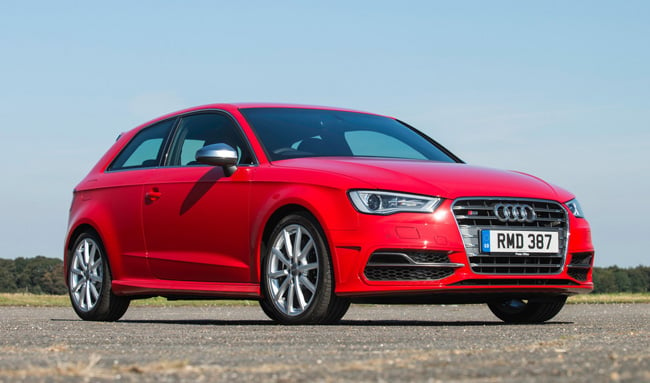 Audi S3 ... thoroughly modem modern motoring
The idea of a car hooked up to the internet over a cellular network is, again, nothing new. These days you can buy a mid-spec Renault Clio that can perform that trick, but Audi has been rather canny in that the system is entirely unlocked. Just buy your SIM with a mobile data package from any telco, pop it into the unit that takes up most of the space in the glove box and - bingo - you are connected to the great worldwide web at speeds of 20Mb/s or thereabouts.
I should point out before I go any further that I didn't actually manage to find a 4G signal with the S3. Having arrived at the hotel near Ascot early with a mind to kick back in the new spa for a few hours, I got shanghaied by the Audi press team, stuffed into an S3 and told to drive into London and see if I could pick up a Vodafone 4G signal.
Two hours later I was in Hammersmith waiting in vain for the 3G icon on the screen to turn to a 4. So I did what any hack would do in that position and headed out of town and spanked the S3 back around the M25.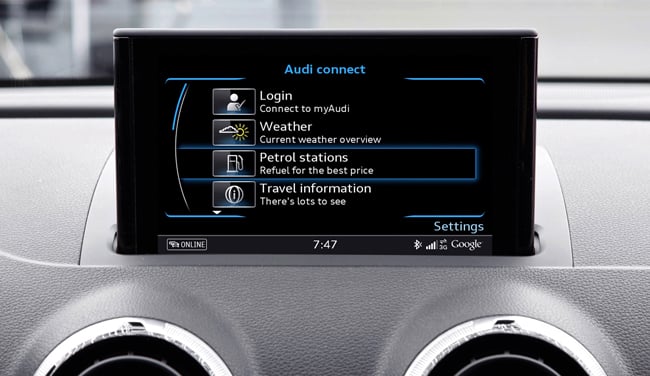 Eventually that will read '4G' not '3'
Assuming you can find a Vodafone LTE signal or that you have a 4G SIM from EE or O2 in your wallet, then you can rummage around in the S3's settings menu and create a secured WLAN to channel the interwebs to your tablet, laptop or phone.
There's more to it than that, though. The S3 and A3 Saloon are the launch models for the latest incarnation of Audi's Connect platform, which lets you access Twitter, Facebook, email and texts while you are on the go, as well as spicing up the navigation system with extra Googleness.
Text communication has to be done through your mobile - no surprise there; you want your messages to reflect your regular phone number - but your Twitter and Facebook accounts are plugged directly into the car. Not so email, which has to be, like SMS, routed through your phone. In these days of IMAP servers, I'm not sure that's necessary.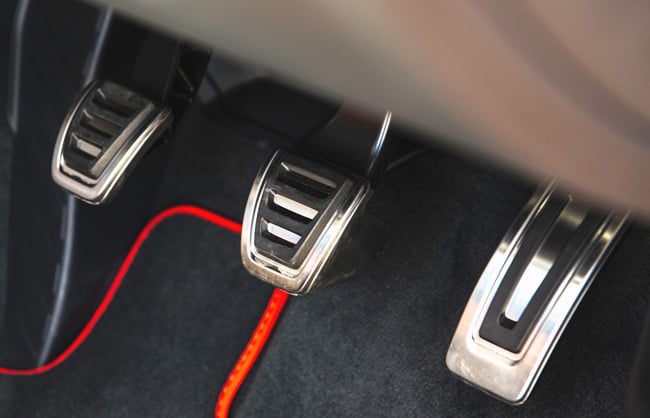 Buy racer pedals
Families can set up multiple social networking accounts via the MyAudi service. Once a customer signs up, they assign their chassis number to their account. Their partner or whoever can then do the same. MyAudi will assign a different PIN to each registered user. Once the PIN is entered when that person gets in the car, the S3 will download all of their presets for Facebook, Twitter and any other personalised online settings.
Thankfully, any incoming social missives are read out to you by the satnav voice so you don't need to take your eyes off the road and fix them on the admittedly rather fine 5.8-inch display that pops up out of the dashboard. Maybe it's the Luddite in me poking his head up over the parapet here, but is anything that takes the driver's attention away from the small patch of tarmac in front of the bonnet, even a vocal alert that someone you know has just bought broccoli, really a good idea? Especially in a car this fast.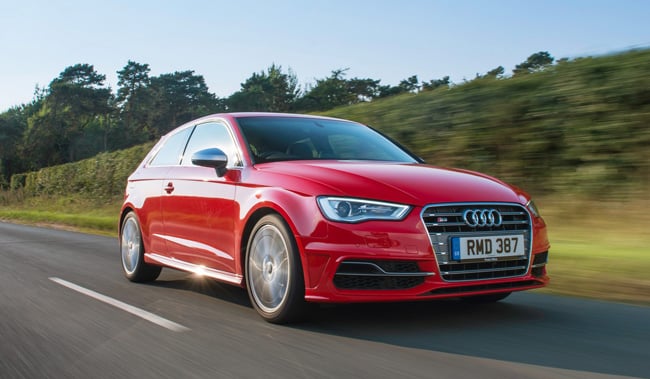 Vroom
How fast? Well, the S3 can sprint to 62mph in 4.8 seconds and charge on to a limited top speed of 155mph. That's thanks to an all-new 2.0-litre 295bhp turbocharged four pot engine, a permanent four-wheel drive Quattro drivetrain and a six-speed S-tronic gearbox. Lesser Audi S-tronics have seven speeds but I'm guessing the monumental torque generated by the S3's engine - 380Nm between 1800 and 5500rpm - renders the extra ratio irrelevant.