This article is more than 1 year old
Tesco's new fondleslab winks at Apple's stealthy NFC assassin iBeacon
Imagine an annoying shop assistant pouncing on you as soon as you walk in...
Analysis Tesco jumped on the tablet bandwagon yesterday with the launch of Hudl, another Android tablet. Pronounced "huddle", the decently specced fondleslab costs just £60 if you pay in Clubcard points, or £119 in coins of the realm.
And like Amazon's Fire slabs drew in punters, the touchscreen Hudl is being flung out at low cost in the hope that you shop more at Tesco: the supermarket now has digital media to flog in the form of Blinkbox and Clubcard TV.
That's not the interesting thing about it, though. Hudl's Bluetooth system supports a battery-friendly tech called BLE, which could be used by Tesco to plug its customers into Apple's unpublicised iBeacon technology, designed to push sales to easily swayed shoppers among other things.
If you're wondering why Apple shunned wireless payments, aka pay-by-bonk, then iBeacon is part of the answer.
iBeacon takes advantage of the very low-power, low-data-rate spec that's part of Bluetooth 4.0, called Bluetooth Low Energy (BLE).
BLE was created by Nokia, which punted it under the name Wibree before it was folded into the main Bluetooth spec. BLE means a pacemaker battery should be able to keep a small receiver running for a year or two with a communications range of 50m.
iBeacon is simply Apple's software interface, new in iOS 7, for accessing information-sharing gadgets scattered around, say, a shop, museum or a national park. These gizmos are called beacons and the idea is that they beam data - anything from vouchers to details about the location - to listening Apple devices. You can pay for stuff with them, too, using your phone to activate the transaction.
You don't need a crystal ball to see something like this in action - just visit an Apple Store. Apple has allowed punters to pay without queuing for years: most transactions take place on the floor itself, rather than at the till counter.
iBeacon takes that one step further by punting hopefully useful information and offers to applications running on customers' devices by the time they walk in the store. Having satisfied itself that you are who you say you are, the store's own app will complete the money side of any payment.
For example, you may have flicked through products to buy before turning up in a shop; a beacon present could be alerted to this, via an installed software application, and direct the shopper to the desired item, perhaps even with a money-off voucher to seal the deal.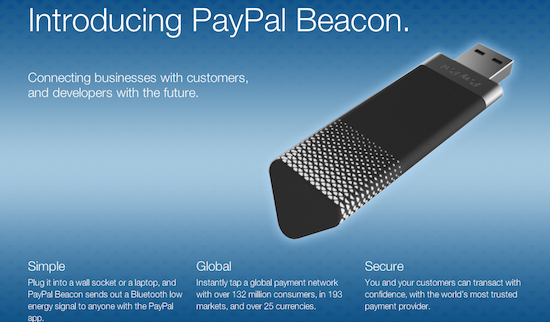 Is it a bird? Is it a USB memory stick? ... No, it's PayPal's own beacon
PayPal knows a mortal challenge when it sees one, so it's thrown its own BLE beacon at the bricks-and-mortar retail channel; you can find out more here. The hardware will go out early next year, and it will allow people to buy stuff in a shop, cafe or whatever, with a PayPal app on any compatible device.
The history of wireless payments on the high street is one of unfulfilled potential and plenty of consumer apathy. El Reg covered Bluetooth payment gateways a decade ago when they were called "Proximity Servers". It seemed a no-brainer at the time, particularly for acquiring digital media, which could stream straight into your device from the music shop floor.
But the years have passed and it turns out that even if all the kit is in place at either end - with both the retailer and the punter - there's still little incentive for the buyer to turn on, tune in and drop some cash on it. Certainly, not having to queue is nice, but is swiping a card actually so very hard in the first place? The initiatives have always had the air of a solution looking for a problem.
Plenty of handheld devices can use BLE, so it's not exclusive to the Hudl. But it's worth noting because Tesco has the might and a ubiquitous physical presence to make this a real thing for once.
Perhaps it's the beginning of the end for NFC (not-very-affectionately known around here as "Not F*cking Connecting"). It's a puzzle why anyone would would want to bash a £600 glass gadget repeatedly against a hard plastic lump. Even if it did work first time, every time. Which it doesn't. ®