British support for fracking largely unmoved by knowledge of downsides
Have environmentalists played the Fear card too often?
Analysis Shale gas may be threatening to cause an existential crisis for the way environmental politics is conducted in the UK. The latest survey from the University of Nottingham into how people view shale exploration shows something quite unusual. While awareness of the risks has greatly increased, the public's support for the extraction technique has not been seriously undermined at all.
It's the seventh in a series of surveys into fracking by the University's school of politics - but the first since the Balcombe protest camp in Sussex received widespread media coverage. Firm support for shale gas exploration in the UK continues, at over 52.7 per cent in favour and 27 per cent against, as opposed to 58.3 per cent for and 18.8 per cent against in July. More people now associate fracking with water contamination than before, with "don't knows" down for all the various risks associated with fracking.
So why is this a big deal?
Because ever since Rachel Carson's Silent Spring, environmental campaigners have deployed the Precautionary Principle with great success. This fear-based strategy involves raising awareness of risks attached to one or another industry in order to increase support for a targeted government intervention - often a ban, or perhaps an increased regulatory burden which may render the economics of the industry marginal.
Traditionally, a higher awareness of risks has lead to a higher support for the desired policy. But this isn't happening with shale gas in the UK: the two numbers are out of phase. The Nottingham research shows that while the public awareness of fracking risks has increased significantly, the support for a fracking ban has failed to materialise.
Clearly, individuals are now making sophisticated risk assessments of the benefits and dangers of fracking, and coming to their own conclusion. The tried-and-trusted Precautionary Principle appears not to be working here.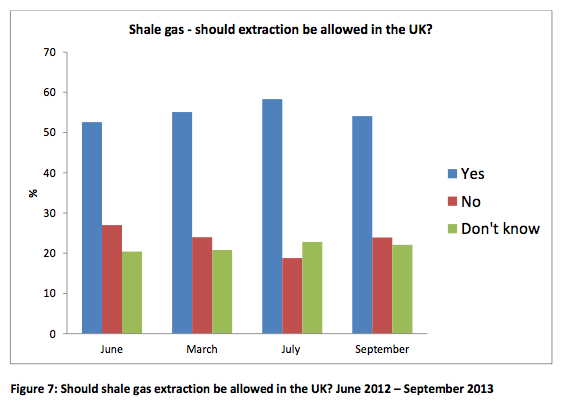 Perhaps this is down to increased information available through the internet, which can cut through the alarmism. Or perhaps the public is suffering from "green fatigue" - alarm has been raised so many times now that the capacity for any more has worn out.
This presents promising avenues for further research. It would also be useful to know whether the Balcombe protest was counter-productive to the environmentalist cause. The protest camp was opposing a license granted to Cuadrilla for ordinary oil exploration - not gas - and no fracking was planned. Dozens of such oil-hunting licenses are granted in the UK each year, and Cuadrilla would have had to make a new application to use hydraulic fracturing at Balcombe. But you'd have been lucky to discover any of that from the UK media coverage.
Let's hope academics like those at Nottingham can pose some more questions to which they might not like the answers.
If the trend continues, the environmental movement may have to ask itself some questions. What happens when your most potent weapon - fear - stops working? Do you change tactics? Or choose your campaigns more wisely? Or just shout louder?
Write your answer on a placard and tie it to a dog - or just use the comments section below. ®
Related Link
Did the protests at Balcombe have an impact on public perceptions of shale gas? - University of Nottingham