Oh, shoppin' HELL: I'm in the supermarket of the DAMNED
I've got them 'unexpected item in bagging area' blues
---
Something for the Weekend, Sir? "Thank you for using Fast Checkout."
Whuh?
"Thank you for using Fast Checkout."
It's nice to be thanked by a machine but I haven't used Fast Checkout. Not yet, anyway.
I'm still standing at the automated till with a heavy metal basket - rock on, shopping dudes - cutting into my fingers of one hand while I'm jabbing at the blurry screen with the index of the other.
Shopping isn't much fun, not for a straight man, and it would be nice to get this over with quickly. I've spent the entire last five minutes choosing things to buy and I've had enough.
I tap the button labelled "Touch here to start" a third time.
"Thank you for using Fast Checkout."
Maybe the capacitive screen can't register my touch through the greasy smears that partly obscure the display. My fourth touch is a firm press and as I lean forward to add my weight, the display discolours nastily around my fingertip and the pole in which the monitor is affixed begins to creak.
It's when I begin using both arms, switch into zenkutsu-dachi for more purchase with my feet and begin growling "Nyaaaargh" that a till minder comes to my aid.
It's easily sorted: all that's required is to insert a key, flick a secret switch, enter a passcode and reboot. Silly me, I should have known. Duh. Customers, eh?
The machine, refreshed from its little nap, brightly invites me to scan my items. Here goes. Blip!
"Unexpected item in bagging area."
Whuh?
"Unexpected item in bagging area."
I'm still holding the metal basket in one hand and my first item in the other. I haven't put anything down anywhere yet.
"Unexpected item in bagging area."
I look all around the machine. There is a flat metal tray on the left of it and another on the right. Neither is labelled as a "bagging area", nor indeed as "busking area", "no-go area", "Area 51" or any kind of special area at all. However, with the aid of my Spidey senses and scientifically enhanced powers of deduction, I establish that the baggage area is probably the one that has a stack of unusably flimsy, shop-branded, Bambi-murdering plastic bags lying on top of it.
It would appear that the machine thinks that the presence of bags in the bagging area is unexpected.
I remove the one-inch-thick stack of weedy atom-thin plastic bags, about 30 million of them I think, all about as sturdy and useful as blown bubble-gum, and put them on the floor. I rest my basket on the other metal tray, evidently the Basket Area, and scan my first item again.
"Unexpected item in bagging area."
"Oh for f..." (I stop short as I notice a child nearby)
The shop assistant, Master of the Key, comes to my assistance again. Apparently I have put my basket in the Bagging Area and it should go in the basket area. I explain that this doesn't make sense because I have only just now rested it there and that the machine had been complaining before this and that neither of the areas had labels to tell me what they were for and that I had put all the shop's plastic bags on the floor.
He looks at the plastic bags on the floor.
Fifteen seconds pass. It is uncomfortable.
Wearily, Key Master picks up my basket and throws it onto the metal plate on the other side of the machine before collecting the plastic bags at my feet and putting them on the other. He snatches the first item from my hand and scans it. Blip!
I continue without further assistance. Blip. Blip. Blip.
"Remove unexpected items from bagging area."
Whuh?
Hang on, I'm scanning items, I'm placing said items in the bagging area. What's unexpected about that? Has an unexpected vegetable crept in among the tomatoes? A tarantula spider in the bananas? Lord Lucan? A fucking leprechaun?
"Remove unexpected items from bagging area."
I remove all items from the bagging area and put them on the floor. I scan my next item and tuck it under my armpit.
"Place your items in the bagging area."
I do as I am told.
"Remove unexpected items from bagging area."
Oh you stupid c*&#ing thing. (I am surrounded by children watching me struggle with the machine but I'm past caring.)
Key Master returns to my aid and offers to scan my goods for me. Blip-beeeeeep.
"Please scan your item again."
Blip-beeeep.
"Please scan your item again."
There seems to be a problem, Key Master says. Perhaps you'd like to try another till. We duly step to the next till machine. It has crashed and won't respond. We move to the next but it has a paper "out of order" sign stuck to it with sticky tape. A fellow shopper leans across and offers some suggestions. There are children everywhere, all watching me, like a scene from The Midwich Cuckoos. Key Master calls someone over…
Eventually I'm allowed to leave the premises with my shopping, having managed to get through the automated Fast Checkout service with the assistance of two shop employees, a public-spirited member of the public and 26 primary school children. ®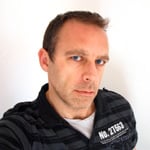 Alistair Dabbs is a freelance technology tart, juggling IT journalism, editorial training and digital publishing. He sympathises with Nicholas Long, the man convicted this week of scanning every item of his shopping at John Lewis as "loose onions". As an act of rebellion against Fast Checkout machines, it certainly has more finesse than kicking the shit out of them, which is what I want to do.