Analysis Cash-strapped microblogging website Twitter filed for its initial public offering late yesterday, revealing a huge battle ahead for the company to convince investors it's not just another corporate flash in the pan.
As it began prepping for its Wall Street debut, the Dick Costolo-run outfit finally addressed its lack of a proper ad exchange - by moving to acquire mobile ad exchange MoPub for a reported $300m.
Twitter, as a free service, needs a way to extract cash from corporate giants that want to exploit the millions of tweets about their brands. But to really impress New York's moneymen, the company is going to have to become a great deal more aggressive with exploiting the user data it holds.
Facebook, which underwent a calamitous debut on to the Nasdaq market, initially made investors anxious about its staying power after it failed to quickly drive sales from mobile users - who were set adrift for far too long without being nagged by ads.
Now that Mark Zuckerberg's company is signalling very clearly that its real customers are indeed advertisers, Wall Street is finally happy with it. Costolo and Co should be paying close attention to how Facebook weathered the storm that followed its IPO.
Arguably, though, Twitter – which wants to raise $1bn by going public – is in a much more precarious position than its free content ad network rival. That's because, unlike Facebook's public debut, it is currently operating at a significant loss with far fewer users engaging with the service.
Moreover, it doesn't just have to prove to shareholders that it can stick around in the long term by quickly spotting and keeping up with market trends, such as the consumer shift to mobile devices. Twitter's lack of growth points to a potentially malignant future likely to put off potential investors.
The company has been chucking money at its profitability problem in the hope of finding a solution. Twitter's S-1 filing with the US Securities and Exchange Commission revealed that its expenses mushroomed to $316m at the end of June 2013, compared with $169m in the same six-month period a year earlier.
More alarmingly, the company has systematically floundered instead of pulling itself out of the red. At the end of June this year its net losses stood at $69m. And its filing showed that that deficit was pretty much business as usual at Twitter. From the very beginning, profit has eluded the micro-blogging site despite its claims of having 215 million monthly active users.
It said:
Since our inception, we have incurred significant operating losses, and, as of June 30, 2013, we had an accumulated deficit of $418.6m. Although our revenue has grown rapidly, increasing from $28.3m in 2010 to $316.9m in 2012, we expect that our revenue growth rate will slow in the future as a result of a variety of factors, including the gradual slow down in the growth rate of our user base.
Costolo's crew told potential investors that it hopes to fix this issue by spending yet more cash on a variety of strategies, including beefing up its technology infrastructure, spending more on research and development, improving sales and marketing, pursuing domestic and international expansion efforts, retaining skilled employees and chasing more acquisitions and commercial relationships.
All while continuing to operate at a significant loss.
Why didn't you just Google it?
In 2006 – seven months after Twitter co-founder Jack Dorsey sent the first ever tweet on the service – a significant game-changer was happening in the Web 2.0 space: Google bought loss-making video-sharing website YouTube for $1.65bn.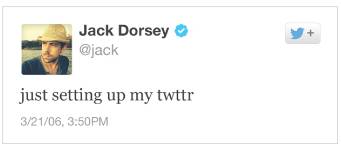 That momentous first tweet. 'Twttr' was the service's name in its early days.
YouTube's owners finally saw some cash when Google gobbled it up. For years after that acquisition, YouTube retained its identity but struggled to turn around a profit and was seen as something of a vanity purchase by Google.
The video-sharing site arguably had the same problem that Twitter now faces: an inability to organise its data in a way that attracts advertisers and encourages them to stick around.
Even Google – with its huge ad network – struggled for about six years to turn YouTube into a money-making operation. It got there eventually, but YouTube can only really credit its staying power to being a capsule docked with the Google mothership.
Twitter does not have the same protection, and instead has boldly and stubbornly remained an independent venture in a clear move to protect its brand.
But at what cost? ®