This article is more than 1 year old
Sun-seeking Cambridge boffins chase Solar Challenge car crown
Brit race hopes hinge on radical tilting panel design
World Solar Challenge Next Sunday sees the starter's flag fall on the 2013 World Solar Challenge, and on the grid in Darwin will be Cambridge University Eco Racing's Resolution - a sleek carbon-fibre monocoque chassis solar-powered vehicle, featuring a "game-changing" solar tracking system.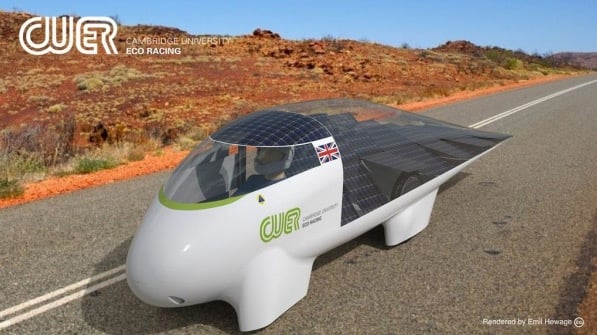 Fun in the sun ... a rendering of the Resolution
The traditional Solar Challenge contender, such as the University of Michigan's Generation, relies on fixed solar panels splayed over a large upper surface. The race's big guns have plenty of money to splash on acres of panelage, but cash-strapped Cambridge's design addressed both fiscal and time constraints.
Team manager Keno Mario-Ghae told El Reg: "We knew quite early on that with our budget and only working on the project part time, there is no way we could beat the top teams at their own game (the flat table top). We have to do something radically different and have a better design which is capable of victory."
Cue a slimmed-down profile and tilting solar panels, which are controlled for optimum gathering angle according to time of day and direction of travel.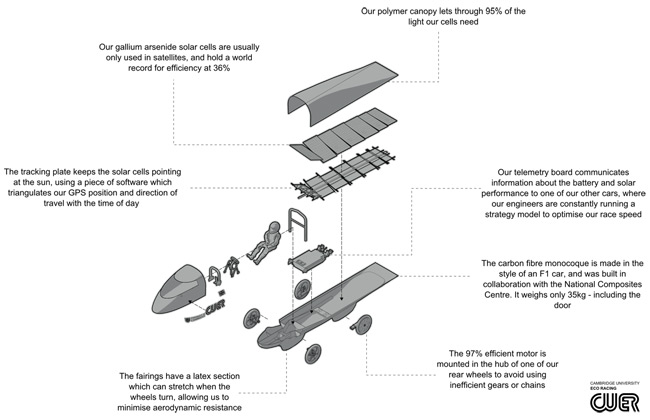 Mario-Ghae elaborated: "The tracking plate is a novel way for us to increase the amount of energy we can collect each day. By tracking the sun, over the course of the day you increase energy in by 20 per cent over a flat non-tracking array.
"The tracking plate system itself is quite light at slightly over 15kg. However, it isn't really possible to directly compare it to a table top design in terms of weight. This is because the regulations state that you can have three square meters of space grade cells or six square meters of silicon cells so you can build a smaller car with Gallium Arsenide cells."
Cambridge's cunning exploitation of the space-grade Gallium Arsenide rule has indeed resulted in a lean machine, but at the cost of added tech, and accordingly an increased risk of breakdown.
Mario-Ghae admitted: "With anything mechanical or electromechanical system, there is always a risk of failure during the race. Even tried-and-tested systems such as tyres. We've tested our car to try and reduce these risks but they will never go away. The reward of 20 per cent gains for us, outweighs the risk of failure."
It remains to be seen how Resolution fares against the race heavyweights, but Mario-Ghae is confident. He said: "Our entire project has been a tall order. Anyone who had seen our cash flow forecast or build targets would've said building the car or even aiming to get this far was crazy/impossible, yet, somehow, we're here and our car runs and a title challenge remains possible. Six days to go, we're looking forward to the challenge."
Good show, and the best of British luck. El Reg's Oz tentacle will be covering the race from Friday, so tune in as the world's most advanced solar vehicles battle their way from Darwin to Adelaide across 3,000km of Australia's inhospitable interior.
Here's our vid of the 2011 event, which gives some idea of what awaits the competitors, and indeed our intrepid Downunder colleagues:
®
Full Coverage:
SOLAR SECRETS of WSC winner team Nuon
Nuon on the brink of another World Solar Challenge win
Australian teams burn up the road on solar car race
Wheels literally FALL OFF solar race contender
Nuon, Tokai maintain six-race rivalry
Dutch oven overcooked in World Solar Challenge
Wacky racers – The Reg's guide to 2013's Solar Challengers
Cambridge withdraws from World Solar Challenge
Unknown Aussie and Dutch family car spring solar surprise
Sun-seeking Cambridge boffins chase Solar Challenge car crown