This article is more than 1 year old
Cambridge withdraws from World Solar Challenge
Practice prang left UK entry too much to fix in too little time
World Solar Challenge Cambridge University Eco Racing (CUER), Britain's sole entrant in the trans-continental World Solar Challenge starting tomorrow in Australia, has withdrawn its "Resolution" vehicle from the race.
CUER entered the race with an innovative design featuring tilting solar panels, the better to catch the maximum amount of solar energy throughout the course of a day on the road between the challenge's starting line in Darwin and the Adelaide checkered flag. In between the two cities lies 3,000 km of the Stuart Highway and a lot of sunshine.
CUER's design attracted knowing glances from Professor John Storey, the event's Chief Scientist, who described it to The Reg as "a daring torpedo shape". Sadly that shape wasn't optimally stable: the team crashed during final shakedown cruises October 2nd with Resolution suffering the damage depicted below.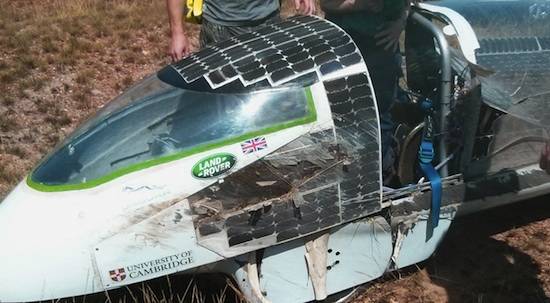 Cambridge University Eco Racing's 'Resolution' solar car
after a nasty crash that damaged some solar panels
Resolution did not appear at today's time trials to determine grid positions for tomorrow's start, but The Reg understands that World Solar Challenge officials had given CUER every chance to ready the vehicle for the 3,000km journey to Adelaide.
Sadly, the CUER team today came to realise it could not ready Resolution in time, because tests conducted after crash repairs had concluded "revealed new dynamic instabilities, which we have not been able to fix in the time we have left before the race."
While the vehicle was operable, the team's statement says "... we have not been able reassure ourselves of the safety of our solar drivers."
The team member to whom The Reg spoke was understandably upset, and declined to comment other than to point us to the statement we've linked to above.
The statement also say that while Resolution has not made it to the starting line, the CUER team feels their efforts have been well and truly worthwhile.
"There are many positives to be taken from the event this year," the statement says, before listing the following achievements:
"First and foremost, our engineers have ensured that our drivers have been safe at all times, with the car's crash structure performing as designed in the event of an accident. Secondly, Resolution produced its best ever results while testing in Australia, indicating that CUER would have been on target to be competitive. Additionally, we have developed several new and innovative technologies over this design cycle: the tracking plate, flexible fairings, and concentrator systems – all of which will stand CUER in good stead for future competitions. And finally: Resolution has been an inspiration – to us; to the many members of the public who have been able to see her displayed; and to the next generation of engineers."
Fair solar winds, Resolution. May all who journey in you enjoy better fortune in future endeavours. ®
Full Coverage:
So you want to be a solar racer? You'll need a laptop and some string
SOLAR SECRETS of WSC winner team Nuon
Nuon on the brink of another World Solar Challenge win
Australian teams burn up the road on solar car race
Wheels literally FALL OFF solar race contender
Nuon, Tokai maintain six-race rivalry
Dutch oven overcooked in World Solar Challenge
Wacky racers – The Reg's guide to 2013's Solar Challengers
Cambridge withdraws from World Solar Challenge
Unknown Aussie and Dutch family car spring solar surprise
Sun-seeking Cambridge boffins chase Solar Challenge car crown