This article is more than 1 year old
Wacky racers – The Reg's guide to 2013's Solar Challengers
Who gets to be Snidely Whiplash?
World Solar Challenge The World Solar Challenge kicks off today, with 36 solely-solar-powered cars about to attempt a 3,000km journey across Australia from the northern city of Darwin to Adelaide in the south.
The Reg is following the race – and making some odd side trips you'll learn about soon – but with the cars on the starting line we felt it prudent to offer a look at the kind of cars making the trip.
The race is run in three classes, all of which must be street-legal inasmuch as they possess brakes, indicator lights and other niceties that let them run on public roads. The Challenger class is for the out and out speed merchants intent on line honours. Most entrants in this class are low wedges of solar panels broken only by a dome so the driver can see. This year we've spotted two dominant configurations in the class. Here's one of them: a 'dome on the side' rig.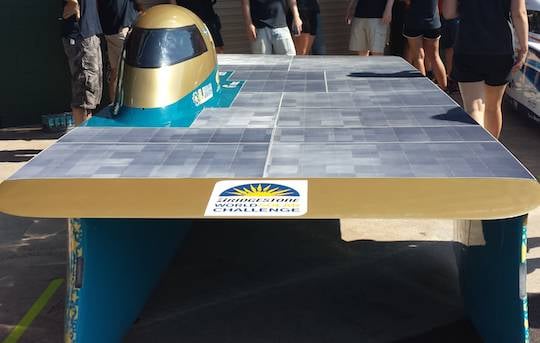 Sweden's Ju Solar Team with its 'bubble on the side' design
We chatted with The JU Team and they assured us that despite the driver and motor residing on the right-hand side of the car, it is balanced perfectly. Steering can be a bit tricky until you get the hang of things.
The team is very popular around pit lane, where the smell of burning photons hangs heavy, because it is sponsored by a Swedish energy drink company that sent two pallets of its product to Darwin. By air freight. Half the competition is hopped up on the stuff, or gratefully using a slab of it to weight something down.
But we digress. If you check out the Challenger class you'll also see what we'll call "bubble in the middle" designs like this one below from Team Arrow.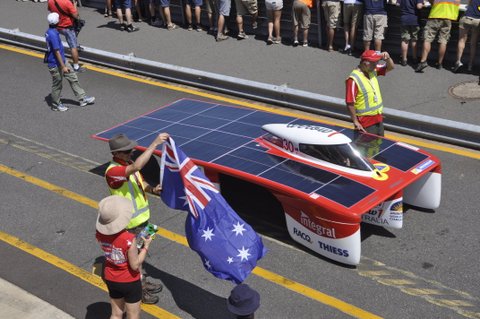 A 'bubble in the middle' design from Team Arrow
Image: Russell Keith
A variant on the bubble in the middle design is this no-bubble setup from the UMP Solar Team out of the University Malaysia Pahang. The team jokes that its car is a convertible, but is serious with its intention to offer the driver a better experience by letting them out into a cooling flow of air. It may not look elegant but it's a solution to the real problem of driver discomfort: drivers have a nasty time of it in these solar cars.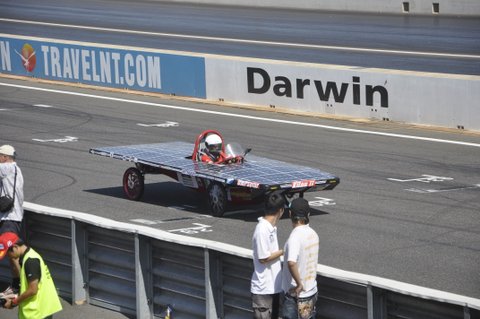 The University Malaysia Pahang team's world solar challenge convertible
Image: Russell Keith
Let's check out the Cruiser class next. In this class speed is important, but entrants are also judged on how closely they resemble conventional cars in appearance and performance. Points are therefore on offer for items like car radios and luggage compartments capable of brining home a week's worth of groceries.
The car below, Solar Team Eindhoven's "Stella", wowed racegoers yesterday by not only coming second overall in the time trial but doing so while packing four seats, a USB charger and a two-speaker music system. The team plans to run with four people aboard for some of the trip to Adelaide.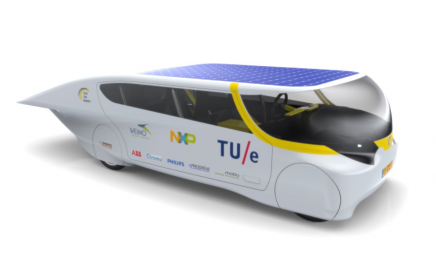 Solar Team Eindhoven's 'Stella' is designed to make your kids
feel right at home asking 'are we there yet?'
The race's third class is the Adventure class, a category dominated by those wheeling out an old design for another run.
One entry in this class comes from Japan's Hachinohe Institute of Technology, pictured below.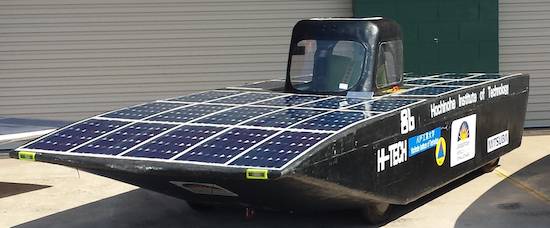 Hachinohe Institute of Technology's Adventure Class entry isn't pretty, but it's team is the event's smallest
Yes, it looks a little crude compared to the sleek entries above, but Hochinoe's team comprises just six people. Other teams have 20 or more people on board, and that's just the folks who made the trip.
In any case, under the skin of almost every car there's crude hacks galore. Here's a shot of some ballast from a fancied entry that's typical of what's going on away from the public eye.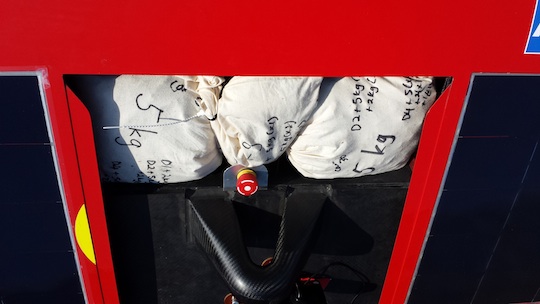 Now that's proper solar car engineering!
And now to conclude, a picture of a truck that we bring you in order to fulfil our sub-heading's promise of naming the Snidely Whiplash of this wacky solar race. The truck belongs to Team Michigan, whose name was spat out along pit lane as being prone to covering its car if rival team members walk past. Michigan is apparently also unwilling to lend tools, a crime against solar camaraderie.
One can understand their secrecy: the team has come third in the last three World Solar Challenges, is tired of lower rungs of the podium and desperately wants to win this time around.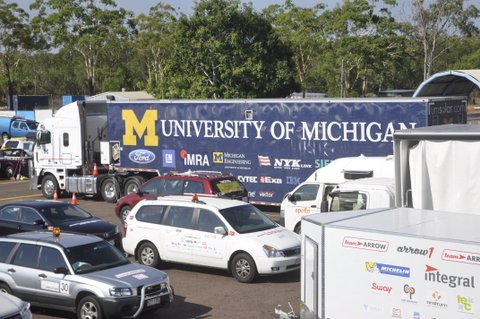 No that's NOT team Monsters U.
Image: Russell Keith
We should also mention that the team is impressive inasmuch as students from across its titular university get involved: the truck was shipped to Australia thanks to sponsors wooed by marketing and PR students.
The Reg is following the race down the Stuart Highway and will bring you news as it happens. ®
Bootnote
Allow us one last photo: that of Vulture South's Simon Sharwood cuddling a crocodile. You can't go to Darwin without a crocodile encounter. Simon met this one in a local supermarket where he was stocking up on supplies for the trip south.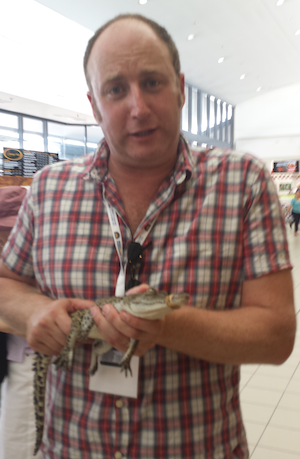 Full Coverage:
So you want to be a solar racer? You'll need a laptop and some string
SOLAR SECRETS of WSC winner team Nuon
Nuon on the brink of another World Solar Challenge win
Australian teams burn up the road on solar car race
Wheels literally FALL OFF solar race contender
Nuon, Tokai maintain six-race rivalry
Dutch oven overcooked in World Solar Challenge
Wacky racers – The Reg's guide to 2013's Solar Challengers
Cambridge withdraws from World Solar Challenge
Unknown Aussie and Dutch family car spring solar surprise
Sun-seeking Cambridge boffins chase Solar Challenge car crown