Analysis UK open-source software biz Alfresco took a big decision in January when it named its first new chief executive in eight years, replacing the British John Powell with the American Doug Dennerline.
Powell, who had been CEO since the founding of Alfresco, captained the British company from small fish to 1,300-customer whale, scoring notable big-hitters KLM and the NHS while taking business from the computing old guard of IBM, Microsoft and EMC's Documentum.
Alfresco bosses claimed they became the most successful open source company by revenue after Red Hat, and – while they don't release numbers – Alfresco is understood to be making just over $50m a year, with $100m revenue easily achievable within the next few years.
But times change, and an American exec was a calculated strategic necessity from a management team who decided more growth and even more capital were the future.
The route to those riches is making an IPO. However, fans of tech companies floating on the stock markets, beware – the run to going public won't turn into a sprint just because there's a new CEO.
With summer gone and the media in a lather about social networks' IPOs, surely now is the time to begin preparing for a 2013 or 2014 Alfresco float?
Granted, Alfresco is no social network looking for an implausibly high valuation – it's an open-source enterprise content management player. And the company aspires to be the next Workday, Cornerstone or ServiceNow (all of whom successfully went public and increased their valuations) rather than IPO flameouts GroupOn or Zynga.
But Dennerline told The Reg he won't take Alfresco public for at least another three years. Instead, his first goal is tapping up the VCs for further funding.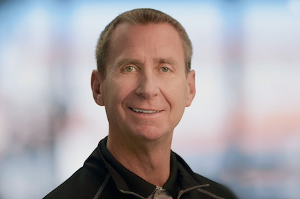 Dennerline: fund raising before IPO
That money will be spent getting Alfresco ship shape for going public – eventually. It's crucial to building out a next-generation of cloud-based products and building the kind of sales and customer operations he feels is currently lacking and will turn Wall Street off Alfresco.
Dennerline has hired 25 people in the last three months, predominantly in sales – among them a head of world wide sales and of services – bringing total head count to 300.
Sale are being added to achieve "consistency" and, predictably, with future money coming from a new, per-user pricing model that will soon start to roll out. Alfresco currently charges a per-user metric on just one product (WebU) and CPU on everything else.
New cloud offerings will target new groups of users outside the usual diehards, with newbies charged on a recognisably software-as-a-service style per-user metric.
"It's people who use our [existing] community app in the past that has been driving the sales channel. We can't sustain the growth we want just through people downloading the community edition and calling us and saying, 'We want an enterprise contract'," Dennerline told The Reg.
Open-source nous
Alfresco is known for its open-source engineering brains but Dennerline reckons he's learned from history, having worked at 3Com. 3Com was founded by Ethernet daddy Bob Metcalfe and was also rich in engineering heritage, but it was short on sales nous – and got steamrollered into history.
Dennerline was 3Com employee number 300 – he was the company's first sales rep in California who joined three weeks after it IPO'd. He left 11 years later and ended up working at Cisco. In Alfresco he was up against Microsoft, IBM and Documentum whose giant sales operations operate like well-oiled machines and on the other cloud providers such as Dropbox riding the consumerisation-of-IT wave. If Alfresco falters or fails to install a sustainable sales engine, it faces the fate of 3Com.
"Alfresco felt more like a tech driven company than a sales and go-to-market company," Dennerline told The Reg. "I worked for 3Com – that was a technology driven organization and the sales force was second to the technology. Cisco was the opposite – the leadership of John Chambers is all about the customer and what the customer wants. That's what I'm definitely bringing to Alfresco."
Dennerline insisted he's not hesitating on an Alfresco IPO and the ultimate goal remains going public. It's just that, "when you're public, [Wall] Street wants to see continuous growth."
As proof of commitment: he points to having hired a new CFO and a new general counsel, the latter a veteran of taking other tech companies public.
"I worked for 3Com – that was a technology driven organization and the sales force was second to the technology. Cisco was the opposite – the leadership of John Chambers is all about the customer and what the customer wants. That's what I'm definitely bringing to Alfresco"

Doug Dennerline
"I spent five months not talking to anybody in banking or financial services who want to invest in us," Dennerline adds, "but I have spent the last few months talking to many venture capital firms, and what I'd like to do is raise a round of financing in the next nine months to a year."
"Take that into consideration to invest and then once that's been put to good use, make the decision whether two to three years from today whether to go public," he said.
Dennerline is a big-company operator, and looking at his CV it's easy to see why the Alfresco board picked him to lead a move into the US and scale up the company's operations.
He was at Cisco between 1998 - 2009, as part of Cisco's era of stratospheric expansion (and subsequent halting retraction) that saw 113 acquisitions, including WebEx and Scientific Atlanta, which added 40,000 staff to the company's books before it was forced to cut thousands as the internet economy bubble burst. As head of collaboration software and then leading US field sales at Cisco, Dennerline reckoned his team mushrooms from 400 to 6,000.
"I learned a lot from that. I learned about layoffs too. I've accumulated a large amount of experience," he said. Dennerline spent a year at Salesforce, too, as executive vice president of enterprise sales.
He's scaled and sold companies, too – as president of online HCM specialist SuccessFactors, selling the business to enterprise giant SAP in 2011. Founded in 2001, SuccessFactors grew from 300,000 users at 100 companies in 2003 to eight million users across 3,000 companies.
He claims to have doubled the company's sales force, reorganised the professional services organisation and hired leaders in sales, professional services, and marketing.
On check out, SuccessFactors had 2,000 employees and $330m revenue. In December SAP paid $3.4bn for the company – 52 per cent above its $40 per share price in 2011.