OCZ balances books, files results following 4-year omnishambles
New management finally makes sense of financial records
---
SSD supplier OCZ Technology Group has finally filed its fiscal 2013 year results after having to correct the four previous years' results, showing how inadequate financial controls nearly caused the company to collapse.
As it is, the consumer and enterprise SSD supplier has been facing a Nasdaq delisting and severe financing problems as new management under CEO Ralph Schmitt is rapidly shrinking the company down to small core, with a new focus on the enterprise market.
In the annual SEC 10K filing (176-page PDF) independent auditors noted, for example:
The Company did not detect a conflict of oversight and incentives by certain members of the Company's executive management and the sales and marketing departments, such as the desire to meet quarterly sales goals and the ability to circumvent controls in pursuit of the achievement of those goals.

[and] Certain employees withheld information from accounting personnel and falsified documentation related to certain revenue transactions, including revenue credits and customer rights of return, without discovery, which resulted in improper recognition of revenue in the period...
Major problem areas included improperly understood customer incentive programs and other problems areas included warranty costs, foreign subsidiary cash disbursements, accounting for income taxes and more. Basically it seems the financial accounting regime when Ryan Petersen was the CEO was, as, described previously on these pages, an omnishambles.
OCZ's quarterly revenue and net income/loss record chart looks like this: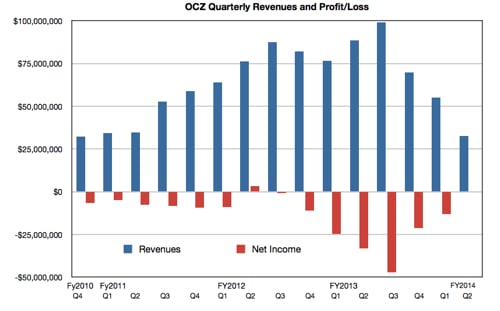 OCZ results to Q1 FY2014 + Est Q2 FY2014. Click for larger pic.
Weird, isn't it? As revenues climbed losses deepened, until Ralph Schmitt took over and financial sanity was imposed. Over the past few quarters the company revenues have shrunk as unprofitable business has been stripped out and there has been a realignment towards higher margin enterprise product sales, while the horrible history of the FY2009 - FY2012 period has been exposed, analysed and accounted for.
Now the company has a firm and known financial base and that gives it a firm footing from which to step up and grow – if it can achieve growth. First fiscal 2014 quarter revenue was $55.3m with a net loss of $13.2m. Both were smaller than the prior quarter's $69.7m revenue and $21.1m net loss, and Q1 FY2013's $76.5m revenue and $24.5m net loss.
Schmitt's management is righting the severely listing ship. He said of the quarter's results:
Over the past year we have restructured the Company, which included the appointment of new leadership, reduced operating expenses, streamlined our product offerings, realigned our engineering talent, and introduced new controller silicon and firmware, new higher-end SSDs for the client market and new storage solutions for the enterprise market.

Fiscal Q1 is the first quarter in which the company operated with all these particular restructuring and restatement adjustments behind us.
Next quarter OCZ expects revenues between $30m and $35m, substantially lower than the first quarter. Part of the reason is flash supply difficulties for its client products, emphasising the need for stable and secure long-term supply commitments.
Schmitt added this point: "We continue to see robust overall demand for our products but are challenged with our credit situation to realise these revenues."
Good luck, guys. ®
Bootnote
Vulture Central's backroom gremlins note that the Wall Street Journal is reporting that OCZ's Form 10-Q for Q2 FY2014 was accidentally filed by its financial printers.
Similar topics
Broader topics