It's that time again: Sources whisper about NetApp Quantum slurp
It could work – just like it could have worked two years ago
---
Comment A number of sources whisper to The Register that tape-maker and dedupe specialist Quantum is in negotiations over a sale – and they also say a well-known Sunnyvale storage supplier is fingering its wallet.
Three Reg sources have said they've heard Quantum has a "for sale" sign around its neck. So, just as a thought experiment, the storage desk at El Reg thought it would do some serious analysis a back-of-an-envelope job looking at how Jon Gacek's Quantum would fit into Tom Georgen's NetApp.
First of all though, a reality check: what does Quantum have to say? Its veep for corporate communications, Brad Cohen, told El Reg: "There's a lot of rumour and speculation in this industry, so our policy is simply not to comment when these types of questions get asked."
Now we've got that out of the way, let's get back to said rumour and speculation. Quantum has suffered significant losses caused by the general decline of the tape industry, as well as six years of declining revenues (see chart below). Activist investor Starboard Value is pushing for a sale or asset disposal to get more money to shareholders, including itself. Jeff Smith, Starboard's CEO, sits on Quantum's board.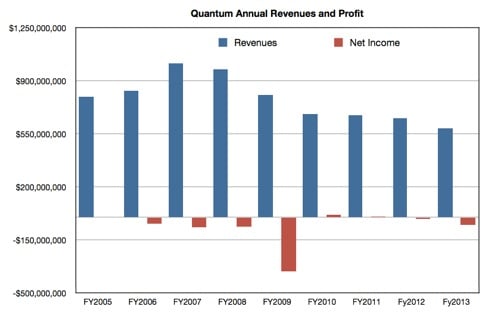 Quantum offers these main products:
DXI deduping arrays for D2D backup and VTL functionality
Scalar tape libraries from entry-level to near high-end
StorNext virtualising file management for big data in media and entertainment and other markets
Lattus object storage using Amplidata technology
Start-up storage cloud
vmPRO virtual server backup and disaster recovery offerings
Quantum is also outsourcing its tape library manufacturing, making it potentially easier to separate off that business.
The revenue decline over the past six years has not been precipitous. There is a viable, profitable business within Quantum, it's just masked by the continually falling tape business revenues and the failure, so far, of software and disk-based product revenues to pick up the slack. Neither are the losses horrendous; after five quarters of losses in the $17m - $8m area, the company recorded a $3m profit in its most recent quarter, admittedly helped by a $15m IP payment from Microsoft.
Quantum stock is trading at $1.56, up from $1.40 or so on deal speculation. Its market capitalisation is $386m.
All-in-all, we might say that Quantum has been unable to invest enough to grow its business because of the debt overhang from the 2006 $770 million ADIC acquisition and falling tape business revenues. It could do with a bigger partner to provide financial resources for its development.
NetApp
Two sources suggest NetApp is a potential acquiree. One NetApp insider said NetApp was encouraged to buy Quantum a year ago, with DXI dedupe and StorNext looking good fits for NetApp. Latterly tape is seeing a resurgence as an archival big data storage medium and that would increase its appeal to Sunnyvale somewhat.
Back in 2011 similar rumours of a NetApp buyout of Quantum were doing the rounds. As we know from hindsight, that never did happen in the end.
Where would Quantum and NetApp product/technology fits occur?
To recap NetApp's product line:
Dual-controller clustered ONTAP arrays offering SAN and NAS access plus mature, wide-ranging data-protection facilities
E-Series arrays for fast data ingress scenarios like HPC
V-Series third-party array virtualising heads
StorageGRID object storage based on acquired Bycast technology which has seemed to languish inside NetApp
Quantum could fill four NetApp product gaps: a deduping backup-to-disk product which it has lacked ever since EMC snatched DataDomain from its fingers; a big data file virtualisation technology with StorNext; a virtual server backup product with vmPro; and an arguably better object storage offering with Lattus.
The tape library business fit is good, in the sense that NetApp has no tape library business. But the question is, does NetApp want one or need one? Unless it can see a prospect of profitable growth – and we note that Quantum lacks a high-end tape library suitable for cloud-scale deployments – then the tape side of Quantum doesn't look appealing.
NetApp stock trades at $41.65 and its market capitalisation is $14.2bn dollars. Its fiscal 2013 profits were $505m, bigger than Quantum's market worth, making Quantum readily affordable.
It's unlikely EMC would want Quantum, as one source suggested, because it already has a deduping storage array for D2D backup - Data Domain – as well as said tape stacks, although partnering with SpectraLogic for its customers' tape needs. It also has multiple object storage technologies rendering Lattus surplus to requirements. That leaves StorNext, which it could use – but that is a small proportion of Quantum's business.
El Reg thinks that NetApp would certainly gain from a Quantum acquisition should the rumours prove true. ®